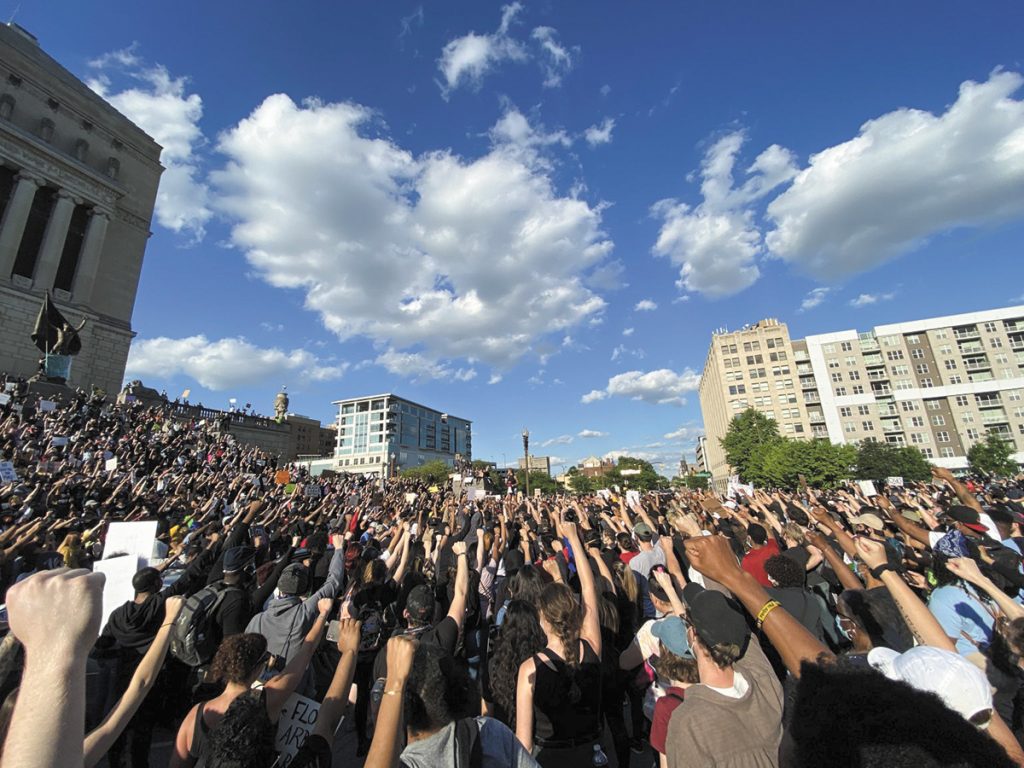 George Floyd spent the last 8 minutes and 46 seconds of his life pinned under the knee of a Minneapolis police officer. Cellphone video of the incident ignited a rage in the Twin Cities that quickly spread across the country and arrived in Indiana on the last weekend in May.
Peaceful protests that weekend in downtown Indianapolis turned violent with police launching tear gas and protesters vandalizing and destroying businesses. Windows were shattered, stores were looted, fires were set and graffiti was spray-painted everywhere.
Attorney Karen Celestino-Horseman carried a canister of pepper spray Sunday morning as she walked to check her office on Washington Street. Although her firm is on an upper floor of the building, she was worried if the protesters had gained access, they would have trashed her office, throwing around files and destroying computers.
Her relief at finding the locks on the elevator and stairwell had held firm was replaced by dismay at the destruction of the first-floor businesses. The protesters had smashed the windows and looted the barber shop and men's retailer.
Related story
Attorneys despair, but see reason for anger in the streets
"It's so sad, it's just so sad," Celestino-Horseman said, noting the damage was an additional setback for local businesses that had already been suffering under the pandemic. She supports the protesters who peacefully marched before violence erupted, but what came after, she said, was not a protest. "They're just using this to go out and create chaos," she said.
Protests took place across the state including in Evansville, Jeffersonville Fort Wayne, Hammond, Michigan City, South Bend, and Lafayette. Large crowds marched and chanted over their anger at the death of Floyd, who continually said he could not breathe and ultimately losing his life while pinned down by now-former police officer Derek Chauvin. He has been charged with murder, and three other former Minneapolis officers who stood by have been charged as accomplices.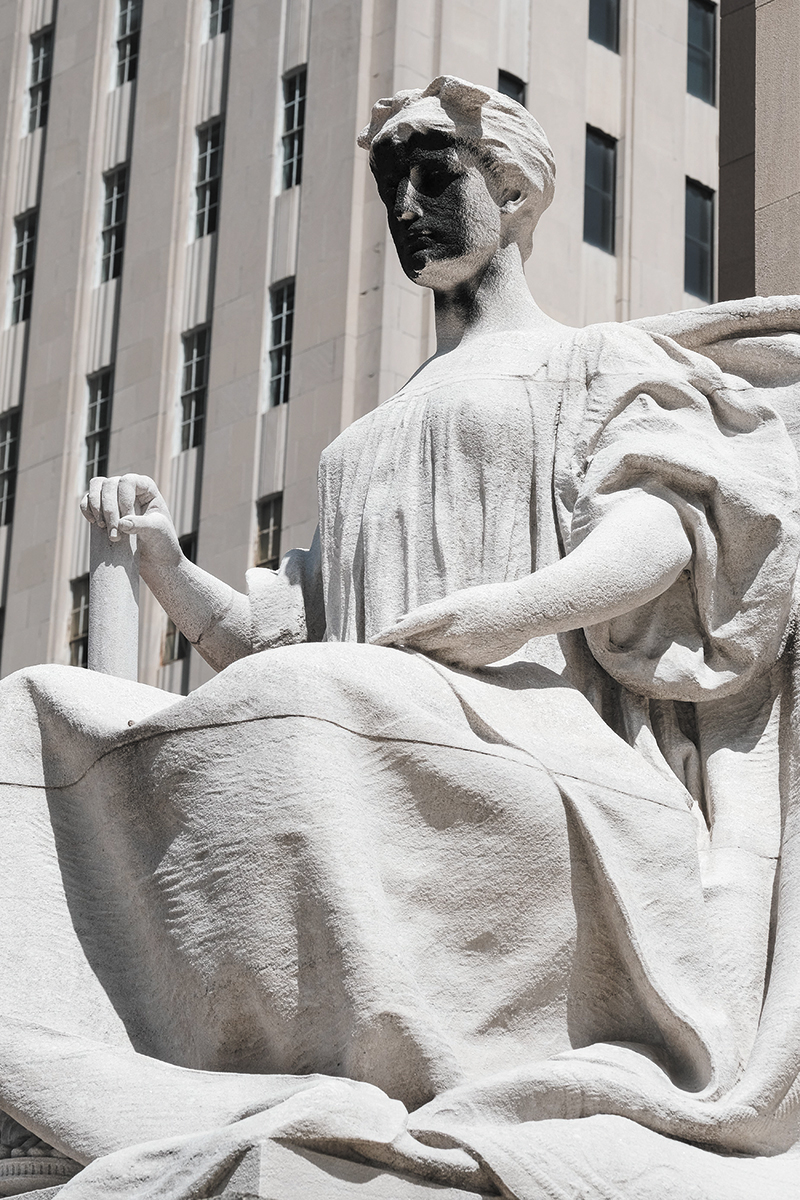 In Indianapolis, multiple arrests were made and 14 individuals were charged with Level 5 felony burglary for allegedly entering businesses and removing items illegally. However, Marion County Prosecutor Ryan Mears announced that after a case-by-case review, his office was not charging 41 individuals who were arrested May 29 and 30.
"We will not file criminal charges against those who came downtown to stand against injustice and make their voices heard through peaceful demonstrations," Mears said.
Ninety-eight people were arrested from the weekend of protesting in Fort Wayne, according to the Allen County Prosecutor's Office. All had been charged with misdemeanors such as disorderly conduct and failure to leave an emergency area, and most had been released on bond, according to the office. The prosecutor is reviewing the cases and will make a decision about dropping the charges as each individual appears in court.
Also, the Lake County Prosecutor's Office said nine adults and four juveniles were charged after a protest at Southlake Mall in Hobart.
Frustration with the courts
Attorney Jon Little said since his firm, Saeed & Little, tweeted an offer May 30 of pro bono representation to any protester arrested in Indianapolis, Chicago and Louisville, the inboxes and phones have been flooded with messages from protesters needing help and from attorneys volunteering their services. The tweet has received more than 400,000 likes and about 130 attorneys have volunteered — some from major national firms — as have law students from a variety of schools, including Harvard and Berkeley.
A vast majority of those arrested are not being charged, Little said. Still, along with inquiries from people who have been arrested, the firm is getting contacted about protesters who allege they have been beaten by police.
Little abhors the rioting and destruction to businesses but he is not surprised at the level of anger. For too long, he said, the justice system has been granting qualified immunity so police officers are not having to face juries over claims of excessive force.
"If they can't go to the courts, they're going to go to the streets. While I think this is terrible," Little said of the violence and vandalism, "what are people supposed to do?"
Perhaps symbolizing the frustration with the justice system, the federal courthouse in Indianapolis and the county courthouse in Lafayette were damaged during the weekend protests.
The Tippecanoe County Courthouse was the scene of an intense standoff between protesters and Lafayette police. Tippecanoe County Sheriff Bob Goldsmith told the Lafayette Journal & Courier the demonstration had been peaceful for four hours but people in the crowd began spray painting graffiti on the courthouse walls and breaking windows and a door.
Law enforcement tried to disperse the crowd by dropping smoke and tear gas canisters but the crowd responded by setting off explosives near one of the entrances, the Journal & Courier reported. Also, police allege a shot was fired through a third-floor window.
At the Birch Bayh Federal Building and U.S. Courthouse in Indianapolis, the signs of a brutal weekend were visible the morning of June 1. Plywood had been placed over broken doors and windows and the face of the Lady Justice statue was spray-painted black.
Four windows were broken and graffiti was tagged in roughly 15 places on the building, according to the Southern Indiana District Court's public information officer Doria Lynch. Much of the damage occurred between 1:30 and 3:30 Sunday morning, and security officers were in the building at the time.
"It was a challenging weekend and having that happen in the surrounding pandemic environment didn't make anything easier," Lynch said. The court was operating Monday, she said, but all the employees were working from home.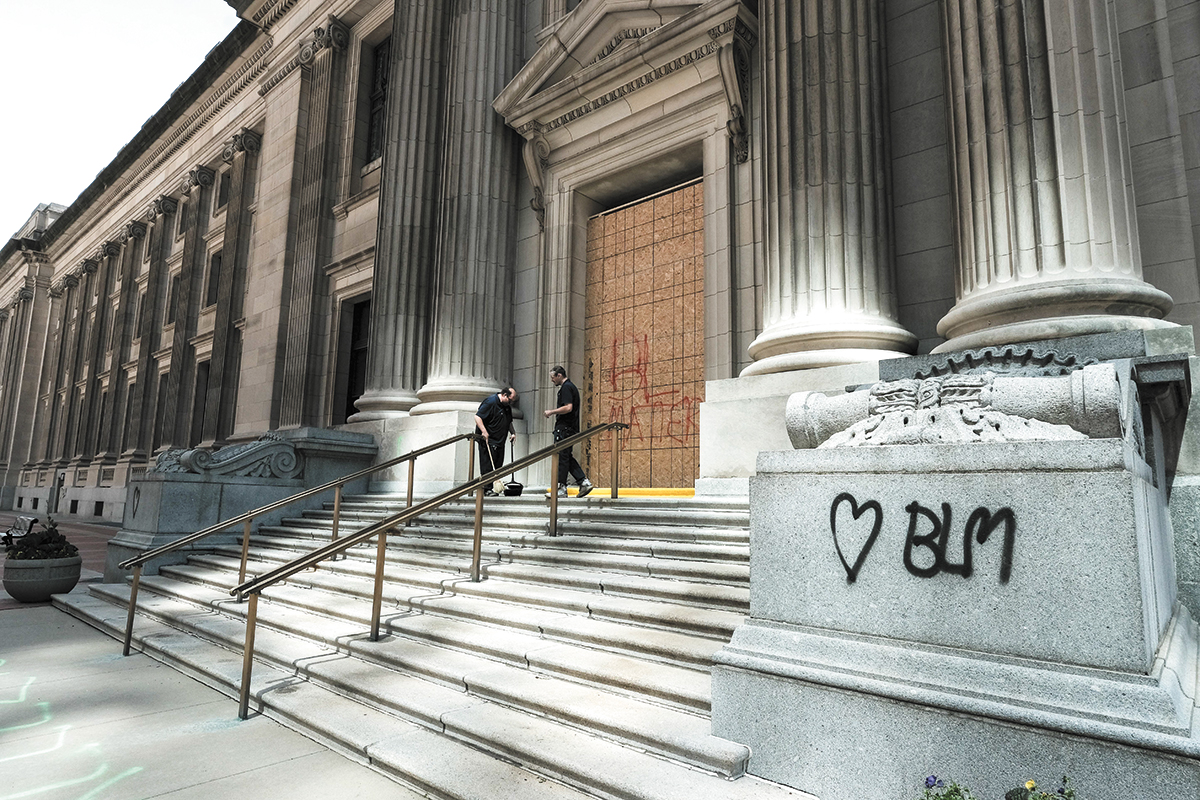 Damage and reflection
Structures housing law offices around downtown Indianapolis and Fort Wayne also were mauled during the weekend of protests.
Both Faegre Drinker Biddle & Reath and Frost Brown Todd said their offices were not touched but the buildings were damaged. Faegre Drinker said the windows on Indianapolis high rise had been damaged and FBT, which has other locations in cities including Cincinnati, Louisville and Pittsburgh, said many of its office buildings were vandalized.
Likewise, the Indianapolis buildings that house Indianapolis Legal Aid Society and Indiana Legal Services had windows broken, but the offices remained secure.
The historic brick building that fits on the triangular lot created by the intersection of Massachusetts Avenue and New York Street was untouched. Plywood was covering the first-floor windows, but a representative of Price Waicukauski Joven & Catlin said the wood was only to protect the structure and that none of the glass had been broken.
In Fort Wayne, a commercial space owned by attorney Doug Adelsperger had several windows broken, but no one was able to enter. The windows have since been boarded over on the building that is home to Adelsperger & Kleven, the law office of Roy Kiplinger, the Volunteer Lawyer Program of Northeastern Indiana and a Jimmy John's sandwich shop.
To protect the Allen County Bar Association building, attorney Jared Haller stood outside the structure, offering his support to the protesters and talking to anyone who stopped. The bar association had grappled over spending thousands of dollars to board up the windows or saving the money and risking having the property defaced.
Haller, who works for Indiana Legal Services, downplayed his role in keeping the office intact.
"It's easier to smash windows if nobody is there than if something is on hand to say, 'Let's talk before you do it,'" he said.
Even as the legal community deals with the physical destruction, it is pausing and reflecting on the continued civil unrest ignited by the shocking death of Floyd.
"We are deeply affected by the disturbing and terrible events surrounding the death of George Floyd and have encouraged all our colleagues to connect with firm leaders, our chief diversity officer and members of our diversity and inclusion team as we all continue to process and grieve this tragic event," Faegre Drinker said in a statement.
FBT made a similar pledge.
"As a nation we are all, Frost Brown Todd included, responsible for creating a fair and safe society," the law firm said in a statement. "Frost Brown Todd offers condolences to the families of all those who have been affected by all recent tragic events. There is no place for prejudice and discrimination in this country. We will continue to work in this area and commit, more than ever, to diverse and inclusive ideals."•
Indiana Lawyer reporter Katie Stancombe contributed to this story.
Please enable JavaScript to view this content.