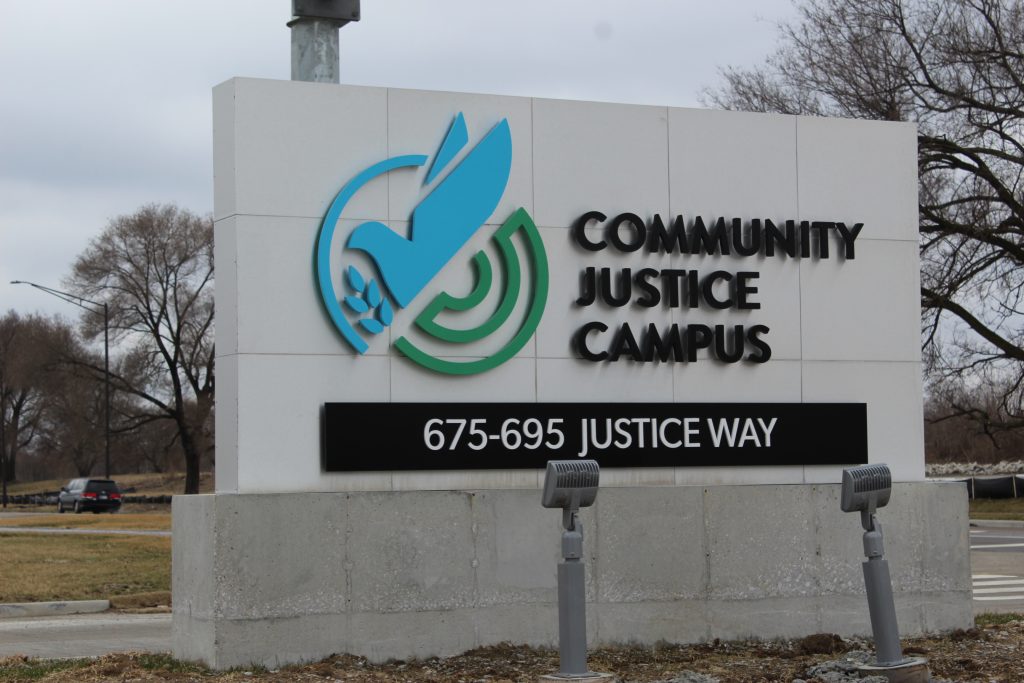 A federal judge has granted a motion to dismiss a former Marion County magistrate judge's lawsuit against court officials for alleged employment discrimination, ruling neither federal law that former Magistrate Judge Kimberly Mattingly cited permitted her to bring such claims.
But in the Friday order, Indiana Southern District Court Judge James Hanlon noted he did not make any findings or conclusions as to whether there was merit to Mattingly's claims of discrimination.
Mattingly primarily oversaw family law cases as a magistrate judge for Marion Superior Court. She also worked for the Indiana Office of Judicial Administration, which is a named defendant.
Mattingly consistently received high performance evaluations and was never disciplined during her 12 years as a magistrate judge, Hanlon wrote.
As part of the Marion Superior Court's reorganization in late 2020, Mattingly learned she would no longer be assigned to a family law court. A few months later, she met with the Executive Committee and her supervisor, Judge Marc Rothenberg, and was told she would be fired if she didn't immediately resign, according to Hanlon's order.
The committee pointed to "negative" results from judicial surveys, a complaint from "way back" and Facebook comments made about Mattingly in response to a 2019 Indiana Bar Association article she wrote. Rothenberg also listened to 12 hours of hearings that Mattingly presided over.
"Except for the Facebook comments — which led to no disciplinary action — Ms. Mattingly had not been informed of any significant complaints or performance issues, and she had not received a formal performance review in several years," Hanlon wrote.
The committee ultimately replaced Mattingly with someone 15 years younger.
Mattingly resigned but alleged she didn't have a meaningful choice. According to the Indiana Roll of Attorneys, she is now practicing at Mattingly ADR in Indianapolis.
Mattingly alleged her forced resignation was the result of discrimination because of her gender in violation of Title VII of the Civil Rights Act of 1964, and her age in violation of the Age Discrimination in Employment Act of 1967.
She brought her gender discrimination claim against the Marion Superior Court and Indiana Office of Judicial Administration. She brought her age discrimination claim against Rothenberg, the Marion Superior Court and the judges of the Executive Committee.
In addition to Rothenberg, the judges sued in their official capacities include Judges Amy Jones, Alicia Gooden, John Chavis and Shatrese Flowers.
The Marion Superior Court declined to comment on "personnel matters or pending litigation."
The defendants filed a motion to dismiss both claims, arguing in part that Mattingly's claims under the ADEA were barred by state sovereign immunity under the 11th Amendment.
Hanlon partially agreed.
His order says it is "undisputed" that the judges are state officials and that the Marion Superior Court is a state agency. But he also notes they may be sued in federal court under limited circumstances.
The focus is on one exception: the Ex parte Young doctrine, which allows a plaintiff who is seeking prospective equitable relief to sue state officials for an ongoing violation of federal law.
But the court's order cites Puerto Rico Aqueduct & Sewer Auth. v. Metcalf & Eddy, Inc., 506 U.S. 139, 146 (1993), in determining the Young doctrine doesn't allow Mattingly's claim against the Marion Superior Court because it "has no application in suits against the States and their agencies, which are barred regardless of the relief sought."
That leaves only the claim against the individual judges, Hanlon wrote.
The defendants argued Mattingly's claim doesn't fit within the exception because she didn't sufficiently allege an ongoing violation of federal law or that she was constructively discharged. Mattingly responded that her complaint alleged her resignation was forced and that by seeking reinstatement as a remedy, she had alleged a claim for prospective equitable relief for ongoing violations of federal law.
The court ultimately dismissed Mattingly's ADEA claim against the Marion Superior Court without prejudice for lack of jurisdiction, but also found her claim for injunctive relief against the judges fell under the Ex parte Young exception to the 11th Amendment.
The court then moved to the defendants' argument that the claims should be dismissed because Mattingly wasn't an employee under the ADEA or Title VII. The defendants argued Mattingly's position as magistrate judge fit within the public official exemption of the definition of "employee" under federal law.
The court first determined that at all relevant times, the Marion Superior Court judges who appointed Mattingly to her position were "elected" officials for the purposes of the public official exemption. If they weren't elected, Mattingly would be a covered "employee" under both statutes.
The parties' disagreement on the classification stemmed from Common Cause Indiana v. Individual Members of the Indiana Election Comm'n, 800 F.3d 913 (7th Cir. 2015), which threw out as unconstitutional the Marion Superior Court "slating" process. But that case didn't void any previous elections, Hanlon noted.
The court was also unconvinced by Mattingly's argument that, because judges are subject to appointment and retention, they weren't "elected" at the time of her forced resignation.
The court next addressed whether Mattingly was within the scope of the public official staff exemption to the statutes' definition of "employee." The focus was on the exception for an appointee on the policymaking level.
The defendants argued Mattingly, as a magistrate judge, had meaningful impact on governmental decision-making. Mattingly responded she wasn't on the policymaking level because she lacked the same power as Marion Superior Court judges.
The court cited a U.S. Supreme Court decision — Gregory v. Ashcroft, 501 U.S. 452 (1991) — that found state court judges in Missouri were within the policymaking appointee exemption of ADEA.
In concluding Mattingly was a policymaking appointee, the court also cited a portion of Indiana code that says magistrate judges have the "same powers as a judge," except for judicial mandate.
The court dismissed with prejudice Mattingly's claims against the judges.
The court noted that while a plaintiff whose complaint is dismissed ordinarily should be given an opportunity to amend the complaint, the court can deny leave to amend if it is certain the amendment would be futile.
"That's the case here," Hanlon wrote, "as Ms. Mattingly would not be able to cure the jurisdictional and statutory issues addressed in this order by amending her complaint."
The case is Kimberly D. Mattingly v. Marion Superior Court, et al., 1:22-cv-00369.
Please enable JavaScript to view this content.