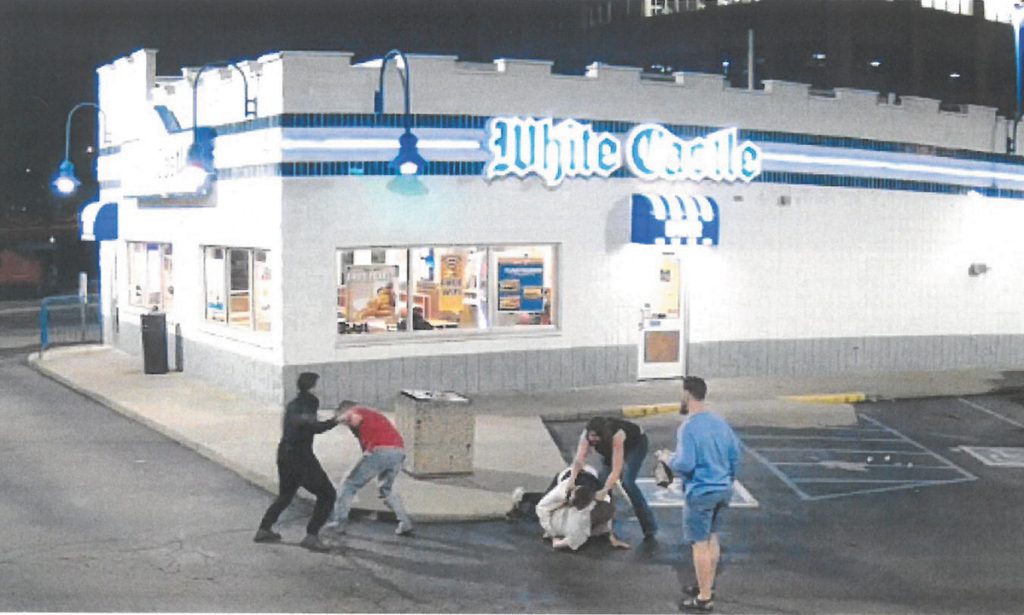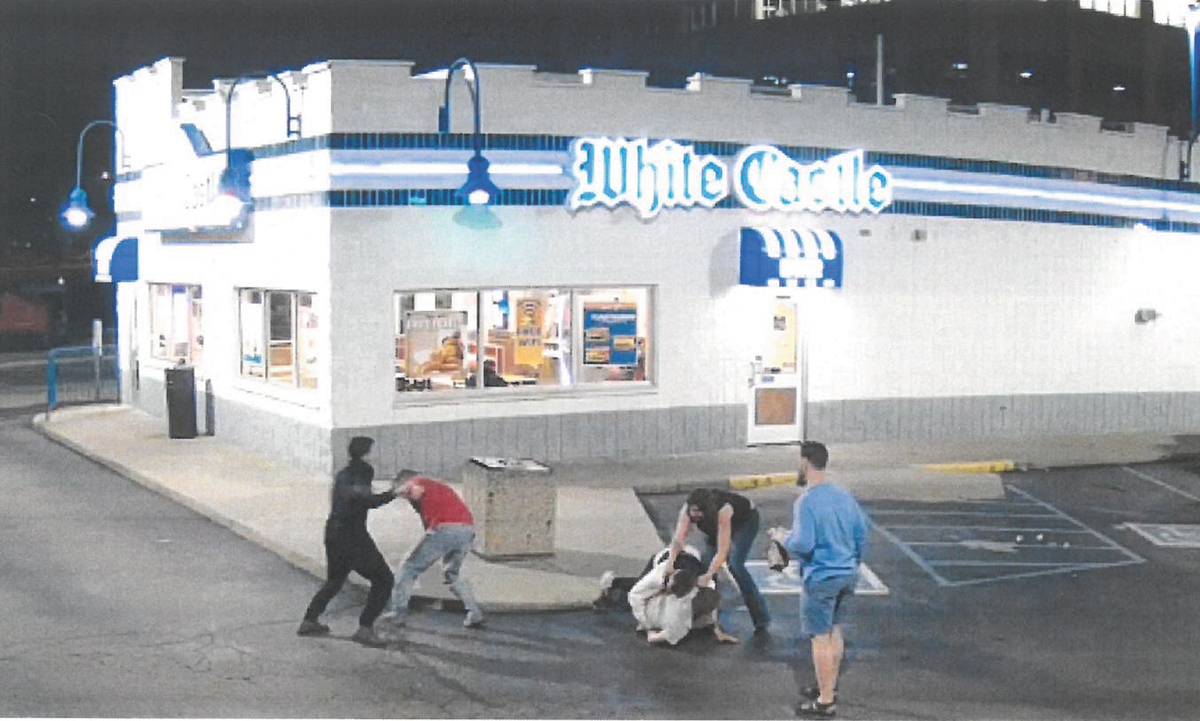 The man convicted of aggravated battery in connection with the May 2019 shooting of two southern Indiana judges is asking the Court of Appeals of Indiana to overturn his convictions based on fundamental error and double jeopardy violations.
Brandon Kaiser filed his appellant's brief last week in Brandon Kaiser v. State of Indiana, 22A-CR-02705, roughly seven months after the Marion Superior Court sentenced him to eight years executed and three years of probation for two counts of Level 3 felony aggravated battery, one count of Level 6 felony battery and one count of Class A misdemeanor carrying a handgun without a license.
A jury convicted Kaiser last September of battery and firearm charges after he shot Clark County Judge Bradley Jacobs and former Clark County Judge Andrew Adams in May 2019, putting them both in the hospital for extended periods of time. The shooting occurred in the early morning hours at a downtown Indianapolis White Castle restaurant, where Jacobs, Adams and two other judges — Clark County Magistrate Judge William Dawkins and former Crawford County Judge Sabrina Bell — had stopped after a night of bar hopping. The southern Indiana judges were in Indianapolis for the spring judicial conference.
Kaiser claimed self-defense at trial, and he is reviving that argument on appeal.
Specifically, Kaiser is arguing that the trial court committed fundamental error in admitting evidence of prior bad acts. That evidence included an officer's testimony that he did not come out of his home for about four hours when police were attempting to execute a search warrant in the days after the shooting. Police deployed six rounds of tear gas before Kaiser came out.
Kaiser's trial counsel, solo attorney David Margerum, had filed a motion in limine to keep that evidence out of trial, but the trial court denied the motion and Margerum did not object during the officer's testimony.
In arguing the admission of the testimony was fundamental error, Kaiser – now represented by the Marion County Public Defender Agency — raised the issue of credibility.
"Kaiser's defense at trial was that he was justified in shooting Adams and Jacobs because he acted in self-defense," his brief says. "The reasonableness of his actions was paramount to the case, which made his credibility a major factor in the trial and the jury's decision.
"Kaiser's credibility was undermined when he was forced to justify his actions related to the charged conduct of shooting Adams and Jacobs, but also the misconduct of not complying with police orders when they arrived at his house," the brief continues. "This created the forbidden inference that because Kaiser was not compliant with police, he was a troublemaker who perpetuated the fight with Adams and Jacobs."
Recounting the events of the shooting, Kaiser's brief says the incident began when he and his nephew, Alfredo Vazquez, pulled up to the White Castle parking lot, where Adams, Jacobs and Bell were waiting for Dawkins, who had gone inside. Kaiser says he whistled at the trio as if to say "party on" because Bell appeared to be dancing.
The parties have limited and differing memories of what happened next, but it's undisputed that a physical fight broke out between Jacobs and Kaiser and Adams and Vazquez. Kaiser's brief says Jacobs slammed him to the ground, hitting Kaiser's head on the concrete, then got on top of Kaiser and choked him with his forearm.
Vazquez pulled Jacobs off Kaiser, according to the brief, at which point Adams kicked Kaiser in the head. That's when Kaiser pulled a gun from his waistband.
"Kaiser testified that he fired a shot at Jacobs, while he was on the ground. Adams was standing behind Kaiser. As he stood up, Kaiser reached across his body and fired his gun at Adams. Kaiser testified he was firing 'on the threat that was behind me,'" according to the brief.
"When Kaiser stood up, Vazquez had Jacobs pushed against a trashcan," the brief continues. "Kaiser shot Jacobs because he would not let Vazquez go. He was afraid Jacobs would put Vazquez into the same situation he put Kaiser in. Kaiser shot Jacobs again when Jacobs and Kaiser were wrestling by the side door. Jacobs was on the ground when Kaiser shot him a second time."
Vazquez and Kaiser then left the scene, and Kaiser later learned on the news that Adams and Jacobs were judges. According to the brief, "His 'anxiety heightened tremendously' because 'they were important people in the community.'"
The shooting occurred on May 1, and police executed the warrant on May 4.
"Kaiser testified that his reasoning for not coming outside immediately did not have to do with evading police, but came from a place of distrust and concern for his safety because he found out the two men he shot were judges," the brief argues. "Kaiser testified he was concerned he would get shot in retaliation by the police. This fear was heightened because the police would not show him a warrant.
"… Testimony that Kaiser did not come out of his house until police administered tear gas communicated to the jury that Kaiser was a troublemaker and a person who does not cooperate with police," the brief continues. "This evidence was not relevant and unconnected to his claim of self-defense of the State's argument disproving self-defense.
"… Kaiser had a substantial right to have the jury determine whether he acted in self-defense based on his actions at White Castle. This Court should reverse Kaiser's conviction and remand his case for a new and fair trial."
Kaiser is also arguing that the state failed to disprove his self-defense claim as to Adams, although in a footnote he said he was not challenging the sufficiency of the evidence as to Jacobs.
He claims that although he had his weapon on him during the entire altercation, he did not pull it until Adams kicked him in the head.
"Kaiser's actions were not an unprovoked attack on an innocent person. Kaiser and his nephew were attacked in the middle of the night by two drunk strangers outside a White Castle," the brief argues. "Kaiser was in a place he was allowed to be, acted without fault in his defense against Adams, and was reasonably in fear of great bodily harm. His defensive shooting of Adams was justified, and his conviction for aggravated battery against Adams must be reversed."
Finally, Kaiser claims the trial court erred when it merged his convictions for aggravated battery rather than vacating them. He was convicted of two counts of aggravated battery each as to Adams and Jacobs, and the trial court merged one of the counts as to each man into the other.
"Merging the offenses was insufficient to cure the double jeopardy violation," the brief says, citing Powell v. State, 151 N.E.3d 265 (Ind. 2020). "… This court should remand to the trial court with instructions to vacate count II and count IV aggravated battery convictions.
"… For the reasons set forth above, Brandon Kaiser respectfully requests this Court reverse the trial court's judgment of convictions for aggravated battery against Adams, or remand with instructions to vacate count II and count IV, and all other relief just and proper in the premises."
Kaiser is the first person to go to trial in connection with the May 2019 shooting, but he is not the first person to face legal action.
In September 2019, Adams pleaded guilty to Class A misdemeanor battery against Kaiser. He received a 365-day sentence, with 363 days suspended without probation and credit for two days served.
Vazquez also pleaded guilty to Class A misdemeanor battery, his charge as to Jacobs, and was sentenced to 180 days on home detention, with credit for 11 days served plus 11 days of misdemeanor credit, and one year of probation.
Jacobs was not indicted, but he, Adams and Bell were each suspended from the bench without pay — 60 days for Adams and 30 days each for Bell and Jacobs.
Adams lost his 2020 reelection bid, while Bell stepped down from the bench after being criminally charged in a domestic violence incident. Jacobs remains on the bench, as does Dawkins, the magistrate judge who was inside the White Castle restaurant.
Please enable JavaScript to view this content.