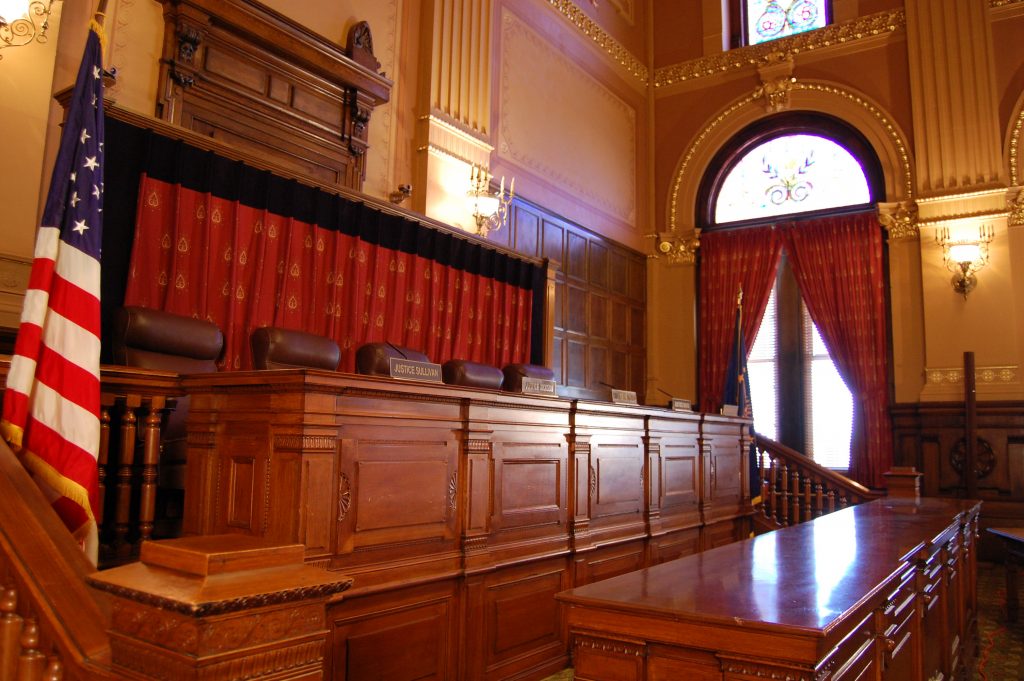 If a party objects to holding a remote hearing, a trial court can't deny the motion by simply citing COVID-19 without further elaboration.
The Indiana Supreme Court handed down that ruling Friday in its first opinion regarding remote hearings since announcing in September that trial courts will continue to have latitude in choosing virtual or in-person settings in 2023.
In the case at hand — In the Matter of the Civil Commitment of B.N., 22S-MH-408 — justices found the Marion Superior Court abused its discretion in its reasoning for denying an in-person hearing. But because the individual at issue would've still been committed due to the facts of the case, the error was harmless.
B.N. has suffered from schizophrenia for many years, and in October 2021, medical professionals sought an emergency detention after "significant delusional thought processes" resulted in her causing a car accident. She was then admitted to the Eskenazi Mental Health Center for inpatient treatment.
After evaluating B.N., who was unable "to differentiate reality from her paranoid delusions," her physician petitioned the court for a temporary or regular commitment.
B.N. was notified on Oct. 21, 2021, that her commitment hearing would be held in person four days later.
While the record does not reflect when or how B.N. was later notified that her hearing would instead be held remotely, her counsel filed a motion objecting to the virtual hearing. The motion indicated B.N.'s desire to have an in-person hearing and cited the Indiana Supreme Court's emergency orders modifying Administrative Rule 14.
Later that same day, the trial court denied the motion.
At the beginning of the remote hearing, B.N.'s counsel renewed the objection, reiterating her desire to appear in person. The court again denied the request, stating, "We're proceeding remotely due to the COVID-19 pandemic."
At the conclusion of the hearing, the trial court ordered a regular commitment, finding B.N. was suffering from schizophrenia, gravely disabled, and in need of extended custody, care and treatment.
B.N. appealed, arguing the denial of her request for an in-person hearing violated Administrative Rule 14 as well as constitutional and statutory provisions.
In a memorandum decision, the Court of Appeals of Indiana affirmed, finding B.N.'s arguments were waived.
The high court heard the case on petition to transfer in October, then granted the transfer petition on Friday. However, the justices also denied B.N. relief.
Justices concluded the trial court abused its discretion by proceeding with the virtual hearing "without articulating any particular and specific facts supporting its decision" outside of referring to COVID-19. But they also determined the error was harmless.
"Though this is our first opportunity to articulate what constitutes 'findings of good cause' for purposes of modified Rule 14, the good-cause metric is utilized to assess the propriety of a trial court's determination in various contexts," Chief Justice Loretta Rush wrote. "And, consistently, good cause requires a 'particular and specific demonstration of fact.'"
Using the good cause standard, justices found the trial court should've given more reasoning for moving the case to a remote hearing.
"We emphasize that trial courts retain significant discretion to conduct remote proceedings over objection when there is good cause to do so. But they must offer something more than a one-size-fits-all, boilerplate pronouncement; good cause requires something specific to the moment, the case, the court, the parties, the subject matter, or other relevant considerations," Rush wrote. "To be sure, remote proceedings are here to stay and may be more efficient in various circumstances. But in-person evidentiary hearings are vital in certain proceedings, such as involuntary civil commitment hearings, where a party's liberty interests are at stake."
On whether the error was harmless, justices found it was due to the facts of the case.
The court referenced two recent opinions — A.A. v. Eskenazi Health/Midtown CMHC, 97 N.E.3d 606 (Ind. 2018), and In re the Termination of the Parent-Child Relationship of I.L., O.L., V.N., and M.P.N. (Minor Children) and S.T. (Mother) v. Indiana Department of Child Services, 177 N.E.3d 864 (Ind. Ct. App. 2021) — in its reasoning.
"In sum, the probable impact of the court's error — in light of B.N.'s active participation during the virtual hearing, the lack of technological issues which may have adversely impacted her, and counsel's zealous advocacy — was sufficiently minor such that we conclude it did not affect B.N.'s substantial rights," Rush wrote.
"At the same time, we recognize that an involuntary civil commitment represents 'a significant deprivation of liberty,'" the chief continued. "And we also recognize that those facing civil commitment may be particularly sensitive to a virtual environment, where technological issues can arise that might acutely impact the individual.
"In-person commitment hearings should thus be the norm, not the exception," she concluded. "So, while we can certainly envision a scenario in which a trial court's decision to proceed remotely in a commitment hearing without making the requisite findings of good cause results in reversible error, it does not here."
Please enable JavaScript to view this content.