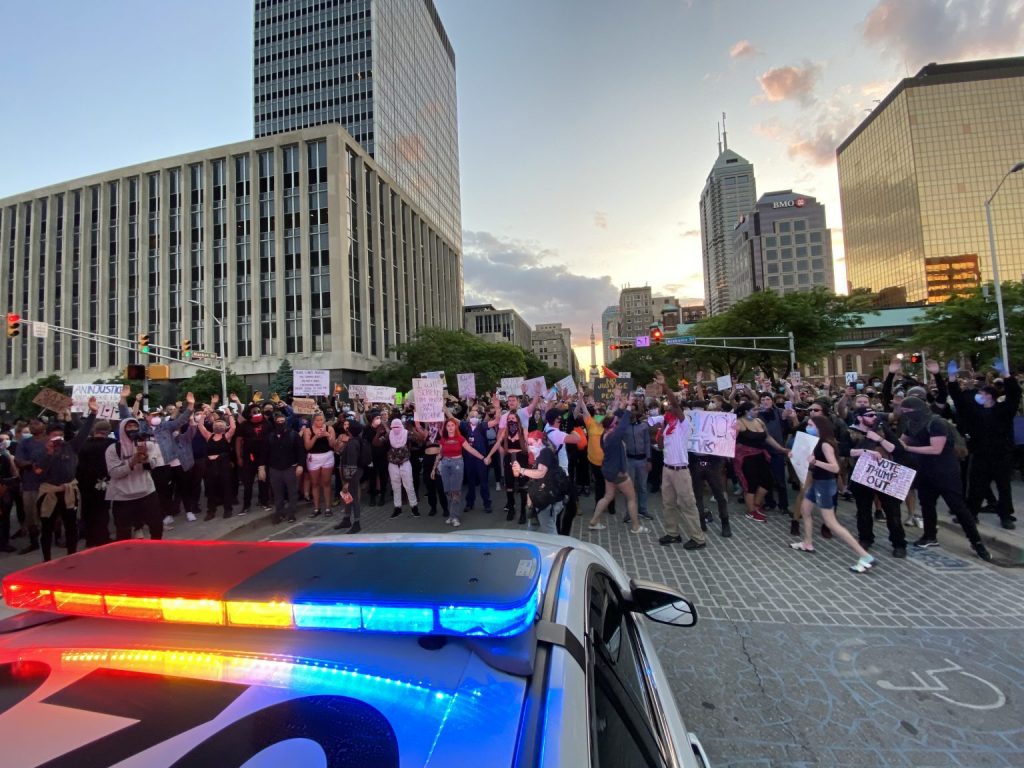 Indy 10 Black Lives Matter and the American Civil Liberties Union of Indiana have sued the city of Indianapolis, seeking to end the Indianapolis Metropolitan Police Department's use of chemical weapons and projectiles against protesters.
Filed Thursday in the U.S. District Court for the Southern District of Indiana, the complaint details the use of chemical agents, including tear gas, rubber bullets and pepper balls on protesters who were peacefully rallying against police brutality in downtown Indianapolis during the last weekend in May.
The plaintiffs claim the police took "violent and unwarranted actions" against peaceful protesters who were not doing anything unlawful. These actions by law enforcement, the plaintiffs argued, violated their First and Fourth Amendment rights to peacefully protest and "be free from objectively unreasonable force from police authorities."
The suit on behalf of Indy 10 Black Lives Matter and individual protesters is among a number of legal actions the ACLU has been taking around the country in response to escalating law enforcement attacks.
The case is Indy 10 Black Lives Matter, Bre Robinson, Asiah Bassett, Shaniece Lewis v. The City of Indianapolis, 1:20-cv-1660.
"City leadership must commit to no further harm being done to demonstrators and to ban the use of excessive force, including pepper pellets, tear gas and flashbang grenades, as well as condemn and discipline officers who destroy (demonstrators') medical supplies," Indy 10 Black Lives Matter said in a statement. "The onus for repairing harm is on city leadership and IMPD, and they would do well to lending their efforts towards policy reform and addressing the use of force policies as well as holding (officers) accountable."
The Indianapolis Metropolitan Police Department declined to comment. "Out of respect for the judicial process, we do not comment on litigation," the department said.
According to the complaint, Indianapolis police officers, "wearing 'battle-ready' riot gear," used "aggressive actions" against protesters "without justification or cause." The police, without any warning, threw tear gas canisters, shot pepper balls, exploded flashbang grenades and used rubber bullets as well as batons to subdue protesters.
The lawsuit details police response May 29, 30 and 31 to the demonstrations after the death of Dreasjon Reed in Indianapolis and George Floyd in Minneapolis.
According to the complaint, after a peaceful day of protests May 29 around Monument Circle, the group marched toward the Statehouse, where they encountered IMPD officers in riot gear near Market and Illinois streets. When some of the protesters attempted to walk back to the Circle, they were blocked by another group of police officers.
"Without warning, IMPD officers then proceeded to throw and fire tear gas canisters into the crowd causing pandemonium and dangerous conditions as persons, many blinded by and suffering the negative influences of being tear gassed, tried to escape," the complaint stated.
While still daylight May 30, about 200 to 300 individuals peaceably marched from the Circle toward the City County Building, where at the intersection of Alabama and Market streets, they were met by IMPD officers in riot gear, the complaint stated. Other officers were in front of the City County Building and some had leashed police canines with them.
One of the officers, without cause, announced the assembly was illegal, according to the complaint. Then "almost immediately," IMPD officers "began to indiscriminately" fire tear gas canisters and shoot pepper balls into the crowd, the complaint stated. They also exploded flashbang grenades.
Police again used force against another demonstration May 31, according to the complaint. Prior to the city curfew going into effect, IMPD officers "unnecessarily and without notice" used tear gas on numerous occasions and in numerous locations to disperse peaceful protesters. After the curfew, IMPD officers "unnecessarily used rubber bullets and batons to subdue protesters," the complaint stated.
Named plaintiffs in the lawsuit detail the physical harm they suffered as a result of police actions. They claim they had intense stinging and burning of their eyes and difficulties breathing after being exposed to tear gas and were terrified by the flashbang grenades.
According to the complaint, Indy10 BLM has helped organize, and intends to continue organizing, a number protests and marches to "challenge systemic racism and police practices." However, the complaint alleges that the "violent response" from IMPD officers has led to fewer people being willing to exercise their rights to engage in peaceful protests.
"In order for Indy 10 BLM to get its message across to decision makers and other persons, it is imperative that it has the maximum number of persons attending these events," the complaint stated. "Indy 10 BLM has had to expend its scarce resources to prepare for police violence at protests by buying medical supplies and expending time in obtaining donated supplies. This has caused the organization to divert necessary financial and other resources away from its overall mission."
The plaintiffs are asking the Southern Indiana District Court to find the city and police have violated the First and Fourth Amendments and to enjoin the city and police from using tear gas, pepper-ball projectiles, flashbang grenades, rubber bullets and other things to interfere or stop protests. Also, they are asking the individual plaintiffs be awarded damages.
Please enable JavaScript to view this content.