One Republican is dropping out of the primary race for Indiana attorney general and endorsing a new candidate who will try to oust GOP incumbent Curtis Hill from office.
Former Indiana Department of Revenue Commissioner Adam Krupp, who resigned from his state government job and joined the race in January, announced Tuesday morning that he is withdrawing his candidacy.
Krupp is instead endorsing Decatur County Prosecutor Nate Harter, who announced his candidacy Tuesday morning.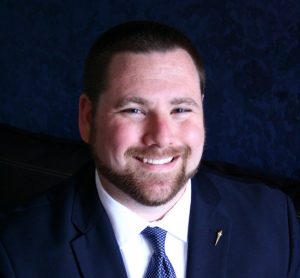 "I am running for Attorney General because Hoosiers deserve a tested and proven prosecutor who will be tough on crime, support law enforcement, protect victims, and defend our conservative core values in words and deeds," Harter said in a written statement. "As a committed grassroots conservative, I know that in these perilous times, the Attorney General has a crucial role as the tip of the spear — or the last line of defense against big government and the radical left."
Krupp said he initially entered the race because he believed the office needed to be led by someone with "Republican values and integrity."
"Nate is a talented lawyer and a strong conservative with a track record of integrity. He has a passion for creating a positive organizational culture," Krupp said in a statement. "He is a servant leader in his community."
Harter, 32, was elected prosecutor in Decatur County in 2014 and reelected in 2018. Prior to that, he was an attorney at Stephen Legal Group in Greensburg. He is chairman of the Decatur County Republican Party and serves on the Indiana Republican Party State Committee.
He attended Butler University and Indiana University Maurer School of Law.
Krupp said he knew the campaign would be an uphill battle, but he believed he had a well-structured plan. Then, the coronavirus pandemic hit and stalled all in-person campaigning.
In a letter to Republicans, Krupp said he knows his campaign had an impact because his opponents started attacking him for previous campaign contributions to Democratic candidates.
Campaign finance records show Krupp donated $500 to former Democratic President Barack Obama's campaign in 2008 and $100 to a Democratic Congressional candidate in California in 2018.
In the letter, Krupp acknowledged that he "was not a lifelong Republican" and never thought he'd run for office.
He said a senior lawyer he worked with in 2008 asked him to attend an event for Obama's campaign, and the other donation went to a good friend.
"It never occurred to me that attending a breakfast 12 years ago or giving an old friend $100 to run for office would ever be relevant now," Krupp wrote in the letter. "However, these actions have been used in an attempt to smear me. This is the type of politics that we all hate."
Krupp said this change in circumstances pushed him to withdraw from the race and throw his support behind Harter.
"I believe that is what is best for our party and our state," Krupp said. "Most importantly, I believe this is the best path to retaining this important office in November."
Hill is seeking re-election, but he has lacked full party support since he was accused of inappropriately touching a state lawmaker and three legislative staffers in 2018.
Gov. Eric Holcomb and other top Republican leaders have called for Hill to resign, but he has remained in office.
The allegations against Hill include that he grabbed the buttocks of Democratic Rep. Mara Candelaria Reardon at a bar two years ago and inappropriately touched and made unwelcome sexual comments toward three female legislative staffers — ages 23 to 26 at the time. A special prosecutor declined to file criminal charges.
Hill is still awaiting the outcome of a four-day disciplinary trial over the groping allegations.
Former state Supreme Court Justice Myra Selby presided over the hearing and has recommended that the Indiana Supreme Court suspend Hill's license for at least 60 days without automatic reinstatement.
Bose McKinney & Evans attorney John Westercamp also is seeking the GOP nomination.
Indiana Republican delegates will select their party's nominee at the convention in June.
Whoever wins the Republican nomination will face a Democratic opponent in the general election. Democratic state Sen. Karen Tallian  from northwest Indiana and former Evansville Mayor Jonathan Weinzapfel are running for their party's nomination, which will also be decided at a statewide convention in June. The vote will be conducted by mail because the convention is being held virtually.
Democrats lead the AG fundraising race, based on the most recent campaign filings with the Indiana Secretary of State's Office. As of March 31, Weinzapfel had more than $662,000 on hand compared with more than $101,000 for Tallian. Hill led Republicans with more than $80,000 available, compared to about $56,000 for Westercamp and $51,000 for Krupp. Harter had not filed any campaign documents with the Secretary of State's Office as of Tuesday.
Please enable JavaScript to view this content.