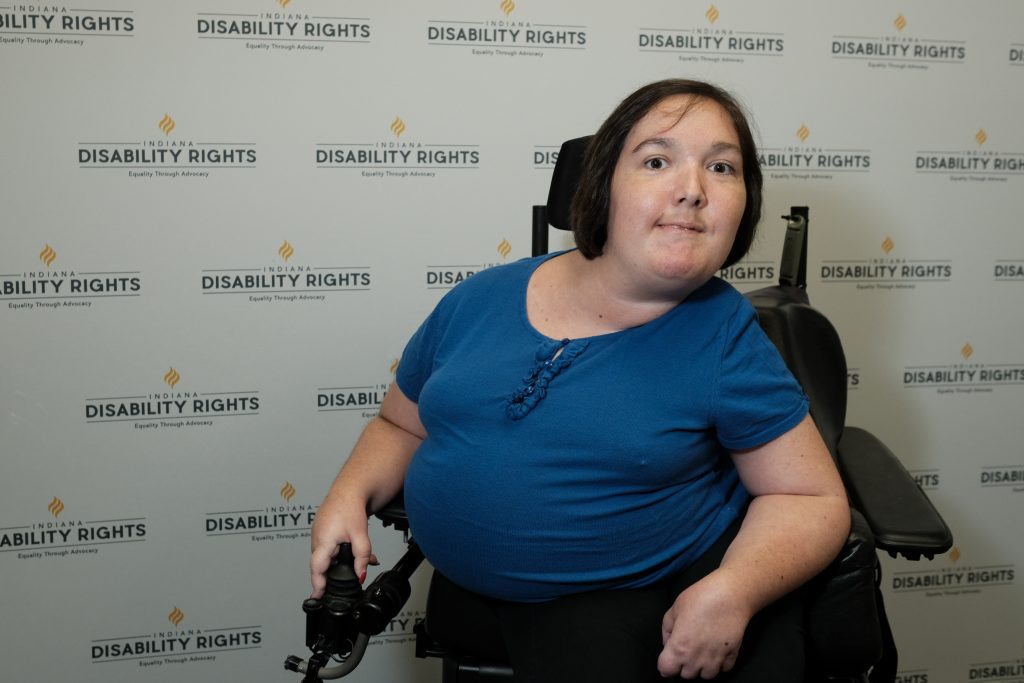 The number of lawyers in the United States who report having some form of a disability is minuscule. But as small as the figures may be, a shift is taking place in the legal industry that has caused the numbers to double in the past decade.
Roughly half of 1% of all attorneys in American law firms disclose having a disability, according to data revealed by the American Bar Association's 2019 Profile of the Legal Profession. That includes law firm partners at 0.52% and associates at 0.46%.
Although those numbers are strikingly low, they are twice what they were 10 years ago. Even so, Emily Munson, who leads the Indiana Disability Rights employment practice group, said those figures are disturbing.
"It's disturbing that the legal community includes so few people that are willing to self-identify with a disability," Munson said. "But at the same time, it's encouraging that the number is increasing."
Munson makes up a piece of the less than 1% of attorneys with a reported disability. She has a condition called spinal muscular atrophy, a genetic disorder that affects part of the nervous system that controls voluntary muscle movement.
When she was born, Munson said it was typical for individuals with SMA to die in their early-to-mid-20s. However, improved medical technology has lengthened lifespans. Munson said she thinks such advancements have also contributed to the uptick in lawyers who report a disability.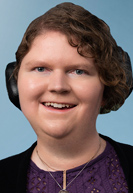 In Indiana alone, Munson knows several other lawyers with disabilities, including Faegre Baker Daniels attorney Katrina Gossett Kelly. The FBD lawyer said she's disappointed the percentage of reported disabilities is so low, but she's not entirely surprised.
Kelly, who also has SMA, has used a power wheelchair since she was 3 years old because she couldn't crawl or walk. She's unable to lift her arms and can't move her legs very well, so she relies on her wheelchair, technology and others for assistance.
If it were the 1950s, Kelly said she never could have been a lawyer. But now, attitudes and circumstances are shifting more favorably — albeit slowly — toward those with disabilities.
"Part of the reason why we gravitate to the law is because it's a job that can be performed without a lot of physical activity," Munson said. Rather than flip through the pages of a heavy law book, the women can rely on advanced technology such as LexisNexis or voice recognition software to more quickly find a case they're searching for.
"Those technological advances have made it a lot easier for people with disabilities," Kelly agreed. "That's probably a big upshot of it."
Misconceptions and expectations
Regardless of technological progress, the consistently low numbers may stem from the fear that many attorneys with unreported disabilities still face in the workplace setting.
"They may be scared the firm will back away because they're afraid of the accommodations," Kelly said. "I think sometimes there's a fear when you see someone roll in with a wheelchair that they'll need an enormous amount of help. Which is incorrect. It's not an accurate portrayal of what legal accommodations will look like."
Just getting a foot through the door is already a huge barrier for her friends with disabilities, Munson noted. Misconceptions in the workplace continue to play a significant role in prolonging the stigma surrounding disabilities. Realistic expectations of how to accommodate attorneys with physical disabilities is just piece of the pie.
"The unreported disabilities face the same problem," Kelly said. "If they report and ask for accommodations, they'll get pushback and not end up getting the job. If they need to have flexible hours to work from home due to anxiety, that should be a reasonable accommodation."
Individuals who have psychological or learning disabilities might be able to more easily hide their struggles from their employers and peers than those with physical disabilities, which could contribute to the low figures, Kelly added. Another misconception the women encounter is that the quality of work might be lesser if produced by an attorney with a disability.
"When we look at people with disabilities in employment situations across the board, employers report their disabled employees are more loyal, there's less turnover, less absentees and use of leave," Munson said. "Those employees are very good at thinking outside of the box and coming up with solutions to problems. Rather than suffering from poor workmanship, if firms were to hire lawyers with disabilities, they could receive a lot of value in return for doing so."
"I think there's some work to be done in understanding what a disabled partner might be able to contribute," Kelly added. "Because perhaps their contribution may look different than that of the partner that's there every night. Perhaps it's just as valuable."
Reaching higher
One Hoosier who's determined to push past those stigmas is Natalie Miller, a paralegal with the Marion County Prosecutor's Office. Miller, who has high-functioning autism, has been a disability advocate since high school. She's not surprised by the ABA data results but is pleased the numbers are slowly rising.
Miller said she has seen a substantial increase in resources available for those with physical and neurological disabilities.
"With resources and early intervention growing, I imagine given a few more decades that percentage will only continue to increase," Miller said. "A lot of employers want to help, or at the very least, they just don't know how to get started and are reluctant. They're going into uncharted territory."
While applying for jobs, Miller included her extensive disability advocacy work on her resume. She said including that information was perceived as a yellow flag by many people, which decimated her self-esteem. But then she pursued paralegal studies and considered becoming a disabilities lawyer.
"Though law school is not entirely out of the question, I decided what I really wanted more than anything was just to be a part of the world," Miller said. "To belong. And, to be accepted for who I am, not just tolerated because people don't want to seem rude."
Through her disability advocacy work, Miller hopes to encourage others on the spectrum. She thinks, over time, more young people such as herself will have the confidence to believe a career in the legal profession is something they can achieve if they so desire.
"I think as the attitude toward disability changes in the world, we feel a little less beaten down by what we've had to face," Miller said. "Seeing all the new success stories out there … we feel compelled to reach higher."•
Please enable JavaScript to view this content.