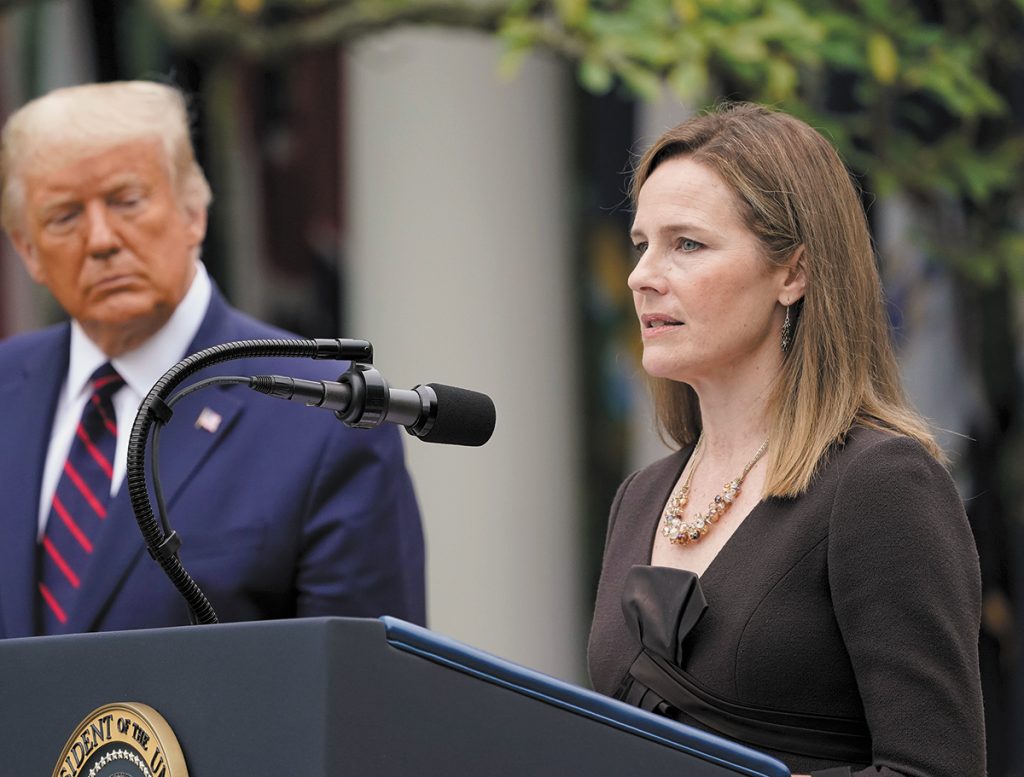 COVID may have seemed like the only thing that happened in 2020, but for Indiana's legal community, the past year brought watershed developments that will be with us for years to come, many of which were touched directly by the pandemic.
Here are the Top 10 non-coronavirus Indiana legal news stories as determined by consensus of the Indiana Lawyer editorial staff.
1. Amy Coney Barrett appointed to U.S. Supreme Court
Former University of Notre Dame law professor and 7th Circuit Court of Appeals Judge Amy Coney Barrett's ascent to the United States Supreme Court came amid a pandemic and an election season whose partisan divide only grew with her nomination by President Donald Trump to succeed the late Justice Ruth Bader Ginsburg.
"I would assume this role to serve you," Barrett said during a September White House Rose Garden ceremony announcing her nomination — an event that later was linked to multiple coronavirus cases. "I would discharge the judicial oath which requires me to administer justice without respect to persons, do equal rights to the poor and rich, and faithfully and impartially discharge my duties under the United States Constitution."
In addition to her vote of support from the Notre Dame community and Indiana's senators, Barrett, a devout Catholic and mother of seven, won praise from attorneys who knew her record as a jurist and an academic.
"Her decisions can only fairly be described as pro-Constitution and anti-judicial imperialism," Faegre Drinker Biddle & Reath appellate attorney Brian Paul said. "She implements the law as it is written and enacted, without regard who the litigants before her (are) and regardless of her own policy preference — exactly as our Framers meant for the law to be implemented."
But Democrats criticized Barrett's appointment amid a presidential campaign season, and none in the Senate voted to confirm her as conservatives cemented a 6-3 majority on the high court.
2. Valparaiso Law School closes after 140 years
The last few remaining Valparaiso Law School students had known for some time that when they graduated in 2020, their law school would close forever. But the final graduating class never got to formally mark an ending or say goodbye due to COVID-19, which closed the school for the final time weeks earlier than expected.
Years of declining enrollment at the institution after it was censured by the American Bar Association for lax admissions standards sealed the law school's fate. Valparaiso University announced in November 2018 the school would close after multiple efforts to find a new way forward failed. The university admitted no new students after that and developed a plan to complete the legal education for the few students who remained.
But for those who learned at Valpo Law School or taught there, the closing was deeply felt.
Lake County deputy prosecutor and Valpo alumna Nadia Wardrip took her 2-year-old daughter to the school in the spring to get some keepsake photos. "It was never a top-tier school," she told IL, "but that doesn't mean it didn't create great attorneys."
Professor emeritus Bruce Berner pointed out in a eulogy he wrote for the school that its legacy will live on through its graduates: "To my pal, VUSL, stay strong, and in May (2020) RIP knowing that you will continue to make the world a better place through the many whom you taught."
3. Curtis Hill suspended, later ousted as AG; Rokita elected
Attorney General Curtis Hill's year wasn't going well before the pandemic.
He began 2020 awaiting the Indiana Supreme Court's determination of his discipline related to accusations that he groped a lawmaker and three legislative staffers then retaliated against them when those accusations became public.
After hearing his case, former Justice Myra Selby in February urged justices to suspend Hill for 60 days without automatic reinstatement. Justices in May suspended him for 30 days with automatic reinstatement.
The discipline caused Gov. Eric Holcomb to seek clarification from the court about whether Hill's suspension created a vacancy that he should fill as well as questions about whether Hill remained eligible to continue to serve following his discipline. Justices denied Holcomb's bid to intervene, and the governor took no further action.
Hill returned to office after his suspension and vowed to fight on, but the scandal proved insurmountable. Numerous Republicans challenged him for the nomination at the party's convention. Former Congressman and Secretary of State Todd Rokita claimed the GOP nod and went on to defeat Democratic candidate and former Evansville Mayor Jonathan Weinzapfel in the November general election.
But the episode that drove Hill from office will continue to follow him after he leaves, and not only by marring his legacy. He still faces a harassment and retaliation lawsuit brought by his accusers, and he has been ordered to pay more than $19,000 in costs and fees arising from his discipline case.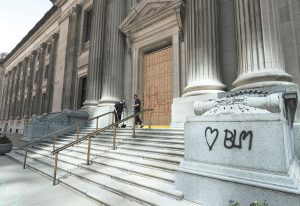 4. Racial injustice protests turn violent; Bravo, Rush, leaders call for reforms
Protests arising from the police killing of George Floyd in Minneapolis and the Black Lives Matter movement turned violent in Indianapolis and around the state. Property damage was extensive and large sections of downtown Indianapolis remained boarded up for weeks after looters smashed windows and set fires. Standoffs between police and protesters escalated in late May and early June.
While dozens were initially charged, Prosecutor Ryan Mears announced no criminal charges would be filed against peaceful demonstrators. Indianapolis endured curfews night after tense night until an uneasy calm prevailed.
Newly appointed Indiana University Robert H. McKinney School of Law Dean Karen Bravo spoke out, condemning violence but calling for a new commitment to justice and equality. "(F)ailure to speak up would let down the law school and legal community," she said. "… Together, we have answers that can lead to the dismantling of the structures of inequality that we inhabit."
Indiana Chief Justice Loretta Rush likewise issued a statement on race and equity, saying "we can and must do better … we must hear the voices that cry out in our streets and towns." Bar association and legal community leaders likewise pledged to redouble efforts to improve diversity and inclusion and confront racism.
In Fort Wayne, Jared Haller, an Indiana Legal Services attorney, took it upon himself to stand guard outside the Allen County Bar Association office rather than board up the windows amid protests. He told IL, "It's easier to smash windows if nobody is there than if somebody is on hand to say, 'Let's talk before you do it.'"
5. Bar exam scores rise after first remote test; state to adopt UBE
The Indiana Bar Exam will never be the same.
A task force had been at work for more than a year studying potential changes to the legal profession's licensing test before the pandemic, which forced its own immediate changes.
With an in-person July test impossible, the Indiana Supreme Court first looked to software vendors, but the solutions were glitchy. Students already facing unprecedented challenges and uncertainty got some relief when the court allowed the bar exam to be given remotely, via email, in an open-book format, in early August.
The results impressed: 74% of test-takers passed — the highest since 2015. After some exams were reviewed as part of the appeals process, the rate rose to 78%.
In February the bar exam will be remote and, for the last time, include essay questions about Indiana law. The Indiana Supreme Court announced in December that the state will adopt the Uniform Bar Exam, as the task force recommended, in July 2021. Under the UBE, the Indiana essay questions will be swapped for the six questions on the Multistate Essay Exam. Otherwise, the rest of the Indiana bar will remain the same.
But as Chief Justice Loretta Rush noted, the decision to adopt the UBE wasn't unanimous. "I really respect the dissenting opinion and in many ways a lot of us agree with what they are saying," Rush said. "But we really felt the time had come."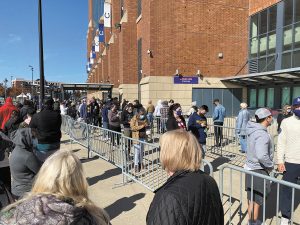 6. Election suits expand ballot access, but not absentee voting
Indiana adjusted its primary election rules to allow no-excuse absentee voting to limit the spread of coronavirus, but it didn't do so for the general election — a decision upheld in a federal appeal.
Numerous lawsuits unsuccessfully challenged Indiana election restrictions, including a law requiring absentee ballots be received by noon on Election Day to be counted.
However, a federal court ruled voters must be given the chance to fix their signature when their mail-in ballots are rejected. Also, the state's attempt to purge the voter rolls without notifying the impacted voters is being reviewed by the 7th Circuit Court of Appeals.
7. Evictions halted because of pandemic, but advocates worry about coming flood
Economic upheaval caused by lockdowns due to the pandemic put thousands of Hoosiers on the precipice of financial ruin and potential homelessness. Among his executive orders issued in March, Gov. Eric Holcomb enacted a moratorium on evictions that was renewed until August.
The Centers for Disease Control and Prevention also issued an eviction moratorium that remains in effect. But housing advocates and judges warned that Indiana, which already has some of the nation's highest rates of eviction, would likely face a flood of new eviction lawsuits due to COVID-19 when protections expire.
8. Federal executions restart in Terre Haute after 17-year pause
The federal government executed 10 federal death row inmates at the U.S. Penitentiary in Terre Haute between July and mid-December: Daniel Lewis Lee, Wesley Ira Purkey, Dustin Honken, Lezmond Mitchell, Keith Nelson, William Lecroy Jr., Christopher Vialva, Orlando C. Hall, Brandon Bernard and Alfred Bourgeois.
The Trump administration resumed federal executions after a 17-year moratorium and despite challenges over the defendants' competency, their culpability or other appellate issues. No executions were halted, even when defense attorneys said their clients had compelling evidence that had not been considered on the merits. While some victims' families said the executions brought them closure, some opposed the execution and fought to stop it. Three more federal executions are scheduled in January.
9. Baker, longest-serving judge, retires from COA; Weissmann appointed
Judge John Baker had been an Indiana judge longer than anyone when he retired this year, a career that took him from a small claims court in Bloomington to the Indiana Court of Appeals. He retired earlier this year, and Gov. Eric Holcomb appointed Leanna Weissmann — like Baker, a native of Aurora, Indiana — to succeed the veteran jurist.
Weissmann's name is familiar in Indiana appellate circles, as she's been among the state's most prolific practitioners, formerly clerking for then-COA Judge Robert Rucker early in her career. "What a star," Indiana Chief Justice Loretta Rush said of Weissmann when her appointment was announced. "I will miss you standing before me arguing cases. … I always knew it would be a whale of an argument."
10. Big moves for law firms: Dentons, Faegre formalize combinations
Global law firm giant Dentons entered the Indianapolis market by formalizing a strategic combination with Bingham Greenebaum Doll to form Dentons Bingham Greenebaum. Faegre Baker Daniels officially combined with Philadelphia-based Drinker Biddle & Reath to become Faegre Drinker Biddle & Reath. Likewise, Taft Stettinius & Hollister's combination with Briggs and Morgan of Minneapolis was completed Jan. 1. Other big firms also expanded in 2020. Barnes & Thornburg, for instance, stepped into the New York market and moved into a new office building in South Bend.
Small firms also merged — among them, Katz Korin Cunningham and Cantrell & Mehring merged, as did Clendening Johnson & Bohrer and Hehner & Associates.•
Please enable JavaScript to view this content.