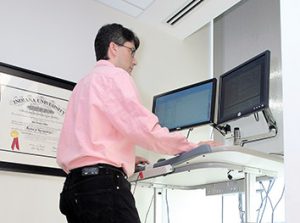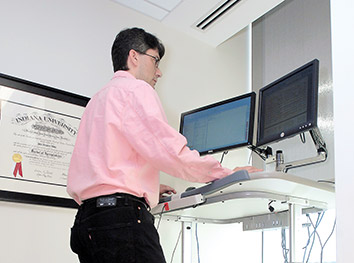 The Indiana State Bar Association and the Indiana Judges and Lawyers Assistance Program focus on wellness in a new workplace survival guide.
Read More
Testimony alleges that Ohio lawyer's race and past play a role in Indiana's case against him for unauthorized practice of law.
Read More
In response to the low numbers, the Indiana Bar Foundation is launching a legal assistance website to help low-income Hoosiers.
Read More
Bill Bock worked for more than 2 years to uncover evidence against Lance Armstrong.
Read More
Some Indiana attorneys are concerned about the possible ramifications of the recent Horner decision.
Read More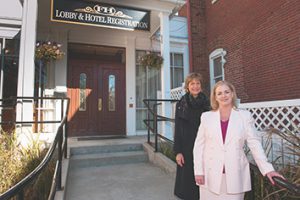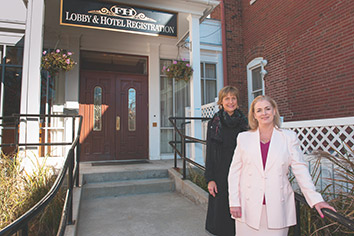 Attorneys travel from around Indiana and the region to hear from national experts and learn techniques.
Read More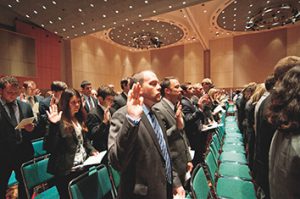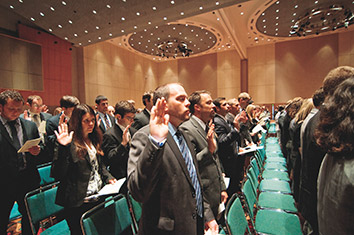 The admission ceremony for new Indiana lawyers weaves together feelings of joy and responsibility.
Read More
Read the list of individuals who passed the Indiana bar exam in July 2012.
Read More
Local Rule amendments are in the works in the Northern District and Southern District of Indiana, with amendments to take effect Jan. 1.
Read More
Deanna Finney explains how readers can use tools in their Outlook email program to make emails easier to manage.
Read More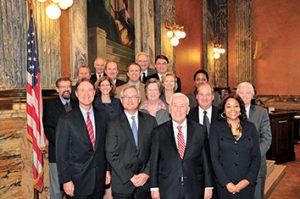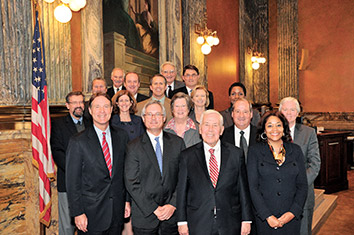 Judges and judicial officers from the U.S. District Court for Southern District of Indiana came together recently to honor Sen. Richard Lugar and former Sen. Evan Bayh for their service to the federal judiciary.
Read More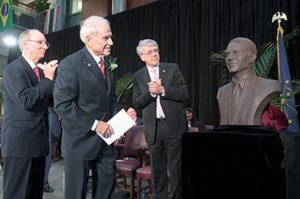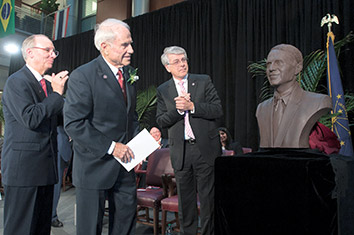 Read news from Indiana's law schools, including the recent naming ceremony at Indiana University Robert H. McKinney School of Law
Read More
Indiana's newest justice has officially joined the state's highest court. Loretta Rush had a private swearing in ceremony Nov. 7. Her public ceremony will be held Dec. 28. Rush is just the second woman to serve on the state Supreme Court.
Read More
The number of cases filed in Indiana courts in 2011 is the lowest since 2004, according to exhaustive data in the annual Judicial Service Report released Monday.
Read More
A third-year evening student, Russell Hollis did not return home empty handed from "Wheel of Fortune."
Read More
The way Marion Superior judges are elected is unconstitutional, a suit filed Thursday by Common Cause and the American Civil Liberties Union of Indiana alleges.
Read More
Court of Appeals judges on Tuesday focused their questions on whether a 12-year-old waived to adult court in a 2010 murder had due process when his attorneys had just five days to prepare for a waiver hearing in juvenile court in Kosciusko County.
Read More
The Indiana Supreme Court on Wednesday heard arguments on whether Indianapolis billionaire Herb Simon may proceed with a defamation suit against a California attorney. The suit involves comments the lawyer made to an Indianapolis TV station regarding allegations that Simon and his wife employed illegal immigrants at their California home.
Read More
Read appellate decisions from Indiana courts.
Read More
See who's been disciplined by the Indiana Supreme Court.
Read More
Read news from the state's bar associations.
Read More
Indiana Supreme Court provides guidance.
Read More
During its Annual Meeting Nov. 15-16, the DTCI will recognize the outstanding defense lawyers of 2012.
Read More
December 31st is right around the corner, and with it comes important considerations for year-end tax planning. Special breaks are still available for 2012, and taking action before December 31 could reduce taxes for 2013 and beyond.
Read More
Average starting salaries for legal professionals in the United States are projected to rise 3.0 percent overall in 2013, according to the just-released Robert Half Legal 2013 Salary Guide.
Read More
The pilot program, which will be tested in 2013 with four IndyBar sections—the Appellate Practice Section, the Family Law Section, the Government Practice Section and the Real Estate and Land Use Section, will call for a small increase in section dues, which will in turn allow section members to attend all one-hour brownbag programming presented by the section at no cost.
Read More
The slate for the 2013 Indianapolis Bar Association Board of Directors is now complete with the appointment of four Vice Presidents and the Counsel to the Board by President-Elect Kerry Hyatt Blomquist.
Read More