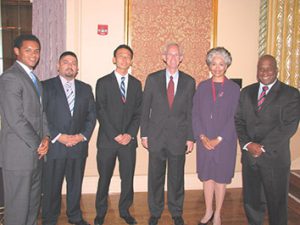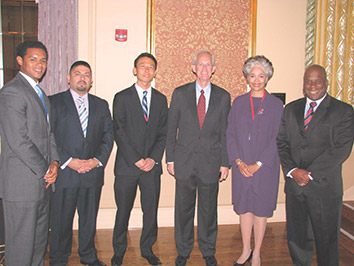 St. Joseph County Bar Association Diversity Committee recently organized a Diversity and Inclusion Summit to shed light on the low number of minorities in the law and bounce around ideas about attracting more minorities, women, and gays and lesbians to the practice of law.
Read More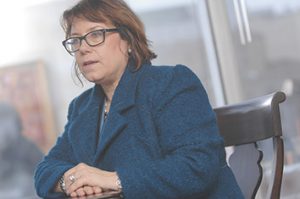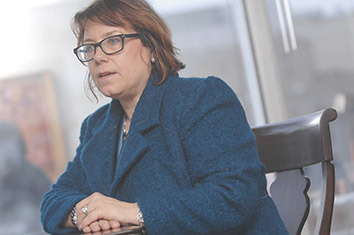 Taking charge at Indiana Federal Community Defenders Inc. in the Southern District, Monica Foster's seeking, and getting, bigger caseloads.
Read More
A proposal before the Indiana Supreme Court could change the landscape for those who provide civil legal aid and pro bono service.
Read More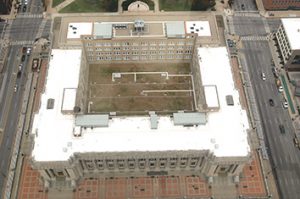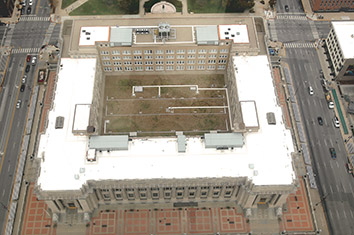 The greening – literally – of the rooftop of the Indianapolis federal courthouse is part of a $66.8 million upgrade of the building with funds coming from the American Recovery and Reinvestment Act. Work on the roof along with additional upgrades to increase the energy efficiency of the facility as well as to improve the public safety system began in December 2009 and was substantially complete on Aug. 27, 2012, according to the U.S. General Services Administration.
Read More
With a new governor taking over Indiana's executive branch in January, what changes, if any, will come to the Department of Child Services are unknown. However, some contend that should not stop the agency from addressing criticism and implementing new policies or programs now.
Read More
In the Greek epic "The Odyssey," Homer's hero Odysseus takes 10 years to return home after the Trojan War. Indiana's Odyssey might take longer to reach its goal. Odyssey, the state-backed court case management system that aims to connect and modernize more than 400 trial courts, is continuing its laborious progress, locality by locality.
Read More
In the world of searching for relevant documents in the recesses of email inboxes and hard drives, a new high-tech tool has appeared that, despite causing trepidation among some attorneys, will likely become commonly used during the discovery process to tame the growing volumes of data.
Read More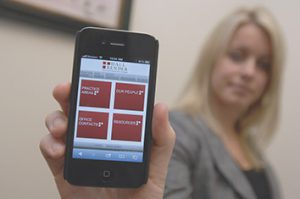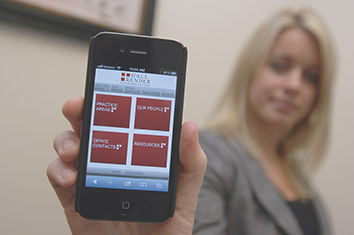 If your firm hasn't bought you a new smartphone, provided better remote access options, or replaced an aging monitor lately, you might nudge the purchasing department.
Read More
I encourage you to nominate an up-and-coming lawyer or distinguished barrister who you admire. Time is limited, and I realize that when it comes to discretionary projects like completing a nomination form, while our intentions are good, our follow-through can fall short. But there is something about the feeling derived from taking the time – or making the time – to do something like this that is so satisfying.
Read More
Preparing students for the rigors and complexity of today's legal profession requires schools to focus not only on doctrinal analysis, but also on the complete set of professional competencies that successful lawyers require. Toward that end, the faculty at the I.U. Maurer School of Law has adopted a series of initiatives aimed at expanding the range of experiential learning opportunities available to our students.
Read More
Using attachments in email is a common and simple method for sending files. There is, however, a problem when those attachments get too large. That is because there are file size limits on most email services for both sending and receiving attachments.
Read More
Rodney Nordstrom reviews "Winning the Jury's Attention: Presenting Evidence from Voir Dire to Closing."
Read More
A federal judge in South Bend has denied a death row inmate's request for habeas corpus, rejecting the man's claims that he is mentally retarded and, therefore, cannot be sentenced to death.
Read More
One of the two women prosecutors say filed false claims in order to receive money from funds set up for victims of the stage collapse at the Indiana State Fair in 2011 received a four-year sentence Friday.
Read More
The pilot project announced this summer by the Indiana Supreme Court that includes using video transcripts in three trial courts as the official court record will run through Dec. 31, 2013.
Read More
Ex-attorney William Conour and his defense lawyers officially parted ways on Thursday. A federal judge afterward granted Conour's request that he receive $15,000 from a $100,000 trust fund set up for compensating client victims he is accused of defrauding.
Read More
The Supreme Court of the United States has agreed to review a federal appeals court decision regarding patent infringement in a case involving an Indiana farmer and a seed producer.
Read More
A bill in Congress that would extend federal regulation to the payday lending industry would pre-empt state laws and undermine consumer safeguards, Indiana Attorney General Greg Zoeller warned in a letter signed by 40 attorneys general.
Read More
The Supreme Court of the United States came back for its 2012 session Monday and decided it will not take the appeal filed by a provider of prerecorded telephonic messages seeking to overturn enforcement of a ban on automated robo-calls in Indiana.
Read More
Evansville Bar Association members have overwhelmingly recommended five of the seven candidates running for Vanderburgh Superior Court, based on results from a recent survey.
Read More
Indiana's Judges' Pension Fund and Prosecutors' Pension Fund will receive nearly 30 percent of the $360 million in surplus money from the state reserves, the governor's office announced Thursday.
Read More
Indiana Chief Justice Brent Dickson has signed an order amending Admission and Discipline Rule 23, Section 26 on the disciplinary commission and proceedings.
Read More
Read appellate opinions from Indiana courts.
Read More
Read who's had his license revoked and who has been suspended by the Indiana Supreme Court.
Read More
How do insurers effectively rescind insurance policies?
Read More
John C. Trimble, partner at Lewis Wagner and former president of the DTCI, has been named 2013 Indianapolis Insurance Law Lawyer of the Year by Best Lawyers.
Read More
A special relationship exists between the Indianapolis Bar Foundation and the Indianapolis Bar Association. It is easy to think of the IBF as the "fund raising arm" of the IndyBar. And that isn't wrong.
Read More
If you recall, smoking is now prohibited in most Indiana workplaces (exceptions being places like riverboats, horse racing facilities and other gaming facilities, retail tobacco stores, and bars that do not employ individuals under the age of 18 or allow individuals under the age of 21, other than employees, to enter, among other things). The law requires employers to prohibit smoking in areas within eight feet of a public entrance to a "place of employment" or a "public place."
Read More
It is with great pleasure that I will host this year's IndyBar Destination CLE, taking place in Sedona, Arizona from November 15 to November 17. To entice your attendance, this year's CLE will be held at the Enchantment Resort & Mii amo Spa, nestled into the red rock wall of Sedona's Boynton Canyon.
Read More
Read news briefs from around the IndyBar!
Read More