Editor's note: This article will be updated with developments.
The former employee who shot and killed eight people at a FedEx facility in Indianapolis was interviewed by FBI agents last year after his mother called police to say that her son might commit "suicide by cop," the bureau said Friday.
Coroners released the names of the victims late Friday, a little less than 24 hours after the latest mass shooting to rock the U.S. Four of them were members of Indianapolis' Sikh community. The attack was another blow to the Asian American community a month after six people of Asian descent were killed in a mass shooting in the Atlanta area and amid ongoing attacks against Asian Americans during the coronavirus pandemic.
The Marion County Coroner's office identified the dead as Matthew R. Alexander, 32; Samaria Blackwell, 19; Amarjeet Johal, 66; Jaswinder Kaur, 64; Jaswinder Singh, 68; Amarjit Sekhon, 48; Karli Smith, 19; and John Weisert, 74.
The shooter was identified as Brandon Scott Hole, 19, of Indianapolis, Deputy Police Chief Craig McCartt told a news conference. Investigators searched a home in Indianapolis associated with Hole and seized evidence, including desktop computers and other electronic media, McCartt said.
Hole began firing randomly at people in the parking lot of the FedEx facility late Thursday, killing four, before entering the building, fatally shooting four more people and then turning the gun on himself, McCartt said. He said he did not know if Hole owned the gun legally.
"There was no confrontation with anyone that was there," he said. "There was no disturbance, there was no argument. He just appeared to randomly start shooting."
McCartt said the slayings took place in a matter of minutes, and that there were at least 100 people in the facility at the time. Many were changing shifts or were on their dinner break, he said. Several people were wounded, including five who were taken to the hospital.
"You deserved so much better than this," a man who identified himself as the grandson of Johal tweeted Friday evening. Johal had planned to work a double shift Thursday so she could take Friday off, according to the grandson, who would not give his full name but identifies himself as "Komal" on his Twitter page. Johal later decided to grab her check and go home, and still had the check in her hand when police found her, Komal said.
"(What) a harsh and cruel world we live in," he added.
Smith, the youngest of the victims, was last in contact with her family shortly before 11 p.m. Thursday, family members said in social media posts late Friday. Dominique Troutman, 'Smith's sister, waited hours at the Holiday Inn for an update on her sister. "Words can't even explain how I feel. … I'm so hurt," Troutman said in a Facebook post Friday night.
Weisert had been working as a bag handler at FedEx for four years, his wife, Carol, told WISH-TV. The couple was married nearly 50 years.
Indianapolis police said earlier that they had not yet discovered the gunman's motive for opening fire with a rifle late Thursday night at a FedEx processing center near the Indianapolis airport.
Five additional victims with gunshot wounds were taken to the hospital, including one with critical injuries, on Thursday night after gunfire erupted at the ground center, police said. The shooter started randomly firing at people in the parking lot and then went into the building and continued shooting, said Deputy Police Chief Craig McCartt. He said the shooter apparently killed himself shortly before police entered the building.
The agonizing wait by the workers' families was exacerbated by the fact that most employees aren't allowed to carry cellphones inside the FedEx building, making contact with them difficult.
"When you see notifications on your phone, but you're not getting a text back from your kid and you're not getting information and you still don't know where they are … what are you supposed to do?" Mindy Carson said early Friday, fighting back tears.
Carson later said she had heard from her daughter Jessica, who works in the facility, and that she was OK.
FedEx said in a statement that cellphone access is limited to a small number of workers in the dock and package sorting areas to "support safety protocols and minimize potential distractions."
Two people were treated by medics at the scene and released.
"Indianapolis was revisited by the scourge of gun violence that has killed far too many in our community and in our country," Mayor Joe Hogsett said Friday morning during a news conference joined by McCartt, Taylor and other officials. "Although we will learn more about this case in the coming days and the coming weeks, no piece of information will restore the lives that were taken or the peace that was shattered."
The chairman of FedEx confirmed Friday those killed were employees.
"It is with a heavy heart that I write to you regarding the tragedy that occurred at our FedEx Ground facility in Indianapolis last night," Frederick W. Smith, chairman and CEO of FedEx Corp., said in a written statement. "While it will take some time to fully understand what happened, we know we lost eight team members in this senseless act of violence.
"First and foremost, I want to express my deepest sympathies to the families, friends, and co-workers of those team members. Our priority right now is in responding to the situation on the ground and helping our team members and law enforcement. We have a team onsite in Indianapolis to provide support, and we are making counselors available."
Experts said many FedEx employees likely will need counseling and mental health support.
"This is a devastating day, and words are hard to describe the emotions we all feel. Please keep the Indianapolis team and surrounding community in your thoughts and prayers as we continue to support and care for each other in the difficult days ahead."
A witness told WTHR-TV that he was working inside the building when he heard gunshots.
"I see a man come out with a rifle in his hand and he starts firing and he starts yellin' stuff that I could not understand," Levi Miller said. "What I ended up doing was ducking down to make sure he did not see me because I thought he would see me and he would shoot me."
"The (gunman) came into the parking lot, and I believe he exited his vehicle and quickly began shooting. … The first shooting occurred in the parking lot, and then he went inside and did not get very far into the facility at all," McCartt told CNN early Friday.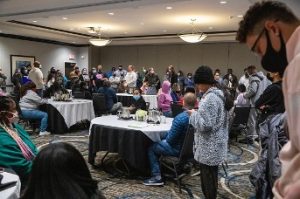 It was the latest in a recent string of mass shootings across the U.S. Last month, eight people were fatally shot at massage businesses across the Atlanta area, and 10 died in gunfire at a supermarket in Boulder, Colorado.
It was at least the third mass shooting this year in Indianapolis alone. Five people, including a pregnant woman, were shot and killed in January, and a man was accused of killing three adults and a child before abducting his daughter during an argument at a home in March.
Gov. Eric Holcomb on Friday morning issued a statement ordering flags to be flown at half-staff until sunset Tuesday in remembrance of the shooting victims.
"This is another heartbreaking day and I'm shaken by the mass shooting at the FedEx Ground facility in Indianapolis," Holcomb said in a statement. "Indiana State Police are working with local responders and we will continue to offer any and all resources needed to assist during this tragedy. In times like this, words like justice and sorrow fall short in response for those senselessly taken. Our thoughts are with the families, friends, coworkers and all those affected by this terrible situation."
"I am heartbroken by the mass shooting at the FedEx facility here in Indianapolis and praying for all affected by this tragedy," Rep. Andre Carson, a Democrat whose district includes much of the city, tweeted. Indiana Republican Sens. Mike Braun and Todd Young also expressed condolences Friday morning, as did multiple Indiana lawmakers and officials.
Police were called to reports of gunfire Thursday just after 11 p.m., and officers "came in contact with [an] active shooter incident," said Indianapolis Metropolitan Police Department spokeswoman Genae Cook. The gunman later killed himself.
"The officers responded, they came in and did their job. A lot of them are trying to face this, because this is a sight that no one should have to see," Cook said.
WTHR-TV reported Friday morning that police evacuated the ground facility using buses, moving employees to another location to interview them.
Family members gathered at a nearby Holiday Inn to await word on loved ones.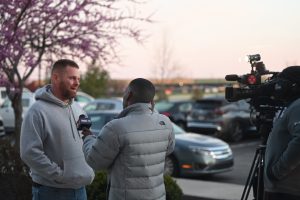 On Friday morning, one woman, who didn't give her name, came to the hotel and found out a relative wasn't at the scene of the shooting and broke down in tears of joy after hearing the news. She said "Thank you, Jesus" multiple times as she left the room where staff members are going through a list of employees who were at the scene.
Timothy Bouillat, a 29-year-old package handler at the warehouse, told The Washington Post that he was eating dinner in an outdoor break area around 11:10 p.m. when he heard two shots clanging against metal. He initially mistook the sound for an engine backfiring.
His co-worker stood up to see what was going on and pointed out a man with a weapon coming out of the front door to the FedEx facility, Bouillat said.
As four or five more shots went off, the pair spotted another person going into a car and retrieving a gun of their own. Moments later, Bouillat said, that person was on the ground, apparently wounded by the shooter.
Bouillat, who has worked at the warehouse for a decade, said the shooting left him "dumbfounded." The building is outfitted with metal detectors and security turnstiles at its entrance that require employees to scan their FedEx badges.
"I'm trying to process what happened and not lose composure," he said. "It could have been me. I could have been the one on the floor, not being able to see my twin boys again."
He and his co-worker were picked up by a third colleague at the facility, who drove them out of the parking lot. On their way out, they warned co-workers heading into the overnight shift not to approach the area.
Ashlee Floyd told The Indianapolis Star that her father has worked at the facility for two decades. She said he usually calls his wife around 11:25 p.m. but he didn't call Thursday, so family tried to contact him but he didn't respond.
"I don't know if he's OK. I don't know if he's injured. I don't know if he's gone. I'm just scared right now," she said.
Live video from news outlets at the scene showed crime scene tape in the parking lot outside the facility.
Jeremiah Miller, a witness who said he works at the facility, told WISH-TV that he saw a man with some kind of rifle after hearing several gunshots.
Another man told WTTV that his niece was sitting in the driver's seat of her car when the gunfire erupted, and she was wounded.
"She got shot on her left arm," said Parminder Singh. "She's fine, she's in the hospital now."
He said his niece did not know the shooter.
Hogsett Friday morning said despite a horrific crime, the city would rally to support the victims and those affected. He cited "the spirit of generosity and radical love" of the city's residents while also making calls to address gun violence.
Hogsett said White House Chief of Staff Ron Klain, a North Central High School graduate, reached out to him via text message to offer federal resources to the city.
Hogsett called the shooting "senseless violence," and challenged state and federal laws regulating firearms. He said he would like to see various loopholes in those laws closed, as well as more stringent laws for high-capacity magazines and certain firearms.
Police have not identified the make of the rifle used in the shooting.
"It seems to me that, beyond the need of comfort for the grieving, we must guard against resignation or even despair — the assumption that, 'This is how it must be,' and 'We might as well get used to it,'" Hogsett said. "We need the courage that compels courageous acts.
The FBI's Indianapolis office is assisting city and state police with the investigation.
President Joe Biden said he had been briefed on the shooting and called gun violence "an epidemic" in the U.S.
"Too many Americans are dying every single day from gun violence. It stains our character and pierces the very soul of our nation," he said in a statement. Later, he tweeted, "We can, and must, do more to reduce gun violence and save lives."
House Speaker Nancy Pelosi said she was "horrified and heartbroken" by the shooting and called for congressional action on gun control.
"As we pray for the families of all affected, we must work urgently to enact commonsense gun violence prevention laws to save lives & prevent this suffering," the Democratic leader said in a tweet.
Please enable JavaScript to view this content.