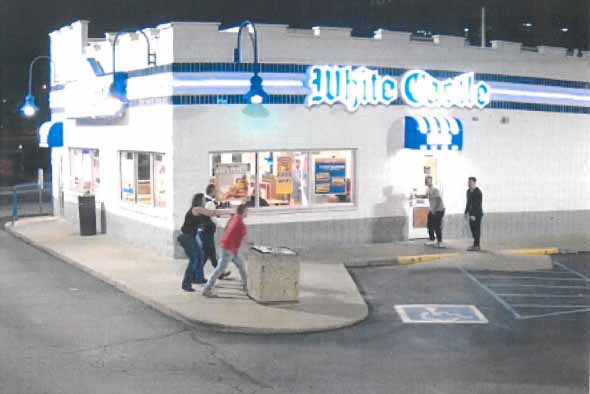 The man charged with shooting two southern Indiana judges outside an Indianapolis fast food restaurant last year claimed in a Tuesday court filing that he acted in self-defense. The notice of affirmative defense also alleges the judges were the aggressors as alleged gunman Brandon Kaiser and his nephew, Alfredo Vazquez, were stopping to eat at a downtown White Castle, where the shooting took place in the parking lot.
The filing claims Brandon Kaiser was pulling on a locked door and trying to enter the White Castle after 3 a.m. on the morning of May 1, 2019, when Clark Circuit judges Andrew Adams and Bradley Jacobs, who had been standing nearby after a night of bar-hopping, approached Kaiser "in a hostile manner," slammed him to the ground, choked him, beat him and kicked him in the head.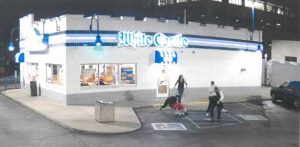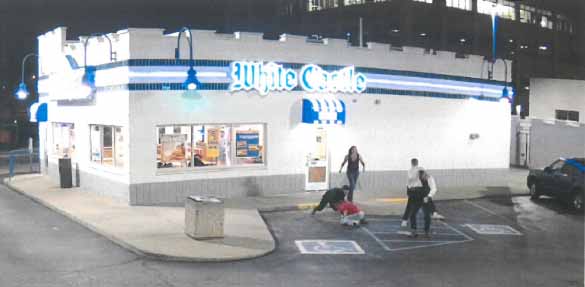 "The defendant, who was repeatedly beaten, choked, and slammed around, was reasonable to fear that this assault would result in his death or severe injury," Kaiser's notice of affirmative defense says. Kaiser faces 14 charges — including four felony counts of aggravated battery — in connection with the shootings.
Kaiser's self-defense notice says he "did not provoke, instigate, or participate willingly in the violence of his assault and did not make physical contact with his attackers until it was necessary in order to protect himself. … The Defendant was justified in using reasonable force to protect himself because he was attacked by two men with military training while he was attempting to enter a fast food restaurant."
Filed as exhibits were photos from surveillance video that still has not been made public. Among them, one purports to show Jacobs picking up the smaller Kaiser, who he then allegedly "slammed into the concrete." Another photo submitted as an exhibit purports to show Adams kicking Kaiser in the head while being held down by Jacobs.
Kaiser, the filing says, "repeatedly tried to escape his attacker's hold, but the force used against him was too strong. (Crawford Circuit) Judge Sabrina Bell, who was there with the other two Judges, attempted at least two separate times to get Judge Jacobs off of the Defendant." Clark Circuit Magistrate Judge William Dawkins also is purportedly seen in the parking lot video as a bystander to the violence.
Kaiser drew a weapon and shot Adams in the stomach, documents in the disciplinary and criminal cases say. Kaiser then shot Jacobs twice in the chest. Kaiser and Vazquez then drove away. Both judges were hospitalized for several days before being released; Jacobs initially was in critical condition.
The notice also says Kaiser suffered severe injuries to his face and body as a result of the assault.
The Indiana Commission on Judicial Qualifications announced disciplinary charges in October against Adams, Jacobs and Bell.
A grand jury indicted Adams for his role in the fight. Adams, who admitted to kicking Kaiser, pleaded guilty in September to a misdemeanor count of battery but avoided jail time. Vazquez pleaded guilty and was sentenced to 180 days on home detention and a year on probation for violating probation and for misdemeanor battery. Bell and Jacobs were not charged.
The Indiana Supreme Court in November suspended the judges. Bell and Jacobs drew a one-month suspension and Adams was suspended for 60 days. All three judges have since returned to the bench.
In suspending the judges, the Indiana Supreme Court found that they "joined in a profane verbal altercation that quickly turned into physical violence and ended in gunfire, and in doing so, gravely undermined public trust in the dignity and decency of Indiana's judiciary."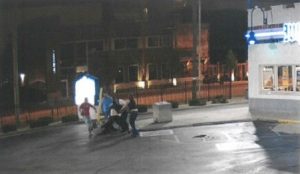 The Indiana Supreme Court order rendering discipline, however, is silent as to who is believed to have instigated the physical altercation, saying instead that none of the judges sought to de-escalate the confrontation.
The court order's narrative says Kaiser and Vazquez "shouted something out the window" as they drove past the restaurant, prompting Bell to give them the finger, after which Kaiser and Vazquez pulled into the parking lot and a heated argument began that led to violence. The extent of the court's order describing the violence that morning reads:
"After a verbal exchange between Judge Bell and Vazquez, a physical confrontation ensued. At one point, Judge Jacobs had Kaiser contained on the ground. With his fist raised back, Judge Jacobs said, 'Okay, okay, we're done, we're done,' or 'This is over. Tell me this is over,' or words to that effect. At another point during the confrontation, Judge Adams kicked Kaiser in the back. The confrontation ended when Kaiser pulled out a gun, shot Judge Adams once, and shot Judge Jacobs twice." The order says all three judges were intoxicated at the time of the melee.
IL reached out Wednesday to Indiana Supreme Court spokespeople for comment on whether additional disciplinary charges were being considered against the judges and whether the court or the Indiana Judicial Qualifications Commission viewed the surveillance video before disciplining the judges, among other questions.
Kaiser's jury trial is scheduled for March 16.
Please enable JavaScript to view this content.