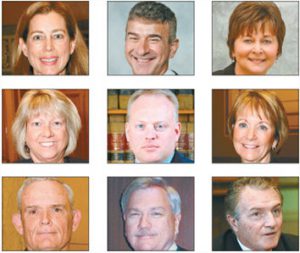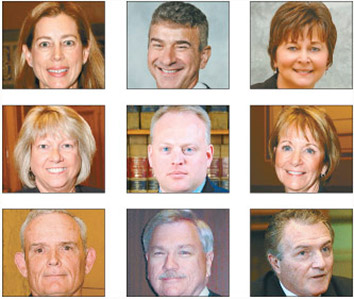 Nine attorneys remain in the running to be the next Indiana Supreme Court justice after a seven-member commission narrowed
down a list of nearly three-dozen applicants earlier this month for the court opening.
Read More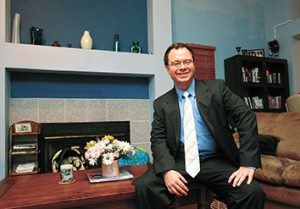 Considering how much information is out there on just about every individual – a simple Google search can prove that
– it's difficult to say what is or isn't private anymore.
Read More
A Marion Superior judge presiding over the county's traffic court faces four judicial misconduct charges as a result of his general handling of traffic infraction cases and one suit in particular, where the state justices have described him as being "biased."
Read More
The Indiana Department of Correction recently changed how it will notify those who register to find out where someone is in
the system, whether it's a transfer from one jail to another, a change in status, or a legal hearing.
Read More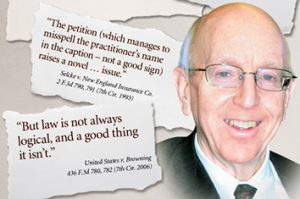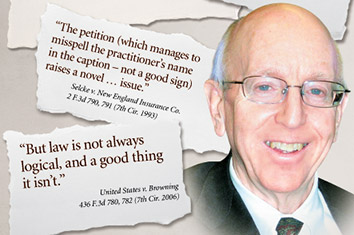 It's no secret judicial clerks help with writing opinions at some point in the process – whether it's the
research, writing a first draft, reading and writing memos to judges on their drafts, or in some cases rewriting the judge's
first draft or outline into a final draft.
Read More
Attorneys faced misconduct cases involving incorrect citation, agreement-signing.
Read More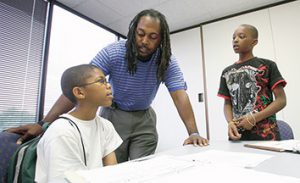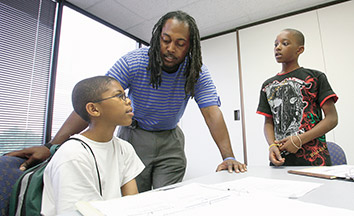 When an attorney in a bar association's program for young lawyers learned that a program that helps at-risk youth to start and maintain their own businesses was in transition and needed a little help, he suggested his group step in.
Read More
When Indianapolis attorney Joe Hogsett received the news that he'd been tapped by President Barack Obama to be the next
U.S. Attorney for the Southern District of Indiana, one of his first thoughts was that this could be the next home run in
his career.
Read More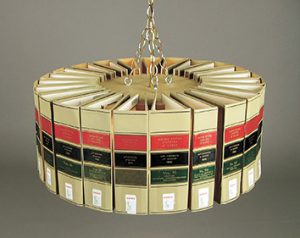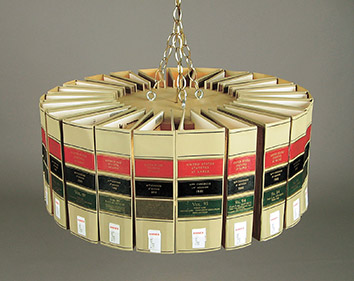 One Indianapolis furniture designer make benches, tables, a screen, and even a functioning chandelier out of book bindings.
Read More
Mark Rutherford wants America's third-largest political party to make inroads by showing competence at the grassroots level of government.
Read More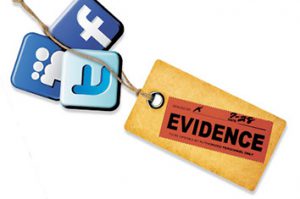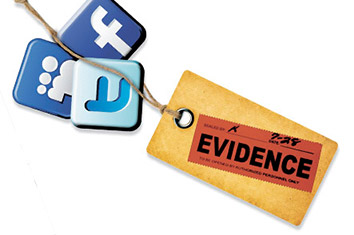 Instant updates on Facebook and Twitter are becoming a staple in people's lives, and those social media networks are
becoming a more common part of the litigation process in state and federal courts.
Read More
We believe the state of Indiana has hit bone with a budget cut instituted earlier this month.
Read More
Bour takes a look at a multifunction copier from Canon that disappointed him.
Read More
Sometimes you have to go with Plan B when it comes to finding a place to eat.
Read More
The Indiana Supreme Court is considering a case where a St. Joseph County juvenile judge has declared unconstitutional three
statutes involving child placements, a controversial issue that's pitted many within the state judiciary against the
Indiana Department of Child Services for the past two years.
Read More
The Indiana Supreme Court offered some clues recently about why it's ignored repeated attempts to address the issue
of legislative logrolling, where multiple unrelated changes are stuffed into one massive bill that becomes law.
Read More
The Indiana Supreme Court has appointed a southern Indiana judge to preside over the third trial of a former state trooper
charged with murdering his family a decade ago, and one of the initial decisions he'll consider is whether to move the
trial outside that region.
Read More
As part of a larger court reform plan, the governing board of the Judicial Conference of Indiana wants more required education
for judges at the state appellate and trial levels.
Read More
A Wisconsin man who pled guilty to possessing firearms after he was convicted of a domestic battery misdemeanor
is not allowed
to have those firearms, even though he argued they were used for hunting.
Read More
The Indiana Supreme Court has ordered a new trial for a convicted child molester because of the conduct from the longtime
trial judge, who resigned from the bench in September amid a judicial misconduct investigation.
Read More
The Democratic candidate for Gibson County Prosecutor has withdrawn from the race following his indictment on four charges,
including possession of child pornography.
Read More
Anyone interested in being a federal magistrate for the southern part of Indiana has until Wednesday to apply for that position.
Read More
The state judiciary is moving forward with a plan to establish an appellate case management system, which someday could entail
an e-filing system similar to what the federal courts currently have access to.
Read More
A well-known and longtime family law attorney in Indianapolis died July 7 at the age of 80.
Read More
A former deputy clerk for Indiana's appellate courts died July 5 in Wisconsin from complications following a heart transplant.
Read More
Jonathan M. Hinsey v.  Better Built Dry Kilns, Inc. and DeNardi, s.r.l., a/k/a Nardi Group and Nardi Partecipazioni,
s.r.l.
Read More
Disciplinary actions from July 21-Aug. 3, 2010, issue.
Read More
The St. Joseph County Bar Association hosted its annual "An Evening at the Cove" June 30 for new members of the
SJCBA at Coveleski Regional Stadium, home of the South Bend Silver Hawks baseball team.
Read More
"Common," as in shared by two or more people or as in done often or not rare. Common can also mean belonging to or affecting the whole of a community as in common land. These definitions capture the spirit of the members of our Bar; I witnessed this first-hand recently through an initiative called Common Goal.
Read More
Recently, Indiana's trial courts have begun utilizing "scoring models" to help determine a reasonable sentence. The practice of using such "scoring models" was recently challenged by a criminal defendant and his case reached the Supreme Court of Indiana.
Read More
Following the first round of interviews, three Indianapolis Bar Association members remain in the hunt to fill the upcoming vacancy on the Indiana Supreme Court.
Read More
The Indianapolis-Marion County Public Library recently announced they are now providing patent search assistance at the downtown Central Library.
Read More
Launched in mid-May, the Marion Superior Court E-filing program is available for mortgage foreclosure and collection cases.
Read More
Marion Superior Court is accepting resumes for full-time Commissioners.
Read More
For serving as a role model of civility in litigation for countless attorneys in the Indianapolis area.
Read More
More than 100 golfers gathered at Broadmoor Country Club to support the Indianapolis Bar Foundation on July 8.
Read More
IBA Frontlines for July 21- Aug.3, 2010
Read More
On May 27, 2010, the Indiana Supreme Court issued a decision that has affected the manner in which worker's compensation liens are handled in third-party litigation.
Read More
The DTCI's Awards Committee is now receiving nominations for the 2010 awards.
Read More
Congratulations to the top two teams from the DTCI-Phenix Investigations annual golf outing.
Read More
Patricia Polis McCrory was chosen the president-elect to the Kiwanis Club of Indianapolis.
Read More