June 8 – 22, 2011
Public outcry over controversial court decisions is not new in Indiana. Read about unpopular rulings from the past that have led to public outcry and changes in judicial selection. Strong storms have caused local law firms to scramble, prompting the creation of disaster plans. Is your firm ready if disaster strikes? And is there really "Justice for All" in the Hoosier state? Read about the disconnect that occurs between immigrants and law enforcement agencies.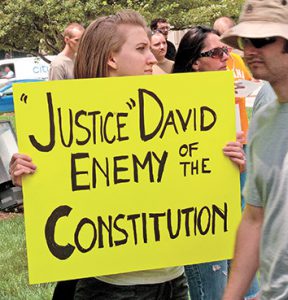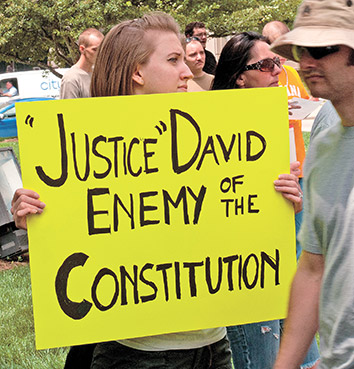 In the history of court controversies, a recent ruling by the Indiana Supreme Court has created public outcry and calls for change in ways that few others do.
Read More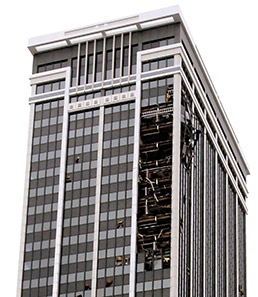 Like other businesses, law firms know it is vital to be able to serve clients during times of disaster. Locally, many firms have begun developing or have revisited business continuity plans – particularly after 2006 when a strong storm whipped through downtown Indianapolis and shattered the windows in a high-rise building, displacing several law firms.
Read More
Many of the laws enacted during the 2011 legislative session take effect July 1.
Read More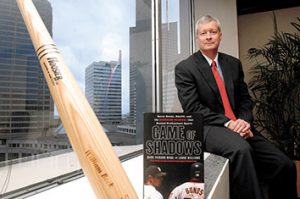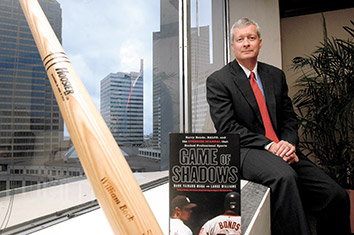 An Indianapolis sports law attorney who represented a prosecution witness at the start of the baseball steroid case against Barry Bonds recently saw the final "at bat" for the prosecution and defense in a California courtroom.
Read More
The Indiana Supreme Court caught many people off guard when it abolished the common law right of citizens to reasonably resist police from entering their homes, no matter the situation and regardless of whether the entry is legal.
Read More
Indiana may soon see its next battle over how the state's top judges are selected.
Read More
After chatting with a colleague, Marion County Deputy Prosecutor Andrew Fogle decided something needed to be done about the relationship between immigrants and law enforcement.
Read More
The Indiana Supreme Court was divided June 1 in an opinion regarding whether a man could be charged with Class C felony child molesting 16 years after he last molested his stepniece.
Read More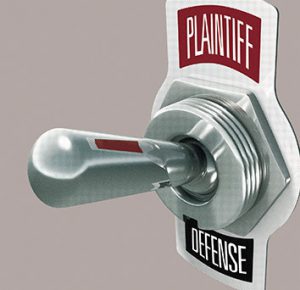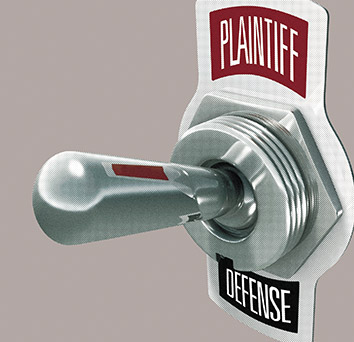 Bloomington attorney Mike Phelps was a successful defender for insurance companies for nine years.  But a personal injury case that he won on behalf of the defendant caused him to question whether he was ready for a change.
Read More
Time is money. Money makes the world go 'round. So what is so powerful that it can motivate busy lawyers to give up both? Perhaps it is the realization that with a small donation of each, they have the power to help alleviate hunger among children and families in central Indiana.
Read More
The 7th Circuit Court of Appeals recently ruled that the Northern District of Indiana was essentially creating a built-in appeal issue on ineffective assistance of counsel, and it called out a senior judge for violating a man's Sixth Amendment right to choose his own lawyer.
Read More
The Southern District of Indiana has amended its Uniform Case Management Plan to include new language regarding summary judgment motions.
Read More
Indiana attorney Chris Pearcy discusses the new law banning texting while driving in Indiana, which takes effect July 1.
Read More
Almost everyone is familiar with the popular and useful Google search engine. If you take a closer look at Google's main page, (google.com) you will see a small menu choice named "more." I did some exploring into that drop-down list and discovered a wide variety of useful, functional, and fun features. Today we will look at just a few of the many extras that Google offers.
Read More
Attorney Stephenie Sutliff Jocham, a founder of Carmel firm Jocham Harden Dimick Jackson, died June 2 following a battle with cancer.
Read More
The lobby hours for the clerks' offices in the United States District Court and Bankruptcy Court in the Southern District of Indiana will be different beginning July 1.
Read More
State Public Defender Susan Carpenter retired May 31 after nearly three decades in that position, and her chief deputy took charge of the office until the Indiana Supreme Court appoints a successor.
Read More
The Indiana Supreme Court issued a public reprimand against Hamilton Superior Judge William J. Hughes, the disciplinary sanction stemming from an out-of-state drunk driving arrest.
Read More
The National Immigration Law Center, American Civil Liberties Union of Indiana, and the national ACLU Foundation Immigrants' Rights Project filed a class action lawsuit May 25 challenging the wording of a new Indiana law designed to curb illegal immigration.
Read More
The Indiana Supreme Court won't reconsider its 2010 decision ordering United Financial Systems Corp. to refund money for estate planning services it sold, constituting an unauthorized practice of law.
Read More
Clark Circuit and Superior judges have filed lawsuits against county officials over proposed budget cuts, restarting the kind of litigation that four years ago led to the Indiana Supreme Court's urging that trial judges work with and share in the financial decision-making process rather than resorting to judicial mandates.
Read More
The final case in the Bridgestone/Firestone multi-district litigation has come to a close in the Southern District of Indiana, putting an end to a line of litigation that began more than a decade ago.
Read More
After nearly 10 years working for a nationally known law firm in Terre Haute, Jeffry Lind, president of the Indiana State Bar Association, has opened his own practice.
Read More
The Indiana Supreme Court and Indiana Bar Foundation have partnered to offer teachers a way to learn more about the state's judicial system.
Read More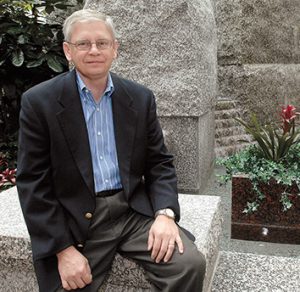 When a business professor nudged Ray Umstead to consider law school three decades ago, the Ohio native never thought he'd end up working for an Indianapolis-based health insurance company that has earned the designation of having one of the best legal departments in the country.
Read More
Read about disciplinary actions filed by Indiana's Supreme Court.
Read More
A medical device which "presents a potential unreasonable risk of illness or injury" that cannot be alleviated by alternate means such as proper labeling, prohibitions against adulteration, performance standards, or post-market surveillance falls within Class III under the Medical Device Amendments to the Food, Drug and Cosmetic Act.
Read More
John F. Kennedy once said that "leadership and learning are indispensable to each other." Twenty five young members of the IndyBar are living proof of that.
Read More
Jarrell B. ("Jerry") Hammond, a partner at Lewis & Wager, LLP epitomizes the courteousness and character that form two of the Standards of Professionalism of the Indianapolis Bar Association.
Read More
The depth of talented leaders within the Indianapolis Bar Association is well known in bar association circles around the country.
Read More
Whether you are a sole practitioner or the managing partner of one of Indy's largest law firms, the IndyBar's Attorneys for an Independent Bench ("AIB") may be the best alternative to support judicial candidates in the 2012 elections for Marion Circuit and Superior Courts.
Read More
View photos from the IBA Appellate Practice Section Reception.
Read More
Visit www.indybar.org for registration, and additional opportunities, information & services.
Read More