Nov. 1-14, 2017
The legal profession celebrates CLE at 30, while calling for change. An Indianapolis law firm's career coaching program is giving first-year associates instant feedback. The Indiana Department of Revenue has refined its processes so that processes of review are no longer so taxing.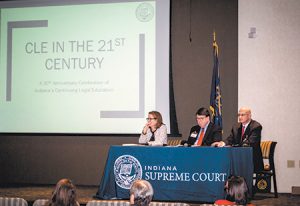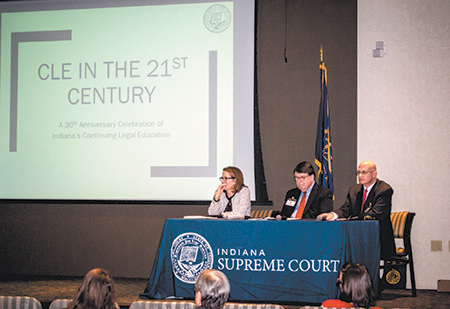 The special presentation commemorating 30 years of continuing legal education in Indiana relied on a format that, according to some participants, is already outdated and should be abandoned long before the 60-year celebration.
Read More
When Department of Revenue Commissioner Adam Krupp took over the department in January, he decided to revamp its policies to focus more on customer service. Working alongside general counsel Patrick Price, Krupp implemented a new customer-oriented protest review system that has slashed taxpayer wait times and also helped increase efficiency at the Tax Court.
Read More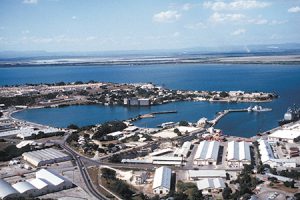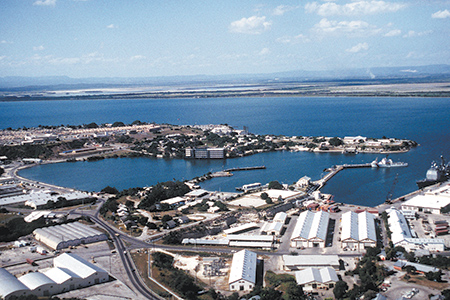 The slow, plodding case against the accused USS Cole bombing mastermind took a couple of sharp turns in recent weeks that left lead defense counsel, Indianapolis attorney Richard Kammen, even more frustrated and feeling a "profound sense of loss."
Read More
The pressure to complete designs quickly and save money, along with the increasing complexity of mechanical systems within commercial structures, are prompting more parties in the construction project to take on design responsibilities. Contracts are key to avoiding future conflicts.
Read More
The Indiana Bar Foundation's 2017 Civic Health Index found Hoosiers were more actively participating in most aspects of community life than in past years, except for voting.
Read More
The question of whether Indiana's treatment program for convicted sex offenders is constitutional is not only providing a case of first impression for the 7th Circuit Court of Appeals but could also give the U.S. Supreme Court the opportunity to clear the confusion over when a prison violates an inmate's Fifth Amendment rights against self-incrimination.
Read More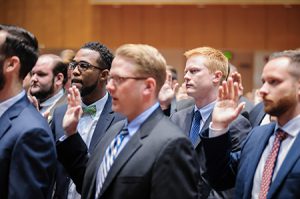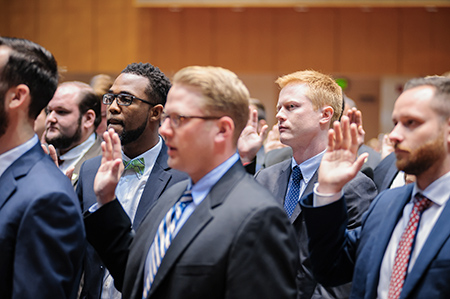 Here is the list of lawyers who passed the Indiana Bar Exam in July, many of whom took their oaths as lawyers at the Admission Ceremony Oct. 16.
Read More
Read opinions from Indiana's appellate courts for the most recent reporting period.
Read More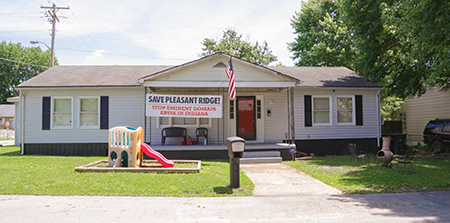 The state of some World War II-era homes has given rise to a contentious property rights dispute between the Charlestown city administration and residents of the city's Pleasant Ridge neighborhood.
Read More
People ask me when I might be retiring. I respond, "Why would I retire? I get to work every day with my friends who are my clients, they are all sophisticated, bright and fun to be with (well, most of them). … Why would I want to retire?"
Read More
October 16 was a transformative day for nearly 300 people who took the oath to be admitted to the Indiana Bar as new attorneys. It also was a transitional day at The Indiana Lawyer.
Read More
In expanding its real estate law and IP and technology law programs, Notre Dame Law School benefits from the wider university's academic resources.
Read More
Congratulations! You've graduated from law school, passed the bar exam, and are sworn into the Indiana Bar. So … now what? What does it take to be a successful practicing attorney?
Read More
Using my TEA approach can help new lawyers (and lawyers new to a different practice environment or career path) establish positive habits to succeed in their desired careers.
Read More
Lawyers routinely resolve other people's problems, and often carry their clients' burdens. However, lawyers may not do as well in addressing their own issues, such as preparing for a healthy and rewarding retirement.
Read More
This article will be a collection of three tips that can be used to speed up the various portions of discovery document drafting. Combining the formatting and these tips will help increase your efficiency when using Microsoft Word.
Read More
Bob Hammerle reviews two stakly different films and finds something to like in each.
Read More
Find out who has been suspended from the practice of law in Indiana.
Read More
The Indianapolis Bar Foundation Nominating Committee has announced its slate of officers for 2018, naming Lee Christie of Cline Farrell Christie & Lee to the position of First Vice President.
Read More
Each year, professionals throughout the Indy legal community are honored by the IndyBar at the annual Recognition Breakfast. This year's event will take place on Tuesday, November 21 at Meridian Hills Country Club.
Read More
Every year the Indianapolis Bar Association's Women & the Law Division considers honoring one woman from the Indianapolis legal community with the Antoinette Dakin Leach Award. This year's recipient is Marcia Oddi from the Indiana Law Blog.
Read More
Whether you have a full day mediation scheduled or are taking a case to a Marion County Modest Means mediation with a three-hour limit, there are ways to make it more likely that your client's case will settle.
Read More
Twice a month, a ceremony at the U.S. Courthouse welcomes newly naturalized American citizens. It's an awe-inspiring ceremony–and you can be a part of it. Indianapolis Bar Association attorney members participate in the naturalization ceremonies by handing out a booklet containing the U.S. and Indiana constitutions and presenting brief remarks.
Read More
Legal malpractice cases are unique negligence actions where the parties must litigate a "case-within-a-case." It is ironic that, within this framework, the malpractice lawyer who is defending an attorney-client often must argue against the merits of a cause of action or an issue that the attorney-client once advocated.
Read More