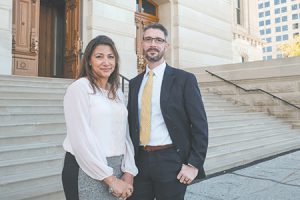 Indianapolis attorneys Joe Delamater, a criminal defense lawyer at Razumich & Delamater PC, and Kiamesha Colom, a partner at Taft Stettinius & Hollister LLP, encountered confusion, frustration and ultimately heartbreak during the course of a few months when they became foster parents to a baby boy. Now they are pushing for changes to state laws they say will balance the system so the right results happen for kids.
Read More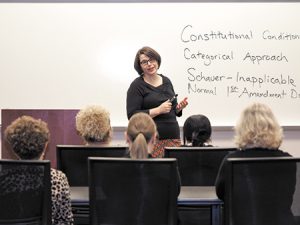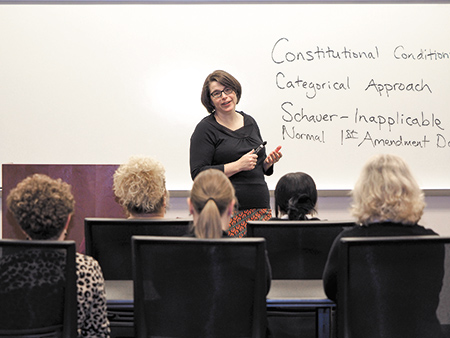 Legal professionals work within the Rules of Professional Conduct, so they don't want to make any comments that might be perceived as unduly critical of others in the profession — a profession built largely on respect and civility. But according to an Indiana University Robert H. McKinney School of Law professor, the unease surrounding Rule 8.2(a) is not a matter of respect, but rather a matter of lawyer fear.
Read More
For proponents of medical marijuana, optimism was sparked when Indiana legalized CBD oil earlier this year. With that door opened, legislators in both parties are hopeful that success will boost their chances of getting a hearing on medical marijuana bills they will file in the 2019 legislative session.
Read More
In describing former colleague James Patrick Hanlon's even demeanor and ability to remain cool in heated situations, Faegre Baker Daniels partner Matthew Albaugh finally had to create an original description: "not flusterable."
Read More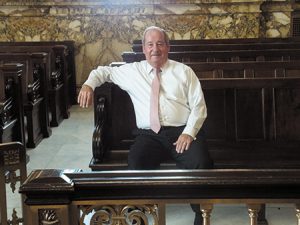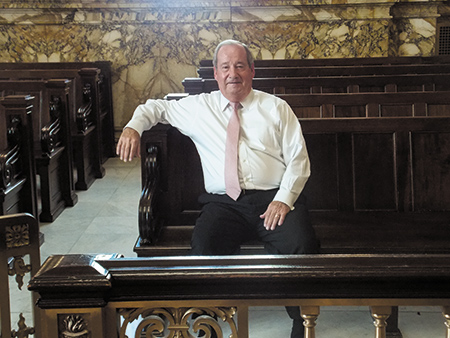 Southern District Judge William Lawrence took senior status in July, capping a distinguished career that began when he switched from swinging for the fences on the diamond, culminating with him calling balls and strikes from the bench.
Read More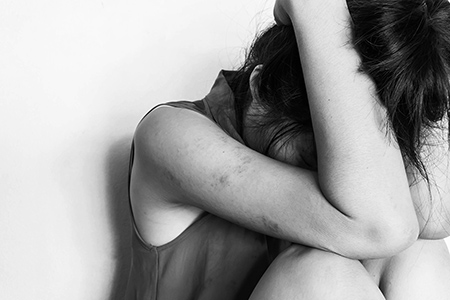 After overcoming addiction, abuse and sexual harm, Sarah Hurley sought to aid women dealing with the same struggles she faced as a child. She created the White Stone Project, an organization devoted to providing survivor-led, professional training and coaching to people and organizations engaging trauma survivors. Its goal: to equip people to more effectively communicate, understand and avoid revictimizing those they work with.
Read More
Read Indiana appellate decisions from the most recent reporting period.
Read More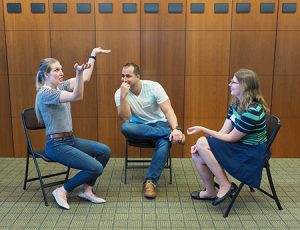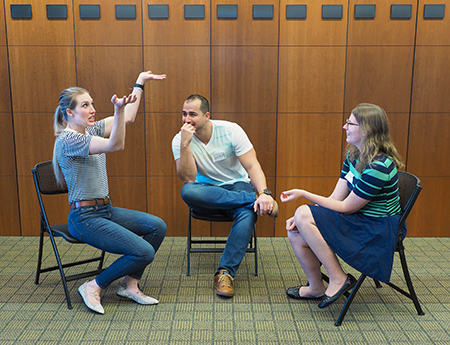 Lawyers must learn to adapt to the constant barrage of information being thrown at them, and at Indiana University Robert H. McKinney School of Law, students recently had the chance to hone their active listening and quick-thinking skills through an unusual teaching method — an improv workshop.
Read More
Technology can be a boon for your writing if you know how to use it, but knowing how to use it is key. Today's built-in and add-on programs may help improve your writing without the obvious use of assistive software. The end result may just be a more persuasive, clear, and concise written product.
Read More
Among the hot-button political issues of our time is criminal justice reform. Critics rightly point out that the system at the state and federal levels can marshal its extensive resources to target poor and marginalized communities. Although such abuses receive extensive commentary in the press, less focus is devoted to the potential for governmental abuse in prosecuting white-collar crime.
Read More
In civil litigation, causation is a critical element in establishing the plaintiff's cause of action by linking the defendant's alleged misconduct to the claimed economic harm. Because of this linkage between causation and damages, qualified financial experts are often in a position to provide analyses to the trier of fact that can assist in deciding whether the causal link has been proven by the plaintiff.
Read More
Attorney General Curtis Hill is caught in a trap. He can't walk out. Because he loves bein' AG too much, bay-bay. Hill's troubles are casting serious doubt not just on his fitness and ability to carry out his official duties, but also on his sometimes avocation as an Elvis impersonator.
Read More
We recently celebrated my mother's 90th birthday. I found myself wondering during her birthday party, "What is it, besides good genes, that keeps Mom going like the Energizer Bunny?" As I pondered this, I discovered that Mom's life can provide an excellent roadmap for living life to the fullest.
Read More
Indiana University Maurer School of Law is leading the way through its new master of science in cybersecurity risk management. That degree program combines the resources of three of IU's top-ranked schools — the Kelley School of Business, the School of Informatics, Computing, and Engineering and the Maurer School of Law — to provide students with a broad range of courses that prepare them for a world where technologies evolve faster than the laws and policies that govern them.
Read More
Normal law practice succession planning involves developing a plan for your law practice that will be implemented over the next one to five years. But what about having a plan to deal with issues such as short-term illness, disability, vacations and death?
Read More
The days are darker and colder, our clothing is bulkier, and the holiday parties are in full swing. Knock, knock — the inevitable 10-pound weight gain is at the door. Batten down the hatches and take a plunge into the wonderful world of water.
Read More
Movie reviewer Robert Hammerle says not to believe the critics who pan the Freddie Mercury biopic "Bohemian Rhapsody," while the edge-of-your-seat "Free Solo" ranks among the year's best documentaries.
Read More
As I sat in the Supreme Court of Indiana two weeks ago at the IndyBar's third-annual Memorial Service, I got to thinking about one of my real friends who we had recently lost. He was my "little brother" James and he had always given it to me straight.
Read More
The IndyBar's Women and the Law Division proudly recognized Chief Judge Robyn Moberly of the U.S. Bankruptcy Court for the Southern District of Indiana as the recipient of this year's Antoinette Dakin Leach Award honoring a trailblazing woman in the legal profession.
Read More
The legal community came together on October 24, 2018, to support the Indianapolis Bar Foundation's first Day of Giving, raising more than $18,000. Donations during the Day of Giving were crucial in the foundation's efforts to fulfill its mission.
Read More
In recent years, federal and state courts have issued numerous decisions involving medical monitoring. The results of these decisions make a couple of things clear. The first is that the viability of medical monitoring claims continues to decrease, and the second is that both federal and state courts overwhelmingly deny certification in medical monitoring class actions.
Read More
Attorneys will receive the accolades of their colleagues at the DTCI Annual Meeting, November 15-16.
Read More