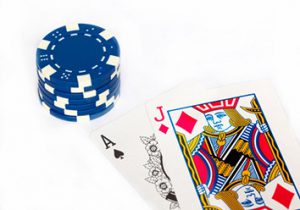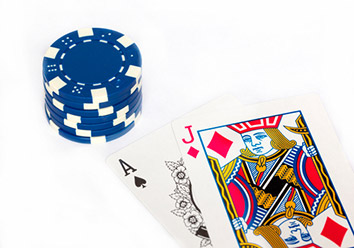 The Indiana Supreme Court has given state casinos a double win, strengthening their rights by saying they can exclude card counters and holding that pathological gamblers can't recover damages stemming from gambling losses as long as the casinos are following state regulations.
Read More
Maybe it's no surprise that after a long week in the office meeting with clients, attending court hearings, and handling filings that a journey on the open road with nothing but a motorcycle and maybe a few friends is the perfect way to spend the weekend.
Read More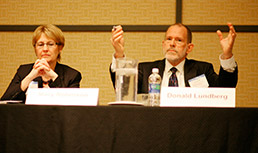 Commission on Lawyer Assistance Programs conference held in Indianapolis this year considers the role of assistance programs for attorneys.
Read More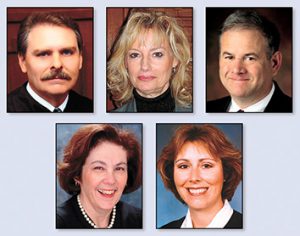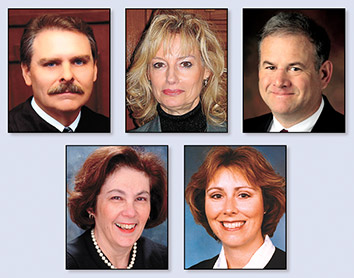 One third of the Indiana Court of Appeals judges face a retention vote this year. Read the judges' answers to questions posed by Indiana Lawyer.
Read More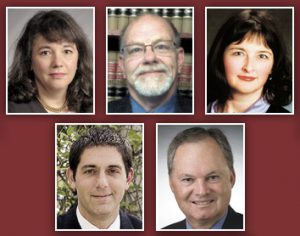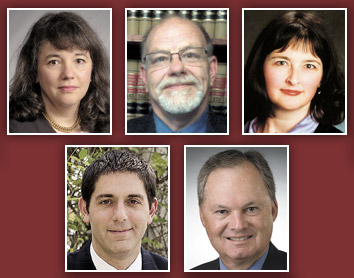 Read the responses from the five Indiana Judicial Nominating and Qualification commissions nominees to questions posed by Indiana Lawyer.
Read More
When the Indiana State Bar Association gets law students, attorneys, professors, judges, court administrators, deans, and representatives of Indiana's Judges and Lawyers Assistance Program, Disciplinary Commission, Board of Law Examiners, and the Indiana Bar Foundation are all in the same place for a few hours, some interesting dialogues are bound to take place.
Read More
Delaware County Prosecutor Mark McKinney should be publicly reprimanded for violating four professional conduct rules in his handling of civil forfeiture matters as a private attorney while simultaneously prosecuting those same criminal defendants, according to a hearing officer the Indiana Supreme Court appointed to examine disciplinary charges against the prosecutor.
Read More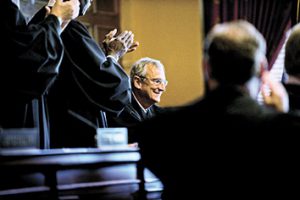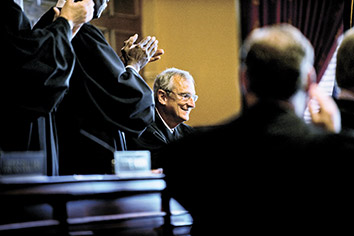 Aside from writing precedent-setting decisions and rules that govern the entire Hoosier legal community, now-retired Indiana Supreme Court Justice Theodore R. Boehm said there's one significant part of his legacy on the state's highest court that is mostly overlooked.
Read More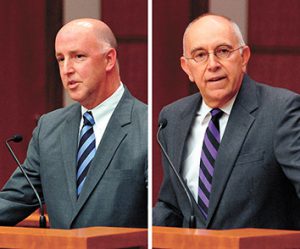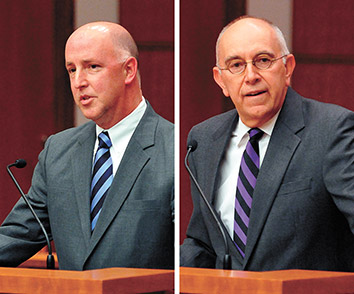 The two candidates for Marion County prosecutor faced each other at their alma mater, Indiana University School of Law – Indianapolis, Sept. 29, in a debate sponsored by the Republican Law Coalition, the Democratic Law Society, and the Criminal Law Association of the law school.
Read More
Seven attorneys remain in the running to be the next Indiana Tax Court judge, and they return for second interviews before the Indiana Judicial Nominating Commission Oct. 27.
Read More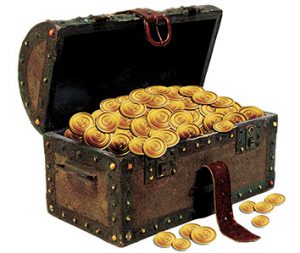 The notion of pirates pillaging treasures and bartering it on the high seas isn't that far fetched for Indianapolis intellectual property attorney Jonathan Polak.
Read More
Let's review some technical problems and solutions that have come across my desk in the past few months. It seems like even the apparently straightforward issues often take an odd twist
Read More
The U.S. District Court for the Southern District of Indiana is accepting applications for a new magistrate position recently approved by the Judicial Conference.
Read More
The Supreme Court of the United States won't reconsider a significant unauthorized practice of law case ruled on by the Indiana Supreme Court earlier this year.
Read More
The Indiana Court of Appeals today significantly slashed a $42.4 million damages award against the state, cutting the period from which employees can recover back pay from 20 years to about two months.
Read More
The Indiana Supreme Court has declined to grant a twice-convicted death row inmate's request for a new trial, upholding his convictions and penalty for murders that go back more than a decade.
Read More
A Terre Haute attorney wants the nation's highest court to review two appellate cases out of Indiana and Wisconsin that uphold judicial canons and pose free speech questions about what judicial candidates can say or do when campaigning for office.
Read More
Judge Tanya Walton Pratt becomes the first African-American federal jurist in Indiana.
Read More
The 7th Circuit Court of Appeals agreed with a Southern District of Indiana judge who granted a preliminary injunction preventing Indianapolis from enforcing the 2002 ordinance that regulates adult-bookstore business hours.
Read More
An Indianapolis lawyer has gotten approval to become the next U.S. Attorney for the Southern District of Indiana, ending a three-year gap since last time a U.S. Senate confirmed leader held that post.
Read More
Indiana University Maurer School of Law – Bloomington recently hosted two appellate hearings at the law school's moot court room.
Read More
The Indiana Supreme Court has refused to sidestep the state's intermediate appellate court on a judicial-election issue from Lake County, while the lower appeals court decided not to grant an expedited-hearing request despite the pending election.
Read More
Indiana's longest-seated chief public defender and the first ever public defender in Porter County died unexpectedly Sept. 29.
Read More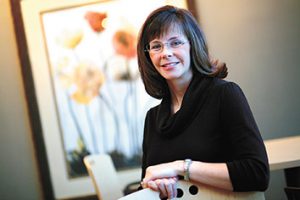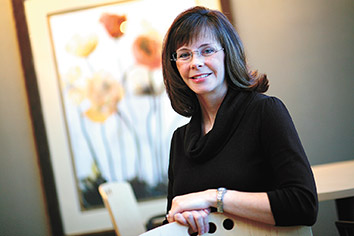 After spending 12 years in the health-care field as an X-ray technician, an in-house counsel for a hospital network in Indianapolis seems to be in the right place.
Read More
Read who's been suspended or publicly reprimanded.
Read More
The Indiana Supreme Court has publicly reprimanded a lawyer for what happened to his license when he left private practice to become a full-time prosecutor in northwest Indiana, but the disciplinary action has split the state's justices on whether a more severe punishment was warranted.
Read More
Updates from the Evansville Bar and Marion County Bar Associations.
Read More
Gov. Mitch Daniels fired the state's top utility regulator recently, citing ethical concerns about how a now-former administrative law judge presided over cases involving a regulated energy company leading up to his taking a job there. The governor's actions told those serving as state agency ALJs that the spirit of a mandatory one-year cooling-off rule […]
Read More
A number of recent Indiana cases have addressed the provision found in nearly all insurance policies that requires an insured to provide its insurer with prompt notice of a claim.
Read More
Lloyd H. Milliken, Jr., (past president) and Randall R. Riggs, partners in Frost Brown Todd, who were recognized in the September/October 2010 Super Lawyers® Corporate Counsel Edition.
John C. Trimble (past president), partner in Lewis Wagner, who has been appointed chair of the Public Policy Committee of DRI.
Read More
Earlier this year, I promised that we would introduce you to the many faces of the Indianapolis Bar Association.
Read More
The Indianapolis Bar Association's Nominating Committee has announced the selection of Kerry Hyatt Blomquist, General Counsel for the Indiana Coalition Against Domestic Violence as the 2013 President of the Association. Blomquist will be the organization's 135th President.
Read More
Julia Blackwell Gelinas, Partner of Frost Brown Todd LLC, and the late Deborah Hepler will be honored with the Antoinette Dakin Leach Award on October 20 from the Women and the Law Division of the Indianapolis Bar Association.
Read More
The Indianapolis Bar Foundation had inducted a new class of fellows, Senior Fellows. Senior Fellows of the Indianapolis Bar Foundation are Distinguished Fellows who have been nominated based upon their continued and outstanding dedication to the welfare of their communities and to the high­est principles of the legal profession.
Read More
For the third year in a row, the Indianapolis Bar Association's Diversity Job Fair has successfully created employment opportunities in Indianapolis for a diverse set of students from around the country.
Read More
IBA Frontlines for Oct. 13-26, 2010.
Read More