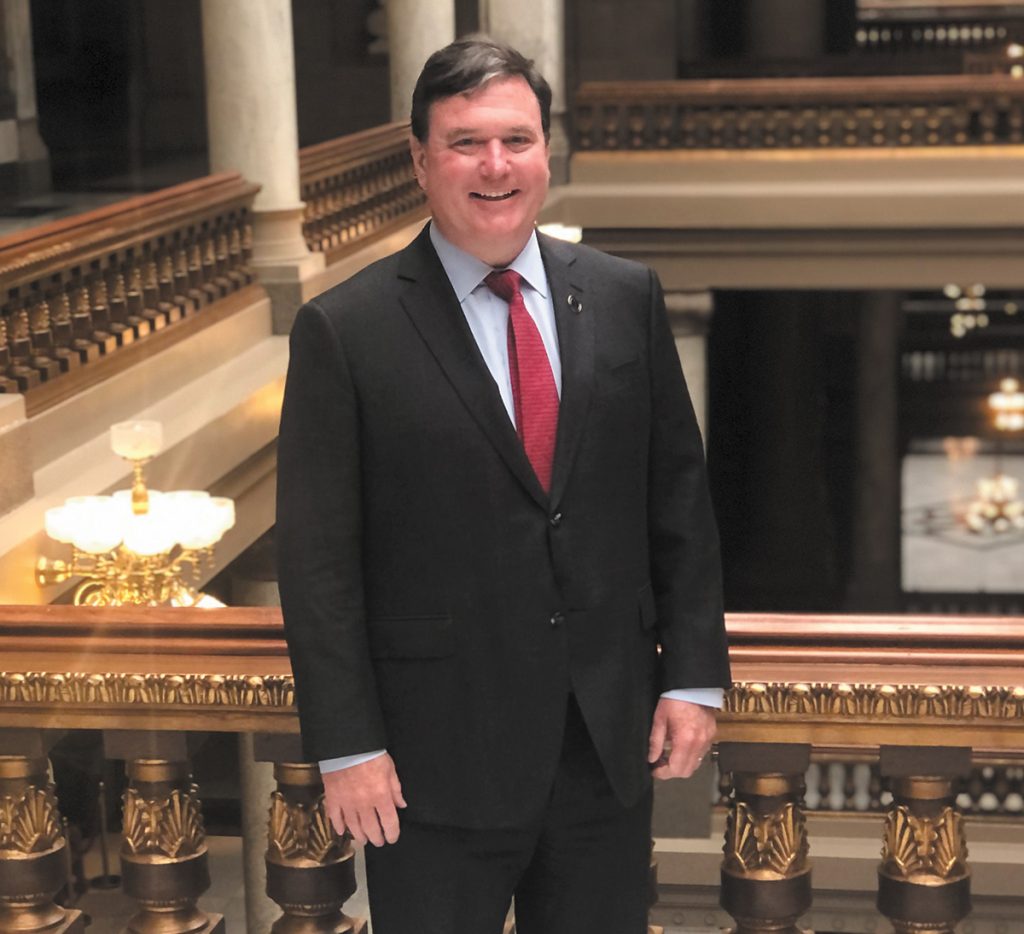 Indiana Attorney General Todd Rokita has confirmed that he will seek reelection in 2024.
"Confirming I am seeking reelection in '24," Rokita tweeted Wednesday from his campaign account, @ToddRokitaIN. "I am proud of my work bringing back nearly $1 billion to taxpayers in just over two years, fighting wokeism, protecting citizens and our jobs from federal overreach, bureaucrats and special interests while always standing up for liberty."
Rokita was a late addition to the 2020 GOP primary for Indiana attorney general. His predecessor, Curtis Hill, had been seeking the party's backing to run for reelection that year, but Republicans ultimately put their support behind Rokita after a series of sexual misconduct allegations against Hill culminated in the temporary suspension of his law license.
Rokita went on to defeat Democrat Jonathan Weinzapfel in the 2020 general election, winning 58.3% of the statewide vote to Weinzapfel's 41.7%.
Since then, Rokita — who previously served eight years as Indiana secretary of state followed by eight years as the state's 4th District congressman — has made the concept of "liberty" the key to his agenda, taking aim at public and private policies that he says violate personal liberty. That includes a lawsuit challenging alleged Big Tech censorship and an advisory opinion declaring that Indiana and its investment managers can't make government employee pension system investments based on environment, social and governance — or ESG — criteria.
Rokita is also staunchly anti-abortion, consistently defending the state against the litany of abortion-related lawsuits that were filed before Roe v. Wade was overturned last summer. Post-Roe, his office is now defending a law that would ban abortions in Indiana with limited exceptions.
The attorney general has occasionally clashed with other government leaders. That includes a legal battle involving all three branches of state government.
At issue was House Enrolled Act 1123, a 2021 law that allowed the Indiana Legislature to call itself into a special session when the governor has declared a state of emergency. The bill was filed in response to Gov. Eric Holcomb's various COVID-related executive orders, which Republicans criticized as being too restrictive.
Holcomb, himself a Republican, vetoed the bill, but lawmakers overrode the veto and Holcomb sued the Legislature, arguing the bill was legislative overreach into executive powers.
Rokita challenged the lawsuit, saying his office alone had the authority to resolve the dispute between the legislative and executive branches. Later, he challenged the governor's decision to hire outside counsel — specifically, the Indianapolis firm of Lewis Wagner — to represent the governor's interests in the case.
The Indiana Supreme Court ultimately ruled in the governor's favor, finding HEA 1123 violated the state constitution. The court also ruled that "while the Attorney General's office may direct litigation on behalf of state agencies and the state as a whole, it cannot prevent the Governor from bringing a suit and hiring outside counsel to do so."
In terms of legal victories, Rokita's office has secured numerous statewide settlements. That includes multiple settlements related to Medicaid fraud — including one announced this month —as well as settlements related to reliable internet services, e-cigarette marketing and online privacy, among others.
Most recently, Rokita has made headlines for his public feud with Dr. Caitlin Bernard, an Indianapolis OB-GYN who made public the fact that she performed an abortion last summer for a 10-year-old Ohio girl.
Rokita publicly announced an investigation into Bernard on national television, setting off a series of events that culminated in a lawsuit against the AG, filed by Bernard and her medical partner, and an administrative action against Bernard's medical license, filed by Rokita.
The lawsuit has since been voluntarily dismissed, while the administrative action is proceeding before the Indiana Medical Licensing Board.
Meanwhile, Rokita is facing potential lawyer discipline for his conduct regarding Bernard. He told Fox 59 in Indianapolis that he has been cooperating with the Indiana Supreme Court Disciplinary Commission, insisting that he had done nothing wrong with respect to his comments about Bernard.
Rokita's announcement of a reelection bid puts to rest rumors that he was considering seeking higher office — specifically, Indiana governor at the end of Holcomb's term, or U.S. senator as current Sen. Mike Braun runs for governor.
Rokita first confirmed his reelection plans to Fox 59, telling reporter Kristen Eskow, "I think I have a better job than a U.S. senator or governor."
No other candidates have announced plans to seek the AG's office.
The Associated Press, Indiana Capital Chronicle and Inside Indiana Business contributed to this report.
Please enable JavaScript to view this content.