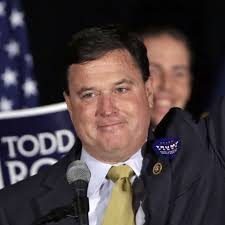 Editor's note: This story has been updated with comments from Jonathan Weinzapfel, who has officially conceded the race.
Former Indiana Congressman Todd Rokita has claimed victory in the race for Indiana attorney general, securing about 66% of Hoosier votes compared to the nearly 34% won by former Evansville Mayor Jonathan Weinzapfel with about 60% of the statewide vote counted.
Rokita issued a press release at 9:40 p.m. Tuesday claiming victory. WTHR in Indianapolis declared Rokita the victor a short time later.
"I want to thank my fellow Hoosiers for the trust and confidence you have placed in me to serve as your next Attorney General," Rokita said in a statement Tuesday. "And thanks to my family, friends, co-workers, our great volunteers and all the men and women of good faith who wanted to make sure we had the best person for this important job.
"You know our state has come so far under commonsense conservative leadership over the last 15 years," Rokita continued. "We have become a leader in the nation in every category that matters. Now we must keep it that way."
Weinzapfel, also a former member of the Indiana House, congratulated Rokita late Tuesday, saying he was disappointed in the results but proud of his campaign.
"As you've heard me say before, I entered this race because I didn't like the direction the incumbent attorney general was taking our state," Weinzapfel said in a statement. "We ran in response to his embarrassing personal behavior and partisan lawsuit that only hurt Hoosier families. We ran to restore honor, integrity and purpose to the office.
"And while our campaign fell short, I am proud of the issues we raised," he continued. "From supporting the governor's mask order, to opposing the ACA lawsuit, to issuing plans to help the state recover from the pandemic, to a plan to legalize marijuana to fund schools and make long overdue improvements to our criminal justice system – these were all issues that were worth raising – and will continue to be defining issues in our state."
Rokita will assume the position of attorney general in January from Curtis Hill, the GOP incumbent Rokita defeated during the Indiana Republican Convention in July.
Hill announced his reelection campaign last year despite an attorney discipline action that ultimately led to a 30-day suspension of his law license, with automatic reinstatement. Rokita did not enter the race for the Republican nomination until May, when the Indiana Supreme Court announced Hill's suspension.
Rokita's victory continues the GOP's long-held control of the Office of the Attorney General, with a Republican leading the office since 2001. Even so, the race between Rokita and Weinzapfel had been closely watched by pundits who believed Weinzapfel could flip the office to Democrats.
In addition to Hill, Rokita bested Decatur County Prosecutor Nate Harter and Indianapolis attorney John Westercamp in the race for the GOP nomination, both of whom endorsed the former congressman after his convention win. Hill, however, publicly pledged only to support "conservative principles."
Weinzapfel secured his party's nomination against State Sen. Karen Tallian, who became his honorary campaign chair.
Rokita campaigned on a platform of certainty in uncertainty times, pledging to run the Office of the Attorney General with efficiency and integrity. He pointed to his experience as Indiana secretary of state, a position he said demonstrated his ability to effectively run a statewide office.
The GOP candidate also promised to champion constitutional freedoms that he said are often under attack, noting his support for religious freedom and the right to bear arms and his opposition to abortion. He echoed President Donald Trump in calling for the "rule of law" to protect communities, earning the endorsement of the Indiana State Police Alliance.
After declaring victory, Rokita reiterated his commitment to those issues.
"As a statewide office holder I will continue to provide that same kind of pro-growth, limited government leadership which has allowed our state to succeed. In all things I will work to protect Indiana and put Hoosiers first," Rokita said.
"I will defend – not defund – our police, working with law enforcement to uphold the Rule of Law. I will work to stop waste, fraud, and corruption in government. I will work tirelessly to support our job creators and help restore – and grow – our economy," Rokita continued.
"I will uphold the Constitution, both our 1st Amendment and 2nd Amendment Rights, for all Hoosiers regardless of background. I will protect taxpayers because I will never forget those dollars come from hard working Hoosiers. I know our nation was founded on the right to life, liberty, and the pursuit of happiness and I will defend the right to life."
For his part, Weinzapfel characterized himself as becoming the attorney general of the people, not the party. His endorsements included one from Indiana Education Secretary Jennifer McCormick, a Republican statewide officeholder.
The former mayor criticized Rokita's congressional record of opposing the Affordable Care Act and likewise pledged to pull Indiana out of a national lawsuit seeking to overturn the Obama-era health care law – a lawsuit Hill joined on behalf of the state. Also, Weinzapfel made a public call for the statewide legalization of marijuana, saying funds could be directed away from marijuana prosecutions and toward criminal justice reform and teacher salaries.
"Our state and nation have a lot of healing to do, and while I may not be the next Attorney General, I plan to remain an active citizen fighting for causes and issues I believe in," Weinzapfel said in his concession remarks. "I hope all my supporters do too. The fight is not over."
Both candidates garnered significant financial support during their campaigns.
Rokita reported a balance of $1,083,111.93 at the end of the third quarter, followed by a Q4 balance of $936,235.62. Weinzapfel saw a Q3 ending balance of $1,002,742.41 and a Q4 balance of $437,542.60. The fourth quarter reports include donations given between Oct. 1 and 19.
Much of Rokita's financial support has come from the Republican Attorneys General Association. The Washington, D.C.-based organization gave $796,000 to the GOP campaign in Q3, plus an in-kind contribution of $20,200 and a direct contribution of $109,000 in Q4. He's also received multiple sizeable contributions from individual donors who gave $10,000 or more.
Weinzapfel has seen significant financial support from labor organizations, including multiple contributions exceeding $25,000 in Q3. Also, the Democratic Attorneys General Association made in-kind contributions in the third quarter exceeding $45,000.
In the fourth quarter, Weinzapfel's 128-page campaign finance report included 112 pages listing individual donations. Additionally, the Democratic candidate transferred about $487,000 from the Weinzapfel for Indiana PAC to his attorney general campaign when he announced his candidacy late last year.  
On Election Day, the Rokita campaign announced the candidate had tested positive for coronavirus and would be quarantining with his family.
"Working together, our best days are ahead of us," Rokita said after claiming victory. "Thank you again and God bless."
Please enable JavaScript to view this content.