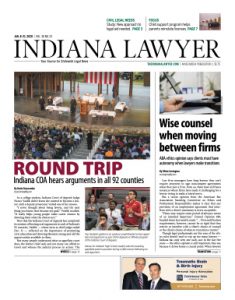 JAN. 8-21, 2020
What a long, appealing trip it's been: The Indiana Court of Appeals has finally made it to all 92 Hoosier counties to host oral arguments in its Appeals on Wheels program. The American Bar Association has some advice for transitioning lawyers, which is wise counsel for those moving between firms. And just weeks into the Marion County Prosectuor's Office's good-faith effort program, scores of Indianapolis residents have had their driving privileges restored while getting on the right road to catching up their child support obligations.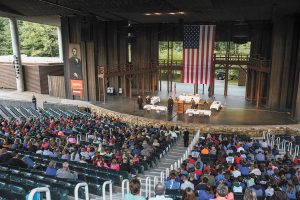 The Indiana Court of Appeals has wrapped up its pursuit of visiting every county through its Appeals on Wheels program. Introduced during the appellate court's centennial in 2001, the traveling program has ventured statewide to high schools, colleges, law schools and other venues, promoting civics education by inviting local communities to observe how the appellate judiciary works.
Read More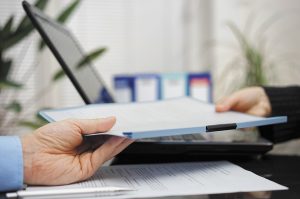 Law firm managers have long known they can't require attorneys to sign noncompete agreements when they join a firm. Even so, there have still been instances where firms have made it challenging for a lawyer trying to make a lateral move. But a recent opinion from the American Bar Association Standing Committee on Ethics and Professional Responsibility makes it clear that any provision of an employment agreement that interferes with a client's autonomy is never acceptable.
Read More
Of Indiana's four neighboring states, one has adopted the Uniform Bar Exam, one is preparing to adopt, one is expected to adopt and one is not even considering adoption.
Read More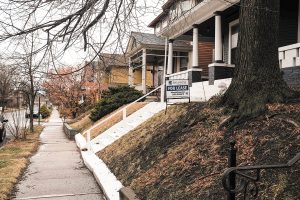 After finding the need for civil legal assistance in the United States is widespread across all income levels — and perhaps spread wider than previously thought — The Pew Charitable Trusts sees a need for new solutions to addressing the problems experienced by many individuals and families.
Read More
Working at a Fort Wayne law firm before enrolling in law school, Julia Kosnik saw the benefit of being able to help clients across state lines from a partner who was licensed in both Indiana and Michigan. "It would be so much easier if I could take the (Uniform Bar Exam) and practice in both states," Kosnik said. "I'm hoping they move in that direction."
Read More
A new Indiana rule requiring that booked inmates be assessed to determine risks or benefits of releasing them before trial is expected to eventually reduce overcrowding at the state's county jails, criminal justice officials say.
Read More
Read Indiana appellate court decisions from the most recent reporting period.
Read More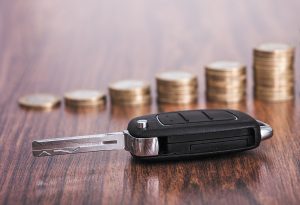 The Marion County Prosecutor's Office launched a temporary program last month designed to help delinquent parents get their licenses back while also ensuring they meet their child support obligations. Scores of parents since have had their driving privileges restored while getting back on the right road with their support payments.
Read More
One of the most troubling events that can arise in a family law matter is when children of the parties are placed in the middle of the parents' adversarial proceeding. Legislative reform is needed.
Read More
The effort that Indiana joined to overturn the Indian Child Welfare Act, which seeks to preserve Native American families, is headed for another round in appellate court as the 5th Circuit Court of Appeals prepares for a rehearing en banc following a lower court's ruling that the 40-plus-year-old federal statute was unconstitutional.
Read More
Indiana Lawyer readers, have you nominated a deserving attorney for our annual Leadership in Law awards? We know it's the start of the year, and it's an especially busy time (when isn't it?), but time is running out — nominations must be made by noon Jan. 31.
Read More
Movie review Robert Hammerle finds much to applaud in two very different films showcasing strong performances by leading women — the Fox News dramatization "Bombshell" and a new classic adaption of "Little Women."
Read More
This year's Bingham Greenebaum Doll Legislative Conference (BGD LegCon) in December was rife with Indiana's renowned legislative staples.
Read More
Start your new year with a resolution to SAVE MONEY! We're bringing back Free Fridays in 2020, which means you'll save more time AND money with these complimentary offerings.
Read More
At the November annual meeting of the Defense Trial Counsel of Indiana, the following officers and directors were elected. They assumed office January 1, 2020.
Read More