MARCH 2-15, 2011
As a contentious immigration law that went into effect in Arizona last summer continues to be challenged, similar bills – including one in Indiana – have been gaining traction. Lawyer pledges 150 pro bono hours in 2011. Marion County human trafficking conviction raises awareness of ongoing issue.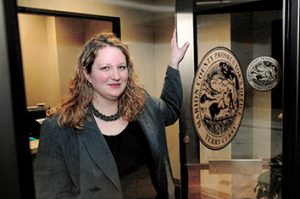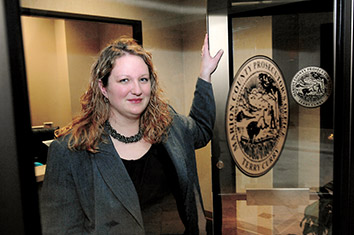 When it comes to human trafficking, most people who are unfamiliar with the crime visualize one person holding another hostage and giving them limited contact with the rest of the world. Some envision a basement in a dungeon-like setting with chains or other restraining devices, say advocates for victims of human trafficking.
Read More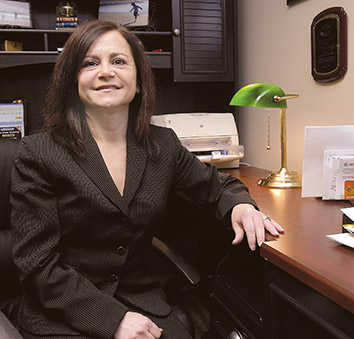 The aspirational pro bono goal for attorneys, set by the American Bar Association and endorsed – but not forced – by many states, is around 50 hours. Some Indiana attorneys work this into their annual budget by working with pro bono district plan administrators to accept cases when need exists and when they can easily fit them into their work schedules.
Read More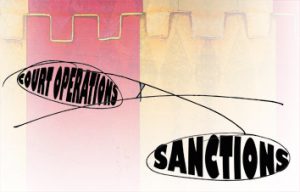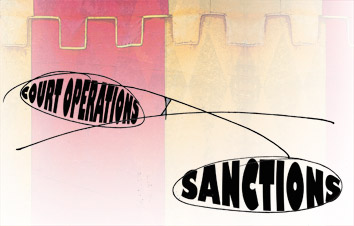 When deciding that a judge must be suspended and determining when that time off the bench should be, decision-makers must maintain a delicate balance.
Read More
Two recent rulings by the Indiana Supreme Court send a message to any attorney who might be accused of misconduct and face disciplinary proceedings.
Read More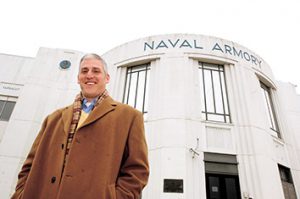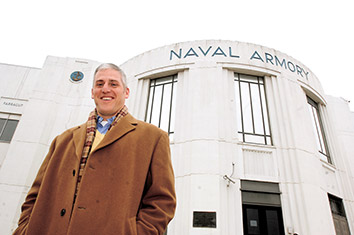 As an attorney who was being deployed by the U.S. Navy Reserve to serve his country, there was no question that he would go. The support received from his firm for the year he was away made the experience manageable.
Read More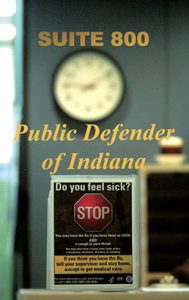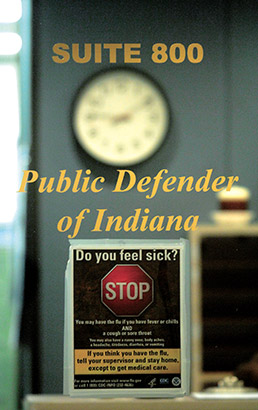 If there had been more job prospects for English literature graduates in the early 1970s, Susan Carpenter may not have ever become Indiana's state public defender.
Read More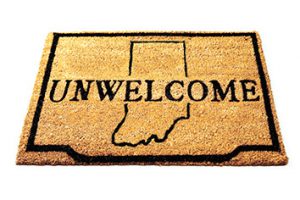 As a contentious immigration law that went into effect in Arizona last summer continues to be challenged and further changes are being considered by Arizona lawmakers, similar bills at the state and local level, including one in the Indiana Statehouse, have been gaining traction.
Read More
There's a lot of shouting and political posturing going on, but we're not at all certain there's much in the way of listening and compromising taking place.
Read More
I believe that members of Indiana's legal profession have a duty to voice their concerns when laws are proposed that could dramatically affect the civil liberties of individuals living in Indiana. Think about it, what if you could have voiced your opinion when laws imposing poll taxes or prohibitions against interracial marriages were being considered in some state legislatures. Would you have done it?
Read More
Indiana courts are tackling a giant technology project. It matters because it affects both our efficiency and your ability to access court information for free. Right now, our state's 400 trial courts don't share case information with each other or with state agencies in the electronic ways that are so common in modern life. There are 21 different computer systems managing court information in our state. As you can imagine, we believe that is a bad business practice and we're working to do better.
Read More
The Indiana Supreme Court hosted a panel discussion recently to discuss the broad topic of judicial independence, taking a lesson about how the courts operate to an Indianapolis college campus.
Read More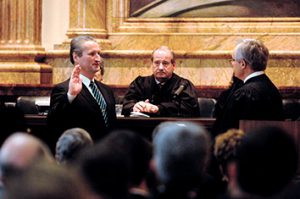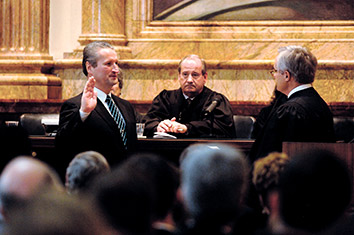 U.S. Magistrate Judge Mark J. Dinsmore received his robe and took the official oath of office on Feb. 25 at an investiture ceremony in the Birch Bayh Federal Building in Indianapolis.
Read More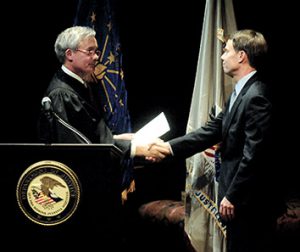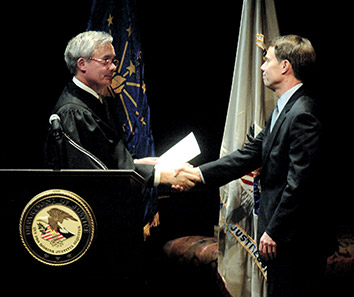 U.S. Attorney for the Southern District of Indiana Joseph H. Hogsett took his official oath of office on Feb. 18 before a crowd of more than 200 members of the state's legal community as well as U.S. Attorney General Eric Holder. The investiture ceremony was held at the Indiana Repertory Theatre in Indianapolis.
Read More
Indiana University School of Law – Indianapolis hosts poverty law event and offers a new law class with a focus on art. Indiana University Maurer School of Law will host a Pan-Asian conference on democracy.
Read More
An Egypt-based program of the Indiana University School of Law – Indianapolis, in partnership with Cairo University Faculty of Law in Egypt, could resume as early as mid-March, according to an e-mail from the program's director to Indiana Lawyer.
Read More
Defense attorneys for former Indiana State Police trooper David Camm have asked the state's intermediate appellate court to accept an interlocutory appeal and decide whether a special judge should have appointed a new prosecutor to preside over the man's third trial.
Read More
A month after applications were submitted for the state Board of Law Examiner's executive director position, the Indiana Supreme Court has announced its plan to review those applications and narrow the field.
Read More
The Indiana Supreme Court heard oral arguments today involving the subpoena of records from a domestic violence agency by a defendant who had been charged with two counts of Class A felony child molesting.
Read More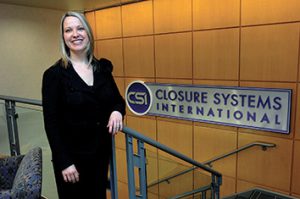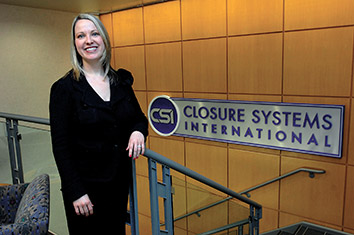 A soda or water bottle on the desk at work or a jug of juice in the refrigerator at home might be merely a refreshing drink for most people. But it's a day at the office for Stephanie Blackman, a corporate attorney in the business of bottle caps or, as they are known in the food and beverage industry, closure systems.
Read More
See who has been suspended, received a public reprimand, and who resigned.
Read More
On Jan. 24, 2011, the U.S. Supreme Court issued its opinion in Thompson v. North American Stainless, LP, 131 S. Ct. 863 (Jan. 24, 2011).
Read More
Twice a month, a ceremony at the U.S. Courthouse presided over by members of our federal judiciary formally grants citizenship to newly naturalized American citizens. It's an awe-inspiring ceremony – and members of the IndyBar can be a part of it. An IndyBar representative participates in each ceremony reinforcing the role of attorneys in the […]
Read More
View photos from the 2011 luncheon.
Read More
When cross examining a witness it's not unusual to be confronted with the "I don't know" or "I don't remember" witness. Evasive answers like "I don't know or I can't remember" shouldn't necessarily frustrate the cross-examiner.
Read More
Ogletree, Deakins, Nash, Smoak & Stewart, P.C. has named Kristin Keltner as managing shareholder of the firm's Indianapolis office.
Read More
Reprint of the remarks delivered by James H. Voyles, Jr. upon acceptance of The Hon. Paul H. Buchanan Jr. Award of Excellence<
Read More
The Hon. Paul H. Buchanan, Jr. Award of Excellence is presented "from time to time". It is intended to both reward the accomplishments of the recipient and to inspire others to such service. James H. Voyles, Jr. of Voyles Zahn Paul Hogan & Merriman was determined to be a worthy recipient and by the comments made at a recent luncheon in his honor, he certainly epitomizes the lawyer deserving of such recognition.
Read More
When the Indianapolis Bar Association created the first-of-its-kind Attorneys for an Independent Bench ("AIB") PAC last year, it charted a new course to address public perception of lawyers and the legal system.
Read More
On March 24th, the IndyBar hosts its annual "Take a Law Student to Lunch" from noon to 1 PM at the Conrad Hotel.
Read More
The Defense Trial Counsel of Indiana will hold its Rookie Seminar on April 15, 2011, at The Montage at Allison Pointe. 8.0 credits (including 1.0 ethics) have been requested.
Read More
ISBA and AG team up for food drive; CLE focuses on stress and social media
Read More