The hearing officer presiding over the attorney discipline case against Attorney General Curtis Hill is recommending a 60-day suspension of Hill's law license, without automatic reinstatement. But how that recommendation might affect Hill's status as AG or his re-election campaign remains to be seen.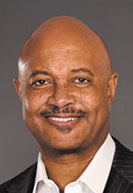 Former Indiana Supreme Court Justice Myra Selby filed her hearing officer's report Friday, nearly four months after she presided over a four-day evidentiary hearing in In the Matter of Curtis T. Hill, Jr., 19S-DI-156. The disciplinary case arises from allegations that Hill drunkenly groped four women at a legislative party in March 2018, then used his position to deny the allegations and intimidate his accusers.
A special prosecutor declined to bring criminal charges in late 2018, but the Indiana Supreme Court Disciplinary Commission filed the attorney misconduct charges against the Republican AG in March 2019. The commission recommended Hill serve a two-year suspension, while his defense team urged an outright dismissal.
Selby's recommendation doesn't end the matter, as the Indiana Supreme Court has the final say in what discipline, if any, Hill will receive. Selby was involved in making disciplinary decisions during her time on the high court.
The four accusers — Democratic State Rep. Mara Candelaria Reardon and legislative staffers Gabrielle McLemore Brock, Niki DaSilva and Samantha Lozano —also have sued Hill and the state. They pledged to move forward with that action as the discipline case proceeds.
"Just as the special prosecutor and inspector general explicitly recognized, our clients' credibility has been confirmed yet again and corroborated by a multitude of witnesses called by the Indiana Disciplinary Commission and Attorney General Hill's defense," the JBJ Legal attorneys representing the accusers said in a statement. "We hope, at a minimum, the Indiana Supreme Court adopts this suggested discipline."
Hill's defense attorneys — Jim Voyles and Jennifer Lukemeyer of Voyles Vaiana Lukemeyer Baldwin & Webb and former Disciplinary Commission director Don Lundberg — did not return calls seeking comment on Selby's recommendation, nor did a spokeswoman for the Office of the Attorney General.
Misconduct findings
Selby's 36-page report explicitly finds that none of Hill's four accusers coordinated their stories.
Since July 2018, when the allegations first became public, it has been repeatedly reported that Hill rubbed his hand down Reardon's back and grabbed her buttocks while she was wearing a backless dress. He's also accused of giving Brock a "sexual" back rub, grabbing Lozano by the waist and pulling her close to him, and rubbing his hand down DaSilva's back before grabbing her hand and placing both of their hands on her buttocks.
Reardon and Lozano are still in their Statehouse positions, but Brock and DaSilva have each left their employment with the Indiana Legislature.
Hill argued in his defense that he is a "gregarious" person who often makes physical contact when speaking with people. He claimed he touched Reardon's back only to hear her better, and that he was simply guiding Lozano and DaSilva into the bar area. Hill did not have a specific recollection of his encounter with Brock, but he said it was possible he put his hand on her back while standing near the bar.
The defense cast the incident as one of differing perceptions. Hill was trying to be friendly, his attorneys argued, and the women misinterpreted him.
But "(t)he Hearing Officer disagrees with Respondent's contention that the generational differences between himself and the complainants somehow explains their alleged misunderstanding of what they experienced," Selby wrote. "… Respondent suggests that the events and circumstances of this case reflect the shifting social concerns around what is appropriate and inappropriate conduct at a work-related party. That is not what this case is about."
Though Hill was not criminally charged, Selby determined he committed Class B misdemeanor battery by touching the four women. She did not find, however, that he committed sexual battery against DaSilva, nor that he committed "offensive personality" under the Admission and Discipline Rule 22.
But the AG did violate Indiana Professional Conduct Rules 8.4(b) and (d), which relate to a lawyer's honesty, trustworthiness and fitness, and conduct prejudicial to the administration of justice, respectively. Selby made specific note of how Hill used his official position to discredit his accusers.
"The evidence establishes that Respondent took part in a long orchestrated campaign to defend himself," the hearing officer wrote. "This campaign used incendiary language that attempted to cast doubt not only on the four women's allegations but on their motivations for making the allegations. The evidence also establishes that at no point during this campaign did Respondent urge his team to exercise caution or show respect toward the women, nor did he express concern about any potential impact his response may have on them."
Notably, Selby determined Hill was at the March 2018 party in his capacity as the attorney general. Calling the party a "work-related event," she noted Hill decided to attend the party specifically so he could speak to Sen. Greg Taylor, who had opposed a bill also opposed by the Attorney General's Office.
Further, "(a)lthough Respondent argues that he attended the Sine Die party as an individual, not in his capacity as the Attorney General, he responded to the allegations in his capacity as the Attorney General. He involved the Office of the Indiana Attorney General employees, website, and Twitter account in his defense. A significant amount of these efforts took place during workday business hours."
Election implications
Selby's report comes as Hill is running a re-election campaign against four other candidates.
He'll first have to face off against Indianapolis attorney John Westercamp and former Revenue Commissioner Adam Krupp at the state Republican Convention on June 19-20. If he secures the GOP nomination, he'll then run on the ballot against either State Sen. Karen Tallian or former Evansville Mayor Jonathan Weinzapfel, who are vying for the Democratic nomination.
In a statement released after Selby's report, Weinzapfel called Hill "an absolute embarrassment," according to the Evansville Courier & Press. "He should resign," Weinzapfel said, "and if the Supreme Court doesn't remove him, the people of Indiana will."
Tallian has likewise said "Curtis Hill has to go," while his Republican challengers have made veiled references to the sexual misconduct allegations.
Westercamp has called for "principled, conservative" leadership. Krupp says the attorney general should "serve with the highest integrity in following the rules of professional responsibility, build trust with the executive and legislative branches, and always remember the oath of all attorneys, especially that of Indiana's chief legal officer, to abstain from offensive personality and to maintain the confidence of our clients."
Both Westercamp and Krupp have declined to say whether Hill should resign. Other GOP leaders, however, including Gov. Eric Holcomb, have publicly called for his resignation.
Hill announced his re-election bid in November, and it's unclear whether the discipline case will have any effect on his campaign. A campaign consultant did not respond to a message seeking comment.
Even if he is re-elected, a disciplinary sanction could hinder his ability to serve as attorney general.
Indiana law requires that the AG be "duly licensed to practice law in Indiana." That means the officeholder has to be in good standing, which would not be the case for Hill if a suspension is placed on his license.
The Supreme Court could choose to impose a sanction less than suspension, such as a public or private reprimand — or no discipline all — that would have no effect on the status of his license. But if his license is suspended, even Tallian has said it's unclear what that would mean for his ability to be the state's highest-ranking lawyer.
Next steps
The discipline case could continue for several more weeks or months.
Under Admission and Discipline Rule 23(15), Hill or the Disciplinary Commission can file a petition for review of Selby's report within 30 days. The opposing party would have 30 days to respond to the petition for review, and the initial filer would then have 15 days to file a reply brief.
If the Supreme Court were to adopt Selby's recommendation, Hill would have to go through an additional process for reinstatement after his 60-day suspension.
Rule 23(18)(b) provides that attorneys suspended without automatic reinstatement must file for reinstatement with the Supreme Court and pay a $500 filing fee. Among the requirements for reinstatement is the retaking of the Multistate Professional Responsibility Exam and a demonstration that the attorney:
Desires in good faith to obtain restoration of his or her privilege to practice law
Has not practiced law or attempted to do so since the discipline was imposed
Has fully complied with the terms of the discipline order
Has an attitude of genuine remorse
Has engaged in conduct that has been exemplary and above reproach since the discipline was imposed
Has a proper understanding of and attitude toward the standards of the bar
Can be safely recommended to the legal profession, courts and the public.
According to a Supreme Court spokeswoman, once the justices get Hill's discipline case, they will "consider the issues before them carefully while remaining mindful of timeliness; however, the rules do not provide for a specific deadline for a decision."•
— IL editor Dave Stafford and reporter Katie Stancombe contributed to this report.
Please enable JavaScript to view this content.