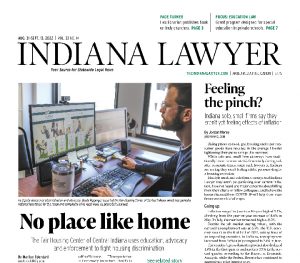 AUG. 31-SEPT. 13, 2022
It's been 10 years since the Fair Housing Center of Central Indiana opened its doors, and in that time it has grown from a one-person operation to a nationally-recognized leader in fair housing advocacy. Indiana Lawyer Senior Reporter Marilyn Odendahl takes a look back at the first decade of the FHCCI's work, and a look ahead at what's to come in the next decade. Meanwhile, one attorney is putting his legal research skills to use in another field: churches. Read IL Reporter Katie Stancombe's story about Lee Little, the law librarian who recently published a book featuring historic church buildings in Indianapolis. And in the Education Law Focus — a new Focus Section in 2022 — Katie dives into a new grant program designed specifically for special education students at private schools. Read those stories and more in the Aug. 31-Sept. 13, 2022, issue of Indiana Lawyer.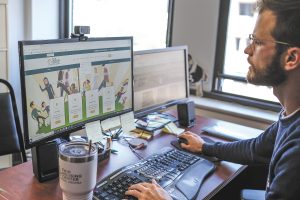 Ten years ago, the Fair Housing Center of Central Indiana opened its doors in Indianapolis to help Hoosier tenants and homeowners keep their anchors. The small agency, which covers an area of 24 counties and 2.5 million people, educates, advocates and enforces the laws and regulations that prohibit housing discrimination.
Read More
Multiple small and solo firm attorneys told Indiana Lawyer they aren't yet panicking over current inflation, have not heard any major concerns about billing from their clients or fellow colleagues, and believe the lessons learned from COVID-19 will help them meet future economic challenges.
Read More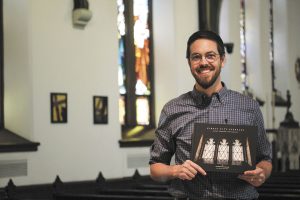 Light filtered gently through murky multicolored glass on a weekday afternoon at the Christ Church Cathedral on Monument Circle as law librarian Lee Little expertly described the intricacies of the historic structure. Enthralled by the rich, complex and at times painful pasts of churches in the Indianapolis area, Little — a research and instruction librarian and adjunct lecturer in law at the Ruth Lilly Law Library at Indiana University Robert H. McKinney School of Law — decided to put pen to paper and document the city's churches and congregations.
Read More
In March of 2021, Aubrey Shoemaker grabbed her child and fled from Indiana to the safety of her family in Alabama. The next day, she walked into an Alabama courthouse and filed a petition for an order of protection against her husband, Austin Shoemaker. Three days later, Austin filed for divorce and emergency custody of his child in Henry Circuit Court. Thus started a fight that initially involved two trial courts in different states issuing conflicting orders.
Read More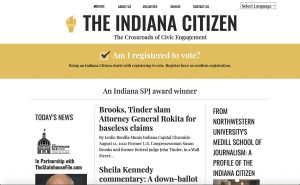 As midterm elections approach, The Indiana Citizen, an initiative focused on voter participation, is shifting its efforts from getting more Hoosiers to the polls to providing information on candidates, issues and registering people to vote.
Read More
With federal and state grant money, Indiana Legal Services Corp. is expanding its assistance to focus on the root causes of housing loss so more low-income veterans can get help staying in their homes without having to wait for the eviction notice to arrive.
Read More
Traditional isn't the word that White Circuit Judge Jason Thompson would use to describe his ascension to the bench. Thompson is the latest Indiana trial court judge to be featured in Indiana Lawyer's spotlight series focusing on the state's judicial officers in more rural communities.
Read More
Read Indiana appellate court decisions from the most recent reporting period.
Read More

Described as being an additional option for Hoosier students to find the best fit for their special education needs, the Indiana Education Scholarship Account, or ESA, program offers parents the ability to choose where they want to spend state dollars for their child's education.
Read More
A school's brand will likely be one of its highest valued assets and should be protected or, in some cases, rebranded to help the school compete for students and fulfill its educational purposes.
Read More
Winston Churchill said that "those that fail to learn from history are doomed to repeat it." The horrors of the November 2021 Oxford, Michigan, and May 2022 Uvalde, Texas, school shootings provide a series of lessons about the use of law enforcement in schools.
Read More
Education law is changing in ways that create an uncertain legal landscape for educators and families. Federal decisions and guidance at times conflict with state policy priorities. This places educators in unique and often high-tension positions where they are called to mind the needs of students while staying compliant with the law.
Read More
In June 2022, the U.S. Department of Education unveiled proposed changes to Title IX of the Education Amendments of 1972, marking the 50th anniversary of that important federal law championed by Indiana U.S. Sen. Birch Bayh.
Read More
In Allen v. Brown Advisory, LLC, 41 F.4th 843 (7th Cir. 2022), the plaintiff appealed from the dismissal of his action and denial of his motion to amend his complaint. The 7th Circuit Court of Appeals affirmed; the discussion on seeking to amend pleadings after the amendment deadline has passed is relevant procedurally and provides an excellent primer.
Read More
Philadelphia was founded in 1682 by William Penn and served as the capital of Pennsylvania during the British colonial era. It went on to play a historic and vital role in the 18th century as the central meeting place for our nation's Founding Fathers. This fall, it will also serve as the location for DRI's annual meeting.
Read More
Indianapolis criminal defense attorney Robert Hammerle gives us his take on "Where the Crawdads Sing" and the new Marion County courthouse.
Read More
Created in 2022, the Masters Division of the Indianapolis Bar Association provides resources and programming for lawyers in our local legal community who have 25 years or more of service to our profession.
Read More
On Friday, Sept. 30, the IndyBar Foundation will be hosting Law Prom at The Alexander hotel in downtown Indianapolis.
Read More
In 2010, the IndyBar Appellate Practice Section was discussing ways to help its members and improve the quality of advocacy in the Indiana Supreme Court and Court of Appeals. The section took a bold step by creating a new program: the Indiana Appellate Institute.
Read More
While it's our goal year-round to make you, IndyBar members, more profitable and productive in your practice, we're taking extra care during the month of September to show you how much we appreciate you!
Read More