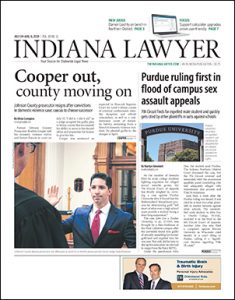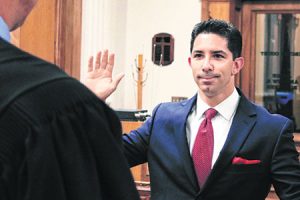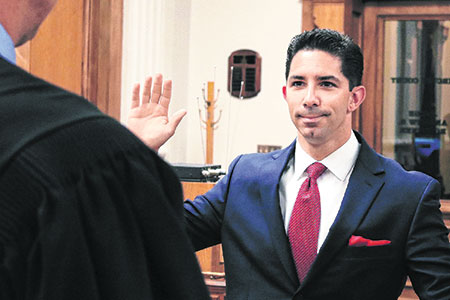 Former Johnson County Prosecutor Bradley Cooper told his domestic violence victim and former fiancée in court on July 17, "I did it. I did it all," as a judge accepted his guilty plea to felony counts that terminated his ability to serve in his elected office and jeopardize his license to practice law. Cooper's longtime deputy, Joe Villanueva, was sworn in the same day as interim prosecutor.
Read More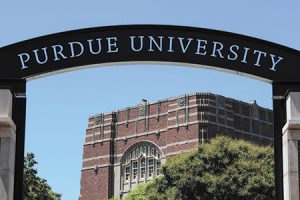 As the number of lawsuits filed by male college students fighting expulsion for alleged sexual assaults grows, the 7th Circuit Court of Appeals has finally weighed in, reviving a case against Purdue University after it found that the Boilermakers' disciplinary process for determining guilt "fell short of what even a high school must provide a student facing a days-long suspension."
Read More
If you've ever been cited for violating a local ordinance, odds are you've ended up in a city or town court. While there have been calls to abolish them, the small-matter venues also have their defenders.
Read More
Every fall, judicial representatives from several Indiana counties travel to the Statehouse to make the same plea: Our caseloads are growing and our litigants are waiting, the judges tell lawmakers. We need more help, and we need your permission to get it.
Read More
The U.S. Senate approved Damon Leichty on an 85-10 vote, sending the South Bend Barnes & Thornburgh partner to fill the last vacancy in Indiana's federal judiciary and making him the fourth judge confirmed to Indiana's federal bench since last August.
Read More
In late June, the U.S. Supreme Court notified Tennessee that it was last call for the state's liquor sales residency requirement — a law similar to statutes on Indiana's books.
Read More
The writing sample traditionally given at the end of the LSAT, when candidates are usually mentally fatigued and no longer able to legibly scribble their thoughts, could draw new attention from law schools as the entrance exam switches to a digital format. The test will go all-digital beginning in September.
Read More
Read Indiana appellate court decisions from the most recent reporting period.
Read More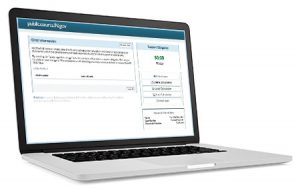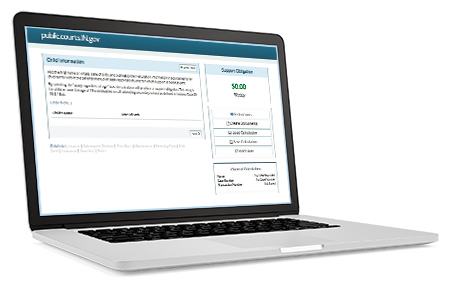 Newly updated versions of the state's child support calculators went live July 1, drawing surprise and praise from family law attorneys.
Read More
While the debate rages over the safety of immunizations, family law attorneys in Indiana say that issue is rarely a source of discord between divorced, separated or unmarried parents. However, arguments over medications and doctor's appointments happen frequently, such as claims that a former spouse goes to the doctor every time the child has a sniffle or others asserting their child should have been taken to an urgent care center instead of the emergency room.
Read More
When a parent with a child custody order plans to move, Indiana Code 31-17-2.2 sets out the requirements that they must follow in order to provide the nonrelocating parent with notice of their intended relocation. Amendments to the relocation statute that took effect on July 1 bring changes to filing deadlines, notice procedure, and to whom the law applies.
Read More
A recent case from a United States district court has garnered much notoriety and created major waves that may revive the important conceptual topic and signify broader acceptance of S corporation tax affecting in business valuations.
Read More
Earlier this summer, my friend Dan Kohane of Hurwitz & Fine in Buffalo, New York, embarked on a series of essays for young lawyers on how to market themselves and how to build a practice. In his final chapters Dan introduced the subject of "professional generosity."
Read More
For years now, all federal courts have been using ECF electronic filing along with electronic service of filings and court orders. This system offers great convenience and efficiencies, but in today's litigation practices, with the seemingly nonstop, never-ending inflow of email, the risks of missing a court order are increased. This proved painful in a recent 7th Circuit decision.
Read More
In a very crowded field for attorneys, you need to get your story out. Differentiate yourself from all the rest and choose the best media for advertising the new firm. The marketing world has changed, and smart attorneys will take advantage of all the new platforms to deliver your message.
Read More
Within legal media, mental health made the jump from invisible to mainstream this year. There is now compelling evidence that it is OK for attorneys to talk about their mental health struggles publicly or disclose them to their employers.
Read More
Movie reviewer Bob Hammerle is again ensnared in "Spider-Man's" web, but those big-screen thrills are no match for the real-life majesty of Iceland.
Read More
Read who has recently been suspended, placed on probation and reinstated to the practice of law in Indiana.
Read More
One of the best ways to respond to lawyer jokes and criticism of the profession is to conduct ourselves as helpful, reasonable professionals who genuinely care about our clients and our profession.
Read More
The IndyBar is determined to help Indianapolis solo and small firm practitioners meet their unique needs through the brand new Solo/Small Firm Division! Focused on programming, networking and business development opportunities specifically tailored to this large group of attorneys, the division will aim to give solo and small firm practitioners a home within the IndyBar.
Read More
As this year's graduates prepare to take the July bar exam, I cannot help but think back to when I was taking the bar and preparing to begin my legal career. A daunting task, certainly. But with the support of many in the Indianapolis legal community, I got through it with only a few bumps and bruises. And I learned a lot along the way. For the developing young lawyer, this article offers some practical guidance to help you continue growing professionally.
Read More