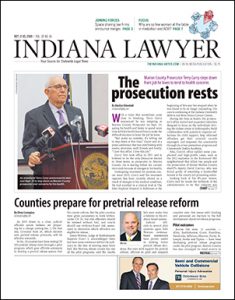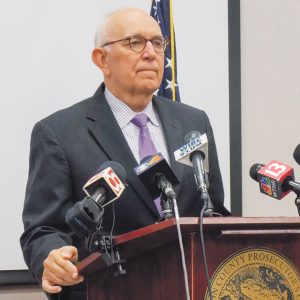 With a voice that sometimes came close to breaking, Terry Curry announced he was resigning as Marion County Prosecutor on Sept. 23, saying his health and desire to spend more time with his family forced him to make the difficult decision to leave the job he loves.
Read More
A week after he became acting Marion County prosecutor, Ryan Mears announced the office will no longer be prosecuting defendants accused of possessing 30 grams or less of marijuana.
Read More
As 2019 draws to a close, judicial officials across Indiana are preparing for a change coming Jan. 1. On that day, Criminal Rule 26, which dictates new pretrial release protocols, will be effective statewide.
Read More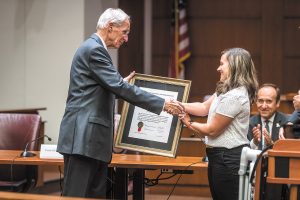 Idealism may be common among students at all law schools across the country, but the celebration of IU McKinney's 125th anniversary was an occasion to spotlight what many see as the sustained conviction of the graduates to make the world better.
Read More
The fallout from the revelation that the former Park Tudor boys basketball coach exchanged explicit messages with a 15-year-old student continued last week, when the school's former attorney was subject to a disciplinary hearing over his conduct during the school's investigation.
Read More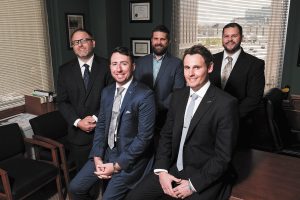 A few years ago, two Indianapolis law firms agreed to share office space. A few weeks ago, they joined forces in a merger that has them optimistic for what the future holds.
Read More
The Indiana Supreme Court reviewed a dispute over a rent-to-own contract and determined the family who had been living in the home were renters, not buyers. The ruling in Rainbow Realty Group, Inc., et al. v. Katrina Carter and Quentin Lintner, might give families who enter rent-to-buy contracts some remedy to prevent their dreams of homeownership from becoming a nightmare.
Read More
In a change effective July 1, the U.S. Supreme Court reduced the number of words litigants and friends can use in their submissions. The word limit for briefs on the merits of the case was slashed by 2,000 to 13,000. Also, amicus briefs were slimmed down to 8,000 from 9,000, although briefs from some entities such as federal agencies and state attorneys general were exempted from the reduction.
Read More
Read Indiana appellate decisions from the most recent reporting period.
Read More
In the field of alternative dispute resolution, diversity appears to be making fewer gains than in the legal profession as a whole. A 2018 article in the ABA Journal reported that, generally, studies show women comprising around 20% of the national ADR field. Similarly, American Bar Association Resolution 105 calls dispute resolution "arguably the least diverse corner of the profession."
Read More
Mediation results in a settlement more than 85% of the time. However, getting to "yes" is hard work — especially for the mediator. While we lawyers do a great job of advocating in mediation, we could do more to make the process more productive, and perhaps improve the likelihood of settlement, by focusing on developing the mediator's agenda in advance of mediation.
Read More
Mediators must always remain independent in resolving disputes between widely disparate views and interests. However, mediators evaluate cases to some degree when facilitating settlement discussions between parties. The mediator must tread lightly when the issue of his or her evaluation is broached by one of the parties.
Read More
Our commitment is this: If you have something to say that would be of interest to IL readers, we have the platform. Whether you prefer a lectern or a soapbox, we're here for you.
Read More
One of our strongest tools to hold bad actors accountable in the central Indiana housing market has been the disparate impact rule. However, the recent proposed rule issued by this administration, if enacted, would establish an onerous five-step process that would clearly preclude most from bringing future legal challenges that contain disparate impact claims.
Read More
Recently, Apple released the latest version of its iPhone operating system, iOS 13 (iPad software is coming soon). Each year, the software gets better when it comes to entering text, which is the key to getting stuff done on your phone. Apple does not disappoint with iOS 13, offering two features that have been around for a while, but continue to get better: Voice Control and swipe keyboard (QuickPath).
Read More
Movie reviewer Robert Hammerle finds big rewards in two lesser-known films — "Brittany Runs a Marathon" and "Official Secrets."
Read More
The Marion County Bar Association (MCBA) has invested significant time, thought and resources in 2019 to ensure we are mastering "small things in a great way." Much of the work goes unseen, but these efforts represent fundamental building blocks integral to enhancing the MCBA's reach and impact. We believe this approach is a proven formula for sustained relevance and long-term success.
Read More
I've been a public defender since I graduated from law school, and I have found criminal law attorneys especially collegial and close-knit. I was interested in hearing another attorney's perspective on the criminal law community and wanted to speak with someone who had practiced both as a prosecutor and a criminal defense attorney. Attorney Katie Jackson-Lindsay kindly answered some questions for me.
Read More
Indiana health care facilities should prepare for the possibility that some of their patients may legally purchase recreational marijuana in Illinois or Michigan or may be approved medical marijuana patients holding medical cards from Michigan, Ohio, or Illinois.
Read More
On November 14, join us as we gather in the Indiana Supreme Court courtroom from 3 to 4:30 p.m. for the IndyBar HEAL (Helping Enrich Attorneys' Lives) Committee's fourth annual Celebration of Life & Career. Each year, this memorial service gives us an opportunity to honor the lives and careers of local attorneys, judges and paralegals who passed away in the previous year.
Read More
Recognition Awards, Day of Giving and Trivia Night are all upcoming events on the calendar for the Indianapolis Bar Association and Indianapolis Bar Foundation.
Read More
My DTCI board term is about to expire. It has been particularly rewarding to lend a voice from the northwestern part of the state as a member of the board of directors. Thus, I want to take the opportunity to reflect upon many grateful memories of being on the DTCI Board of Directors.
Read More