Not surprisingly, the biggest challenge Indiana courts will face in the new year will be getting back to normal.
Speaking with reporters via Zoom on Thursday, Indiana Chief Justice Loretta Rush acknowledged that despite efforts to keep courts operating remotely as much as possible, judges will face the difficult task in 2021 of working through COVID-created backlogs and getting their dockets back on schedule. But the chief also celebrated what courts were able to accomplish in 2020 despite the major disruptions caused by the pandemic.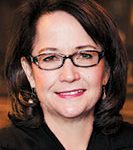 "A lot of what happened from March on was pivoting given COVID," the chief justice said. "… One of the things that was sort of serendipitous, I had sent a team from Indiana — our chief administrative officer, Justice (Steven) David and others — to a pandemic summit that the Conference of Chief Justices held the year before … which really gave us a lot of information."
Rush discussed the release of the Indiana Supreme Court Annual Report, covering the court's work in fiscal year 2020. Despite widespread closures of courthouses and the shift to remote proceedings, the high court's docket in FY 2020 kept pace with the prior year.
In fiscal year 2020, the court disposed of 874 cases, granted transfer to 47 and heard oral arguments in 45. Comparatively in FY 2019, justices disposed of 869 cases, granted transfer to 50 and heard arguments in 49.
Rush did note, however, one difference between this year and last: "We were less unanimous" in FY 2020, she said.
Specifically, FY 2019 saw a dissent in 33% of the court's opinions, excluding 22 per curiam opinions. This year, that percentage was 38% of opinions coming down either 4-1, 3-1 or 3-2, excluding 20 per curiam opinions.
Justice Geoffrey Slaughter led dissents in both years, penning five dissents to a majority opinion and one dissent to a transfer denial in FY20. Justice Steven David wrote four dissents to a transfer denial this year, while Rush wrote one. Justices Mark Massa and Christopher Goff each wrote two dissents to a majority opinion this year.
Asked about the number of nonunanimous decisions, Rush said she welcomes differing opinions. She noted the court tackles difficult constitutional issues, adding that when the justices gather in conference, their debates often shift the balance between the original majority and minority decisions.
"The issues that come up to our court that we write on, they're not just black-and-white issues most of the time," she said.
Like everything else, the work of the justices was impacted by COVID-19, including their move to remote arguments. The court heard its first remote oral arguments May 14 and has not yet returned to in-person proceedings.
The justices were also instrumental in helping trial courts transition to a virtual environment.
According to the annual report, the high court first urged trial judges to review local emergency plans on March 4. By March 10, the Office of Judicial Administration had launched a COVID-specific website containing information about the judicial branch's response to the pandemic and guidance to trial courts on how to adjust operations.
Already there are strategies in place to help judges work through the inevitable COVID backlog of cases once courts settle into their new normal, the chief said. Those strategies include the allocation of additional senior judge days, equipping senior judges with the necessary technology and encouraging the use of alternative court models such as the recently launched eviction mediation program.
"We're really looking at increasing mediation, facilitation, different case processing techniques," she said.
Many court proceedings have moved forward via remote proceedings while remaining accessible to the public, Rush added. Of particular note is the new ability to remotely watch court proceedings in real time. One proceeding in Whitley County had 1,000 remote viewers, she said.
Among the proceedings that have not been able to continue, namely in-person jury trials, Rush said there are legitimate concerns about the right to a speedy trial. But given the recent surge in positive COVID diagnoses in Indiana, the high court made the "cautious" decision to suspend jury trials in the name of public safety.
"To really get 50 to 100 people in a courthouse to be voir dired, we weren't able to say that it was going to be safe throughout," she said.
Jury trials resumed during the summer months, and Rush said judges were very creative in their efforts to find safe ways to hold court. Vanderburgh County, for example, moved court proceedings to the local convention center, while other alternatives have included school gymnasiums and even movie theaters.
Another 2020 event that took place in a nontraditional location was the August bar exam. With some 500 applicants sitting for the exam, Rush said there wasn't a way to safely bring the test-takers to one location.
The result was an open-book exam administered via email that yielded a 74% initial pass rate, which bumped up to 78% after appeals.
"A lot of people canceled their bar exams until the fall, (but) we decided to have one, and sort of have a home-grown one so that we could have one, because we think, again, the purpose of the bar exam is two fold: consumer protection and public confidence and trust in that," she said.
Though technology has kept the Indiana judiciary running, there have been drawbacks to the virtual environment, Rush said. One downside she pointed to was the need to move educational programming online.
Previously the high court had allowed for up to 18 hours of distance education credits per three-year reporting cycle. The court in March relaxed that restriction in response to the pandemic. The response was a 300% increase in distance education credits in FY 2020, according to the annual report.
But the move to virtual has also created new opportunities for the legal profession, the chief added.
One such opportunity is the use of online dispute resolution in family law cases. According to the annual report, the court's Innovation Initiative "reviewed online dispute resolution as an option to resolve cases in less time, provide better results for litigants, and reduce caseloads for courts. An online dispute resolution tool will be piloted before it can be made available statewide."
As the new year approaches, judges should not strive to go completely back to normal, Rush said.
Rather, she said courts will be "taking what worked during the pandemic and applying it."
The full annual report is available online.
Please enable JavaScript to view this content.