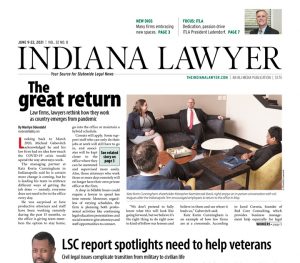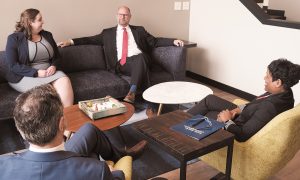 Should law firms require their attorneys and staff to return to in-person work? Is a hybrid schedule feasible? Firm leaders in Indiana are grappling with these questions.
Read More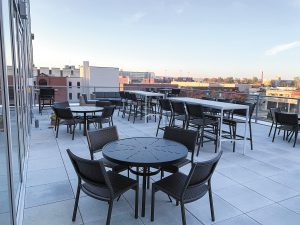 As employees trickle back into offices that have stood nearly skeletal for more than a year, many are left to wonder what work will look like in a post-pandemic society. Meanwhile, several Indiana law firms have followed through with plans to transition into new buildings — plans already set in motion before COVID-19 was a common term.
Read More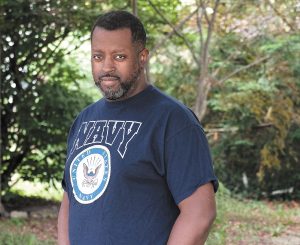 Military veterans often hear about how much their service is valued, but the transition from active duty to the civilian world is a difficult journey that can force them to face, alone, struggles with physical and mental health, endless bureaucracy and the nuances of living life out of uniform. Compounding the difficulties are the civil legal issues that burden many former service members.
Read More
An inmate at the Pendleton Correctional Facility represented himself against a former guard for use of excessive force in a legal battle that lasted for nearly six years before culminating in March in an in-person bench trial and an award of $35,000.
Read More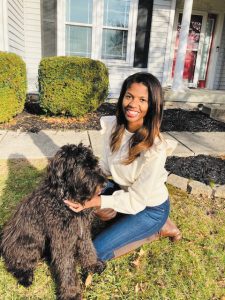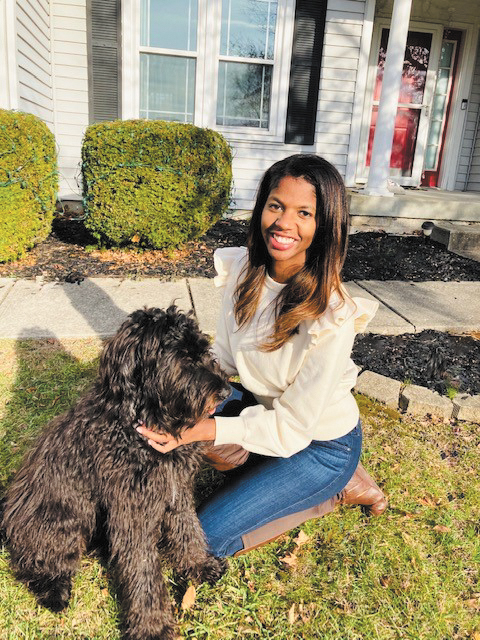 Cruising along with windows down, pointing out favorite homes and daydreaming with her daughter about which house is their favorite is a pastime that Carmel attorney Andrea Shelton didn't want to give up. Now she's living out that dream after picking up a side hustle of real estate during the pandemic.
Read More
Read Indiana appellate court decisions from the most recent reporting period.
Read More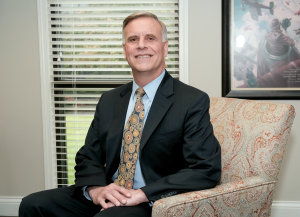 The Indiana Trial Lawyers Association's newest president, Daniel A. Ladendorf, is equally as passionate about seeking justice for his clients as he is promoting public service efforts. Ladendorf recently shared his thoughts with Indiana Lawyer about his year ahead as ITLA president.
Read More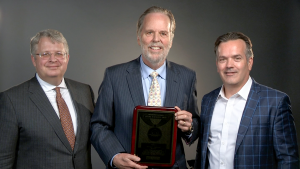 Two Indianapolis lawyers were recognized with the Indiana Trial Lawyers Association's 2021 Lifetime Achievement and Young Lawyer awards at the associations' 33rd Annual Lifetime Achievement Event. Thomas Doehrman of Doehrman Buba Ring was awarded ITLA's Lifetime Achievement Award, while Brandon Tate of Waldron Tate Bowen Funk Spandau was awarded the Max Goodwin Young Lawyer of the Year.
Read More
Sometimes change happens quickly. Other times it happens slowly. But often, both are true — if you need proof, just look at The Indiana Lawyer. This week we have another new editor to introduce: me.
Read More
Ahmed Young discusses critical race theory and how he sees it as a tool to benefit more Americans.
Read More
The last year has taught most of us that Zoom calls and videoconferencing are here to stay and that there are both positive and negative aspects to conducting business this way. James Hehner offers some suggestions that he has found helpful in preventing viewer fatigue and increasing the usefulness of videoconferencing.
Read More
Bob Hammerle shares his thoughts on two new movies, "A Quite Place Part II" and "Cruella."
Read More
After more than a year, IndyBar members were able to safely get back together again at the IndyBar Block Party on May 27.
Read More
A lot has changed in both our professional and personal lives since March of 2020, but not all of them have been bad.
Read More
A selection committee acting on behalf of the Indianapolis Bar Association and the Foundation has announced the selection of Chief Judge Tanya Walton Pratt of the U.S. District Court for the Southern District of Indiana as a recipient of the IndyBar's prestigious Luminary Award of Excellence. Chief Judge Pratt will be honored at the 2021 IndyBar Bench Bar Conference in Louisville, Kentucky on June 19.
Read More
Each year, the IndyBar publishes "Commonly Asked Questions about Indiana Law," a reference guide used by members when volunteering with association legal advice and pro bono programs. Thank you to our 2021 volunteer authors and editor.
Read More