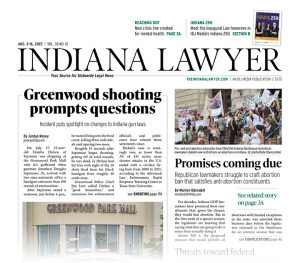 AUG. 3-16, 2022
After a gunman who opened fire in the Greenwood Park Mall was gunned down by an armed bystander, several questions were raised — was the bystander allowed to have a gun at the mall? Could he be held criminally liable for opening fire, even though he likely saved lives? Indiana Lawyer managing editor Jordan Morey dives into those questions and finds lawyers who can provide some answers. Meanwhile, the abortion debate continues in Indiana as lawmakers tackle what has turned out to be a difficult task: crafting anti-abortion legislation. IL senior reporter Marilyn Odendahl has those updates. And in the Litigation Support/Technology Focus, IL reporter Katie Stancombe provides a glimpse of what a future cameras-in-courts plan could look like in Indiana courtrooms. Read those stories, and more, in the Aug. 3-16, 2022, issue of Indiana Lawyer.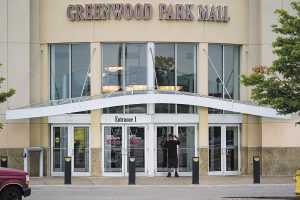 In the aftermath of the Greenwood Park Mall shooting, many open-carry advocates have pointed to the incident as an example of the need for more "good guys with guns," while those calling for more restrictions have argued the outcome will lead to more shootings, but with unfavorable outcomes. Regardless of a person's stance on gun rights, questions regarding Indiana's gun access laws have once again come into play.
Read More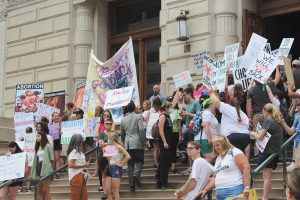 For decades, Indiana GOP lawmakers have promised their constituents that, given the chance, they would ban abortion. But in the first week of a special session, the legislators are learning that saying what they are going to do is easier than actually doing it.
Read More
In the early morning hours of June 8, a 26-year-old man with a gun and knife was detained by law enforcement outside of the Maryland home of U.S. Supreme Court Justice Brett Kavanaugh. While troublesome, the incident wasn't an outlier — it fell in line with a national trend.
Read More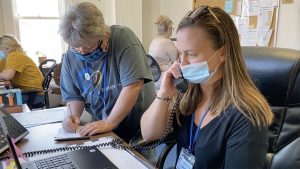 Federal legislation enacted in October 2020 designated 988 as the three-digit dialing code for the National Suicide Prevention Lifeline, now known as the 988 Suicide & Crisis Lifeline. The shorter dialing number went live nationally on July 16, and calls in Indiana are answered at three crisis prevention centers.
Read More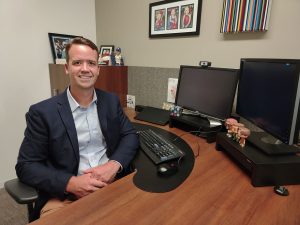 If John Stanley and his team of roughly 400 do their jobs correctly, no one will notice. Stanley oversees a wide range of behind-the-scenes activities at Faegre Drinker Biddle & Reath LLP that attorneys and their clients might not pay much attention to unless whatever object or service they want is missing or malfunctioning. Across 21 global offices, he and his team handle such matters as operations administration, real estate, travel, hospitality and research and information.
Read More
Indianapolis attorney William Rosenbaum said he sees a link between the abortion ban being crafted in the Indiana Statehouse and the number of lawyer jobs being filled in Indiana. Rosenbaum's firm, Rosenbaum Law P.C., is among more than 200 Hoosier businesses that recently signed a letter calling on lawmakers to maintain access to reproductive health.
Read More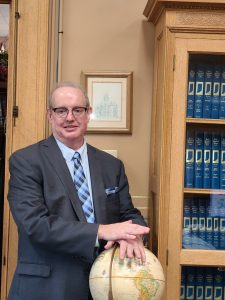 The pivotal moment in Jasper Circuit Judge John Potter's life that led to his decision to enter the legal profession goes back to his days in undergrad. Potter is the latest Indiana trial court judge to be featured in the Indiana Lawyer spotlight series focused on the state's judicial officers in more rural communities.
Read More
Read Indiana appellate court decisions from the latest reporting period.
Read More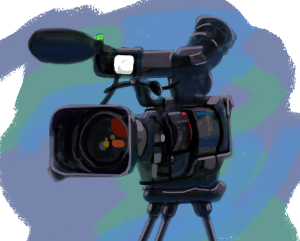 Last month, the Indiana Supreme Court announced it was seeking the public's input on a proposed rule amendment to Judicial Conduct Rule 2.17, which would give Indiana trial judges discretion to allow "news media" to broadcast, televise, record and photograph court proceedings. That's as long as the cameras don't distract court participants or impair the dignity of the proceedings, the proposed rule says.
Read More
In the panic that came with the COVID-19 pandemic, corporate legal departments went looking for their contracts to figure out which provisions were binding and which were eliminated under the "Act of God" clause. That scramble accelerated the growing trend of in-house attorneys adopting and using technology geared toward the legal industry.
Read More
Recently during a lunch with a business owner and client, I asked about legal technology that she likes and that makes her life easier. Her answer — and the answers received after asking others — was enlightening.
Read More
Embracing the recent advances in technology, every court in Indiana is now part of the Indiana Electronic Filing System. This means almost every judge in this state — from small claims to the Supreme Court — now reads some part of your written work product on an iPad, laptop, smartphone or computer screen. Many attorneys, however, still have not changed their writing styles and practices to reflect this, and they are missing significant advocacy opportunities as a result.
Read More
One of my favorite podcasts, "Men in Blazers," is led in part by a beautiful soul named Roger Bennett, whose recall of works of literature (among his other gifts) is stunning even to this trivia nerd. When discussion on the podcast turns from soccer to things way more important than soccer, Bennett often recites the poignant closing lines of Philip Larkin's "The Mower" from "Collected Poems," which inspired me in writing this column and which advice I hope we can all remember: "… we should be careful/Of each other, we should be kind/While there is still time."
Read More
The current economic crisis has rattled the confidence of all of us, including my clients. If you are in a practice that focuses on pre-planning, then I am sure you are seeing a similar reaction. Clients who are typically proactive are now pulling back on the reins and taking care of immediate needs — doing just enough to address these immediate needs — rather than preparing for the near future.
Read More
Indianapolis criminal defense attorney Robert Hammerle gives us his take on "Downton Abbey: A New Era" and "Thor: Love and Thunder."
Read More
Gone are the summers that lasted from Memorial Day to Labor Day. And to those naysayers who say we can't get the 180 days of required schooling in without a shorter summer, I say, "baloney!"
Read More
The information learned during voir dire will, of course, inform the parties' actions regarding peremptory and causal challenges. In addition, it provides some insight about individual jurors ultimately seated on the jury, the overall composition of the jury and individuals who have a higher probability of serving as the foreperson.
Read More
While it's our goal year-round to make you, IndyBar members, more profitable and productive in your practice, we're taking extra care during the month of September to show you how much we appreciate you!
Read More
"Work in Progress" (often abbreviated to WIP) is a representation of work outstanding for law firm clients. While most lawyers just let it ride and take it for granted that the work just keeps coming in and keeps getting done — WIP has some predictive powers that law firms are largely ignoring.
Read More
The Indianapolis legal community is fortunate to be home to many talented, dedicated professionals, and we need your help in identifying our colleagues who went above and beyond this past year!
Read More