FEB. 1-14, 2023
If you've been in a courtroom, you've seen them: the court reporters typing diligently as they create the court record. But could that image become a thing of the past? IL managing editor Jordan Morey explores a proposed rule amendment that's left court reporters "blindsided." Meanwhile, IL reporter Alexa Shrake takes a closer look at Indiana University Robert H. McKinney School of Law's first-in-the-state hybrid J.D. program. Plus, we've got a brand new Focus section: Banking & Finance. In it, Jordan explores how the current economic uncertainty is affecting attorneys who work in the banking and finance world. Read those stories and more in the Feb. 1-14, 2023, issue of Indiana Lawyer.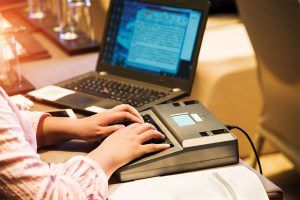 The rule would require all courts to record hearings in all case types, but would "prohibit" stenography and shorthand — a practice that is currently optional, not required — in Indiana's state courts.
Read More
A new report from a national sentencing reform nonprofit is highlighting continued concerns about youth offenders housed in adult facilities, rather than juvenile centers.
Read More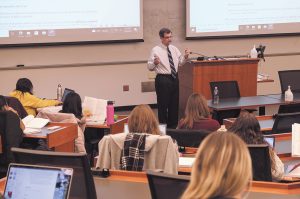 In the post-COVID world, flexibility has emerged as the name of the game. Indiana University Robert H. McKinney School of Law is tapping into that flexibility by launching Indiana's first part-time hybrid J.D. program.
Read More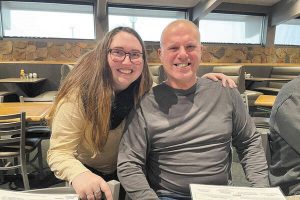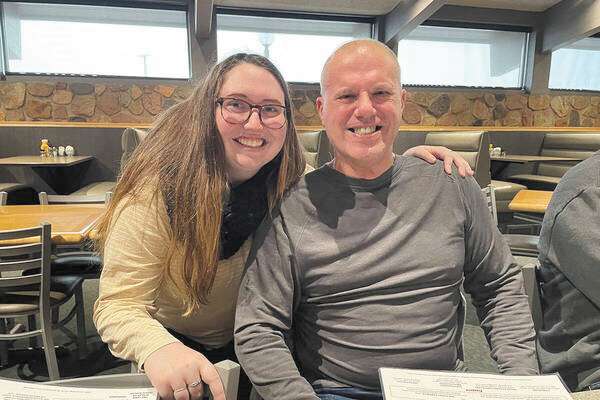 Walking out into the cold Minnesota winter air after nearly 25 years in prison wasn't something Thomas Rhodes thought would happen. But thanks in part to a recent Notre Dame Law School grad, that's just what Rhodes did.
Read More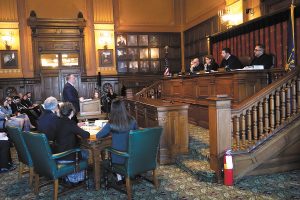 After a whirlwind of judicial and legislative activity, Hoosiers could soon have resolution on the question of abortion in Indiana.
Read More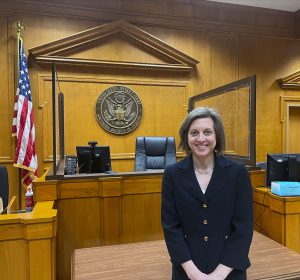 While working for the U.S. Nuclear Regulatory Commission, Kendra Klump saw firsthand the gaps between her colleagues and policymakers. Those challenges inspired the Wisconsin native to go to law school.
Read More
Read Indiana appellate court decisions for the most recent reporting period.
Read More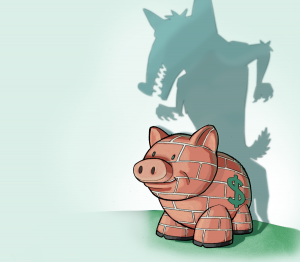 Between interest rates, labor shortages, supply chain issues, the ongoing war in Ukraine and the aftereffects of COVID-19, debtors and creditors are facing some uncertainties, attorneys say.
Read More
Companies both large and small continue to grapple with how ESG issues affect their risk management, strategic investments and external reporting.
Read More
As long as the bank takes appropriate steps in response to the garnishment paperwork, the bank's perfected security interest in the deposit account will defeat any interest asserted by the judgment creditor.
Read More
During January, Indiana federal judges issued multiple informative opinions on common procedural issues.
Read More
I have friends and acquaintances in the bar and the judiciary who have expressed concern that the polarization of our society has begun to spill over into how lawyers and their clients behave in litigation.
Read More
Indianapolis criminal defense attorney Robert Hammerle gives us his take on "The Fabelmans" and "Babylon."
Read More
On Jan. 26, 2023, the Indianapolis Bar Association celebrated the installation of its 145th president, Rebecca Geyer. The following is the address she gave to the nearly 200 members, family and friends in attendance.
Read More
The Indiana Commercial Court Rules and a trend in the commercial courts provide judges with the discretion to appoint a special master to address and resolve discovery nightmares before they even begin.
Read More
If you haven't heard, the Women and the Law Division (WLD) of the IndyBar has a quarterly book club, and we invite you to join!
Read More
There is a pathway to make better decisions about how to run a law firm — and, as it turns out, the data's right there in front of you.
Read More
IndyBar's Bar Leader Series Class XX applications are now being taken until Feb. 28.
Read More