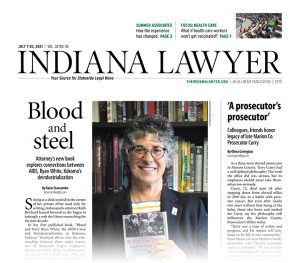 JULY 7-20, 2021
In the July 7 issue, IL reporter Katie Stancombe speaks with an Indianapolis lawyer who recently penned her first book examining the intersection between the HIV crisis, Ryan White, the economy in Kokomo and the court system. Also, Stancombe and IL senior reporter Marilyn Odendahl explore the summer associate experience and how it's been affected by the tumult of the last year. Plus, why some Hoosier health care workers are fighting against a vaccine mandate, and whether they have a legal leg to stand on.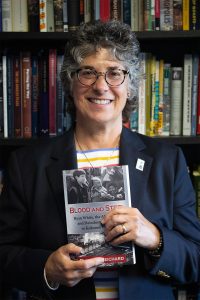 In her first published book, "Blood and Steel: Ryan White, the AIDS Crisis and Deindustrialization in Kokomo, Indiana," Indianapolis attorney Ruth Reichard delves into the relationships between three major events: one of Kokomo's largest employers, Continental Steel, filing for bankruptcy, the spread of HIV/AIDS in the 1980s, and Ryan White's fight to attend public school after being diagnosed with HIV/AIDS.
Read More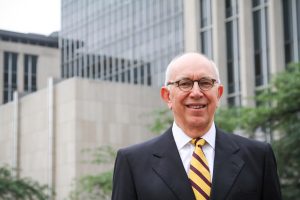 Former Marion County Prosecutor Curry, 72, died June 29 after stepping down from elected office in 2019 due to a battle with prostate cancer. But even after nearly two years without him being at the helm, those who knew and worked for Curry say his philosophy still influences the Marion County Prosecutor's Office today.
Read More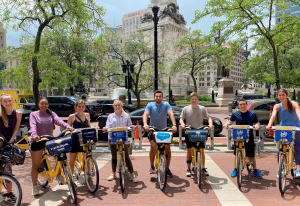 Many summer associate programs were adjusted last year when the COVID-19 pandemic struck. Although collaborating through online platforms and performing research and writing from home is doable, several 2021 summer associates can attest looking back that it pales in comparison to experiencing law firm life in person.
Read More
Summer associate programs are really extended job interviews. Law firms take a close look at the candidates to determine if they can do quality legal work and fit with the office's culture, while the students are determining whether they enjoy practicing at that firm and would want to work there after graduation.
Read More
A more conservative Supreme Court could mean changes to abortion law — or not.
Read More
With offices reopening and employees relearning how to conduct themselves in a professional workspace, in-house attorneys and human resources leaders are not expecting the transition to a pre-pandemic normal to be easy. Decision-makers anticipate a rise in administrative claims and lawsuits related to labor and employment matters over the next year.
Read More
Read Indiana appellate court decisions from the most recent reporting period.
Read More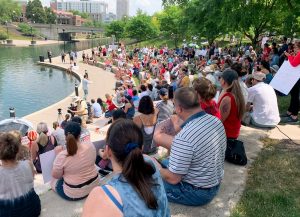 A federal judge last month swatted away a lawsuit filed by more than 100 health care workers who opposed a requirement by their employer, Houston Methodist, to receive the COVID-19 vaccine by June 7. Many Hoosier health care workers are now facing the same dilemma.
Read More
Although the practice of telehealth well preceded COVID-19, the pandemic sparked a substantial boom in the use of telehealth services. Along with this boom came legislative and policy changes both at the state and federal levels.
Read More
The Office of Civil Rights under the U.S. Department of Health and Human Services continues to enforce individuals' rights to access their health information through its Right of Access Initiative. Through its initiative, OCR vigorously enforces individuals' rights to receive copies of their medical records without facing overcharges.
Read More
Loretta Oleksy, deputy director of the Indiana Judges and Lawyers Assistance Program, shares the lessons she learned in 2020.
Read More
Courts are back in business, but it's not business as usual. Defense lawyer Scott Cockrum writes for the Defense Trial Counsel of Indiana about his views on attorneys' "new normal."
Read More
Defense lawyer Bob Hammerle offers his take on "The Courier" and "Rita Moreno: Just a Girl Who Decided to Go for It."
Read More
Have you heard of the Asian Pacific American Bar Association of Indiana? We're an affinity bar association that's striving to become a household name, but it can only happen with your help!
Read More
Lucy Dollens, IndyBar Women and the Law Division Executive Committee member, recently sat down with Sonia Chen Arnold, Senior Director, Assistant General Counsel- Consumer/Customer Operations at Eli Lilly and Company.
Read More
To recognize the accomplishments of female attorneys in central Indiana, the IndyBar's Women and the Law Division presents the Antoinette Dakin Leach Award.
Read More
The Indianapolis Bar Association is saddened to note the passing of former Marion County Prosecutor and IndyBar member Terry R. Curry. Curry died at the age of 72 on Tuesday, June 29. Arrangements are pending and will be shared as soon as they are available.
Read More
The nomination period has begun for the 2022 Board of Directors of the Indianapolis Bar Association, and IndyBar Past President James J. Bell of Paganelli Law Group has been appointed to chair the effort. Bell will lead a committee of members in selecting a slate of officers for the coming year.
Read More