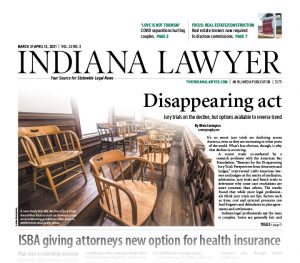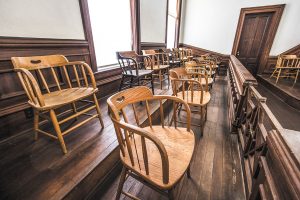 It's no secret jury trials are declining across America, even as they are increasing in other parts of the world. What's less obvious, though, is why that decline is occurring and how alternate means of resolving cases are impacting perceptions of fairness.
Read More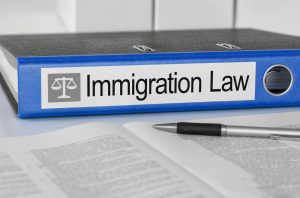 Immigration attorneys say international couples attempting to reunite during the pandemic are feeling desperate as borders between countries are closed to foreigners and backlogs continue to mount.
Read More
As he marked the two-month anniversary of his presidency, Joe Biden had not nominated anyone to either the federal bench or a U.S. Attorney's Office, which distinguished him from his two most recent predecessors. One retired member of Indiana's judiciary, however, is calling attention to the worrisome problem that beyond open positions, the state has no clearly defined process for identifying qualified Hoosiers to fill the vacancies.
Read More
The Indiana State Bar Association rolled out a long-awaited health plan that bar association leaders believe will provide an affordable alternative, especially to small- and medium-size firms across the state.
Read More
A new report from the American Bar Association's Commission on Women in the Profession is sparking conversations in the workplace about how male colleagues can become allies in the ongoing journey to reach gender equity in the legal profession.
Read More
Following a "drastic" move by the Indiana Supreme Court suspending in-person jury trials from mid-December to March 1, courts across Indiana are attempting to resume the hallmark proceedings of the American judicial system. But in Marion County, finding enough jurors to hold those proceedings has proven difficult.
Read More
Read Indiana appellate court decisions from the most recent reporting period.
Read More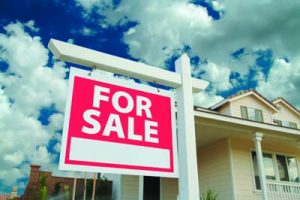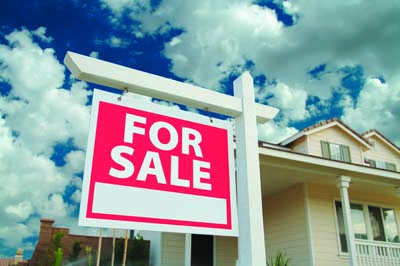 The National Association of Realtors is revamping its rules about commissions to comply with a settlement reached with the Department of Justice. The settlement requires brokers to disclose commissions on listings published through the Multiple Listings Service.
Read More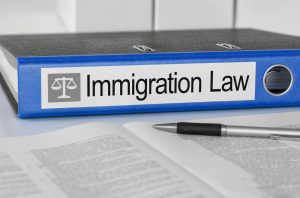 Immigration attorneys say international couples attempting to reunite during the pandemic are feeling desperate as borders between countries are closed to foreigners and backlogs continue to mount.
Read More
The COVID-19 pandemic has fundamentally altered how commercial real estate will be developed, built and used. Prudent real estate owners, developers, property managers and builders (and the lawyers who represent them) need to recognize this changed environment and proceed accordingly.
Read More
Many commercial real estate owners, even those who previously did not intend to sell, are considering selling their real estate to take advantage of current market conditions. With transactions seemingly becoming quicker each year, it is important for owners to consider many factors when preparing to sell their real estate, including executing an Internal Revenue Code (IRC) Section 1031 exchange.
Read More
The Hamilton County courts have been piloting, in select family law cases, a program for the online submission of trial exhibits through a website called CaseLines, part of Thomson Reuters. Attorneys and their teams can log in to a website, upload their digital exhibits for a hearing and the participants have access to those files for the hearing. The website is one place where the exhibits are stored and all participants can access at the hearing.
Read More
May 2011 was a magical time for me, personally and professionally. I completed all course work and passed exams required to participate in the annual commencement at Indiana University Robert H. McKinney School of Law. The words from the speaker a decade ago — and his legacy — reverberate to this day.
Read More
A half-century ago two Indiana legislators, a Democrat from Gary and a Republican from Kokomo, set forth to improve our courts. The Democrat was my father, Adam Benjamin Jr. The Republican was Elwood "Bud" Hillis. The Lake Superior Court selects judges on merit because of their efforts.
Read More
As the pandemic forced attorneys to work from remote locations, they have seen how well they could do it. They and their spouses have had a glimpse of a different, slower lifestyle, and it has appealed to them. For many, retirement, which was previously just a distant concept, has grown more realistic. At a minimum, a significant number of my lawyer friends have decided to work fewer hours, and they are confident that they are ready to slow down.
Read More
Movie reviewer Robert Hammerle shares his takes on three Oscar-nominated films: "Judas and the Black Messiah," "Crip Camp" and "Sound of Metal".
Read More
This year, with the road before us full of promise, the Indianapolis Bar Foundation is working hard to provide safe, exciting opportunities to come back together, to come back downtown and to grab hold of some of that hope that has escaped us for the past year.
Read More
The Indianapolis Bar Association recognizes that equality, diversity and inclusion impact all aspects of work among members of the IndyBar, within the practice of law and within the communities where we live and work. The association, through its actions and those of its members, seeks to be instrumental in creating a more equitable, diverse and inclusive society.
Read More
After a year apart from our friends, colleagues and mentors, the IndyBar is, as always, on the forefront of creating dynamic new content while adapting to new trends in technology and the law. To that end, we have some exciting news: We will be revamping the IndyBar's flagship event: the Bench Bar Conference.
Read More
The Indiana Product Liability Act (IPLA) can prove confusing for litigants unfamiliar with its many nuances. While the burden of proving duty, breach, causation, and damages rests with the plaintiff in a civil action, in practice, defense attorneys are often tasked with extricating a defendant that has no duty of care with respect to the specific claims brought against it.
Read More