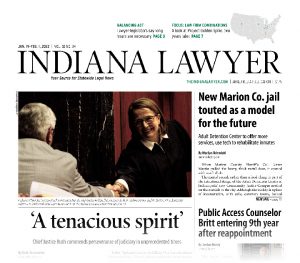 JAN. 19-FEB. 1, 2022
In this issue of Indiana Lawyer, we've got coverage of the 2022 State of the Judiciary address, the Indiana chief justice's annual report to the Legislature on the conditions of Indiana's courts. IL reporter Katie Stancombe has that story. Also in this issue, IL senior reporter Marilyn Odendahl examines why more Hoosier lawyers aren't running for the Indiana General Assembly. And in a new Focus section all about law firm combinations, Marilyn examines Project Golden Spike, two years after it was launched with the opening of Dentons Bingham Greenebaum. All of that and more in the Jan. 19, 2022, issue of Indiana Lawyer.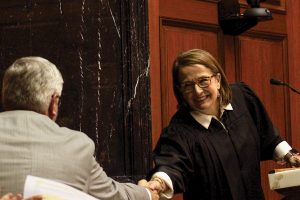 Indiana Chief Justice Loretta Rush on Jan. 12 presented her eighth State of the Judiciary address to Indiana Gov. Eric Holcomb, state lawmakers and fellow judges, providing an update on the condition of Indiana's courts. She returned to the Indiana House of Representatives chamber to address the General Assembly following a virtual address in 2021.
Read More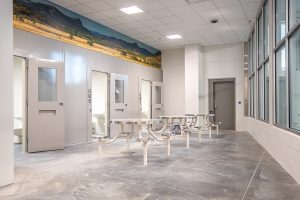 Law enforcement and city officials recently gave a tour of the new Marion County detention center. The relocation of inmates began Jan. 15, as two vans of detainees with police escorts made the trip to the new jail.
Read More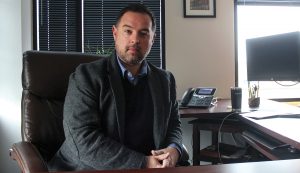 This past October, Luke Britt was reappointed by Gov. Eric Holcomb for a second time for another four-year term as Indiana's public access counselor. Britt is the state's seventh PAC and is in his ninth year in the role.
Read More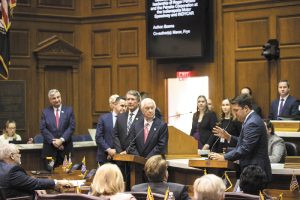 Many legal professionals see the enormous difficulty in running a successful law practice while being an effective legislator as the primary reason why more attorneys are not filling the seats in the Indiana House and Senate.
Read More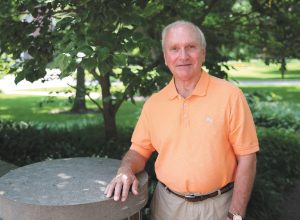 Walking on the beach and going fishing are not hobbies that retired Indianapolis attorney David Miller considers appealing at this point in his life. He'd rather go back to school.
Read More
Through an externship at Notre Dame Law, students work on asylum cases, typically in pairs, for immigrants in Indiana.
Read More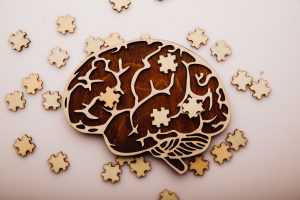 He wasn't angry — he was just scared. Surrounded by loved ones and law partners, the aging attorney finally confessed that he needed help.
Read More
Read Indiana appellate court decisions from the latest reporting period.
Read More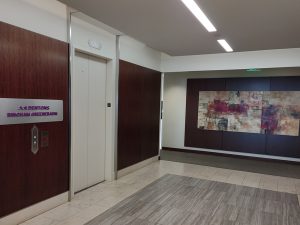 With Project Golden Spike, Dentons Bingham Greenebaum is outperforming the market in the growth of its lawyer headcount. The firm launched the Golden Spike initiative in January 2020.
Read More
Law firms completed 41 mergers in 2021. The total was up slightly from 40 in 2020, but well below the historical average of 55 mergers per year over the previous decade. Despite the slow down, Indiana's legal community still saw some combinations take place during the pandemic.
Read More
Through its acquisition of the Institute for the Future of Law Practice in late 2020, the Law School Admission Council is continuing to branch out from its traditional LSAT test administration role and offer more legal skills programming at its online platform LawHub. The new curriculum coming from IFLP is touted as helping to better prepare law students and lawyers for the demands of today's marketplace.
Read More
When Clendening Johnson & Bohrer merged with Hehner & Associates on March 15, 2020, just days before the lockdown, it was unimaginable how the practice of law would change between then and now.
Read More
New claims for unemployment compensation are at historic lows (a stark contrast to the record number of claims when workplaces closed down or reduced staff during the 2020 lockdowns), which can only mean that resigning Americans are primarily leaving to work elsewhere, rather than to not work.
Read More
There are things in life you can set your watch to; a national reckoning over race is not one of them, as I would come to find out in the spring of 2020.
Read More
Indianapolis criminal defense lawyer Bob Hammerle gives us his take on "Spider-Man: No Way Home," "The Lost Daughter" and "Licorice Pizza."
Read More
As much as I advocate for the use of cloud software by law firms, sometimes lawyers can develop an over reliance on such tools.
Read More
With the help of Faegre Drinker Biddle & Reath LLP, the IndyBar Legislative Committee provides weekly Bill Watch reports throughout the session, which highlight progress and recent actions taken on bills being monitored by the association.
Read More
Are you anxious to reconnect with your community? Are you looking for opportunities to contribute to Indy's growth? Ready to network with community leaders and your peers? The IndyBar's reimagined Bar Leader Series could be your answer and is now accepting applications for Class XIX.
Read More
Save your seat in a private focus room, a meeting room or even the IndyBarHQ Education Center!
Read More
Are you looking to serve your community in an easy and convenient way? The IndyBar Virtual Help Desk is the opportunity you've been looking for!
Read More
Since making the productivity resolution myself some years ago, I've gleaned many useful tips from business self-help books and engaged in plenty of trial and error. Following these four practices has made a real difference in my productivity.
Read More