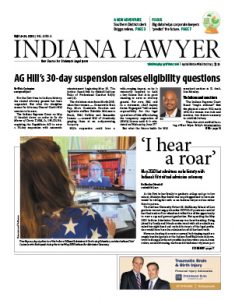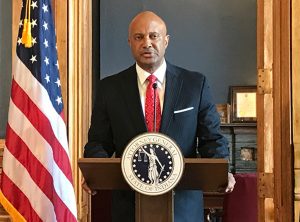 For the first time in Indiana history, the elected attorney general has been suspended. But what the discipline means for Attorney General Curtis Hill remains to be seen.
Read More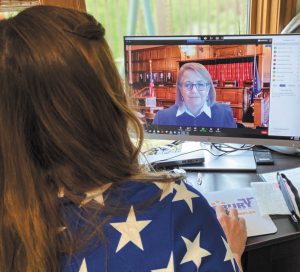 The May 2020 Indiana Bar Admission Ceremony was historic in several respects. Aside from taking place during a global pandemic, it was Indiana's first virtual bar admission and the first where every admittee — all 105 — participated.
Read More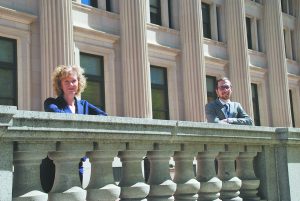 As longtime Southern District of Indiana clerk Laura Briggs stepped back from her post to pursue an adventure in retirement, she said saying goodbye in the middle of a public health crisis is interesting and hard. "It will also be hard for me not to be involved in something that is so integral for the functioning of American society," she said.
Read More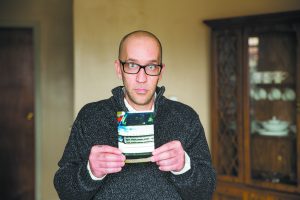 It's been seven years since Marion man Tyson Timbs lost his Land Rover to a law enforcement seizure, but the ensuing forfeiture litigation that has already made its way to the nation's highest court is now heading into its second round of appeals.
Read More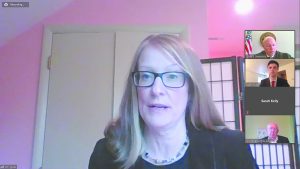 Examining a witness online made Sarah Kelly a little disconcerted. The Indiana University Maurer School of Law student was part of the patent trial class that spends an entire semester preparing a patent case then culminates in a mock trial. Typically the pseudo litigation takes place in a courtroom before a jury and real judge, but this year the COVID-19 emergency pushed the courtroom battle online.
Read More
Read Indiana appellate decisions from the most recent reporting period.
Read More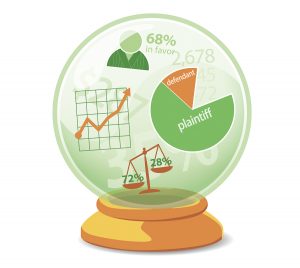 Big data is growing in importance, and corporate legal departments, despite being slower to adapt initially, are increasingly utilizing data analytics as part of their practices, according to a 2019 report. But despite all the hype, big data, by itself, cannot do a thing.
Read More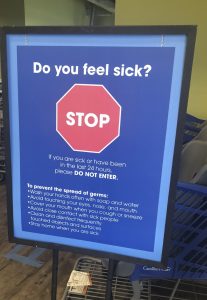 As companies have scrambled to stay solvent, in-house legal counsel have been working around the clock to keep up with the ever-changing pandemic response and guidance. What was relevant one day becomes irrelevant the next, leaving corporate lawyers with an information deluge to sift through.
Read More
As the country focuses its attention on COVID-19, and with only essential businesses operating in much of the country, many private companies in a variety of industries are suffering the economic impact of the current public health crisis.
Read More
Pro bono and legal aid efforts are not immune to the adjustments needed to serve clients in the midst of the COVID-19 pandemic. Court closures and restrictions on in-person gatherings have forced legal services organizations such as Indiana Legal Services Inc. to get creative about how they can continue to engage volunteer attorneys and provide legal services to those in need.
Read More
One of the unexpected bonuses of our current circumstance is that we have the time to reflect. Indeed, few of us have lived through a time that has had any greater cause to reflect than right now.
Read More
Zoom meetings are starting to grow on me, sweatpants are way more comfortable than a suit and Justice Clarence Thomas is letting loose during telephonic oral arguments that are being broadcast in real time on C-SPAN. Despite these nice diversions from reality, I think we are all ready for life to get back to normal sooner rather than later and especially to be rid of the financial stress associated with this time.
Read More
Offering a couple of classic movie recommendations, movie reviewer Robert Hammerle also offers fond remembrances of attorney friends and their loved ones.
Read More
As the pandemic changes life and the legal profession as we know them, the IndyBar has been and continues to be committed to providing not only our members, but also the larger legal community, with information and education needed to survive and thrive during this time and beyond.
Read More
The COVID-19 public health crisis has caused many people to reconsider their estate planning in light of scenarios that may have previously been unthinkable.
Read More
The IndyBar is ready to step in to bridge the gap for new graduates with the no-fee Graduate Legal Intern Skills Workshop, which will provide tools 2020 Indiana law school graduates need to get to work.
Read More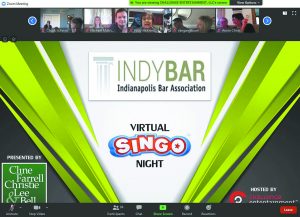 On Thursday, May 7, the Indianapolis Bar Foundation (virtually) raised money to benefit the legal community during this tough time.
Read More
Give back and help your community from home! We're looking for volunteers to answer legal questions from the public via our new online messaging system, Virtual Ask a Lawyer.
Read More
The somewhat solitary experiences of the COVID-19 pandemic have revealed several lessons that directly affect the practice of law, the ripple effects of which we may feel for a long time.
Read More