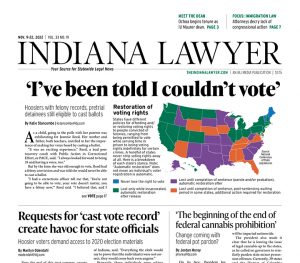 NOV. 9-22, 2022
This week's issue comes out the day after Election Day, so Indiana Lawyer reporter Katie Stancombe dug into a voting-related topic that gets less attention: voting while incarcerated, and after release. Her story takes a national and statewide look at how offenders, particularly those convicted of felonies, are able to cast their votes — if at all. In law school news, IL managing editor Jordan Morey sits down with the new dean of IU Maurer, Christiana Ochoa, who discusses diversity, the bar exam and the future of the Bloomington law school. And in the Immigration Focus, IL senior reporter Marilyn Odendahl explores how changing political whims can make it particularly tough to be an immigration attorney. Read those stories and more in the Nov. 9-22, 2022, issue of Indiana Lawyer.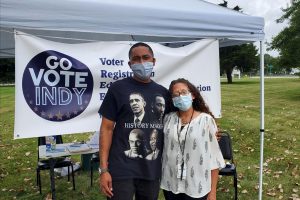 In the United States, an estimated 4.6 million Americans are ineligible to vote due to a felony conviction, according to a 2022 voting rights study conducted by The Sentencing Project. That's equal to one out of every 50 American adults.
Read More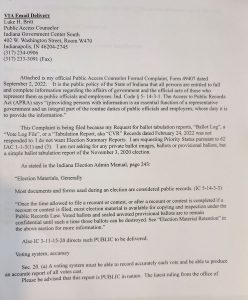 Near the end of this past summer, county clerks across Indiana became inundated with demands from individual voters that officials provide copies of their oaths and bonds and release voting data from the 2020 general election.
Read More
On its face, President Joe Biden's mass pardoning of individuals convicted of federal simple possession of marijuana might appear to some as a measure to score political points before the midterm election.
Read More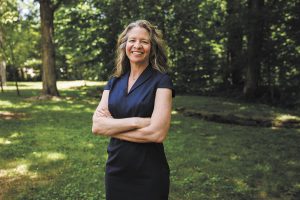 Last month, the Bloomington law school announced Christiana Ochoa, 52, who has worked at IU Maurer for around two decades in various teaching, administrative and leadership roles, as the 17th dean in the law school's history.
Read More
Of all the people getting arrested and charged, the criminal justice system hopes the most that the youngest do not become repeat offenders.
Read More
The new Youth and Family Services Center, which will replace Marion County's current juvenile detention center on Keystone Avenue, will have fewer beds and will be safer for staff and the youth, with less blind spots and more natural light.
Read More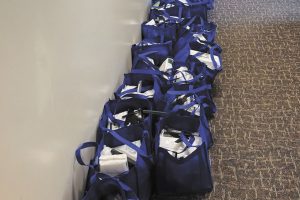 With some grant money left over and families in need, the Marion Superior Court Probation Department decided to do another "give-back event."
Read More
Leaders from all three branches of Indiana government rallied last month to discuss ongoing statewide efforts to address the growing mental health needs of Hoosiers — and to promote a new way of working together.
Read More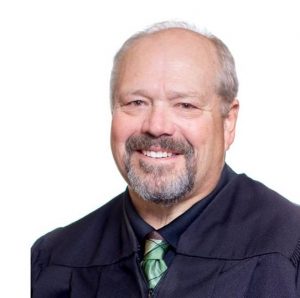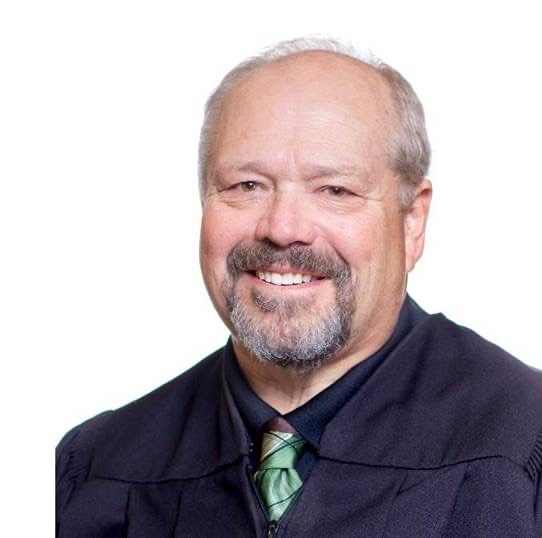 While participating in a youth government day during high school, now-Pike Circuit Judge Jeffrey Biesterveld fell in love with the law.
Read More
Read Indiana appellate court decisions from the most recent reporting period.
Read More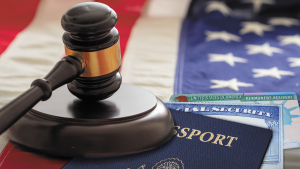 Although immigration law has not changed since Congress passed the Illegal Immigration Reform and Immigration Responsibility Act of 1996, presidential administrations have implemented new policies that have sometimes created drastic changes.
Read More
With Americans heading to the polls for midterm voting, U.S. immigration policy remains a polarizing and divisive topic.
Read More
Form I-9 violations lurk in almost every employer's filing cabinet.
Read More
Organizations considering adverse employment actions for their H-1B foreign national employees should take into account required actions and related issues to avoid an H-1B violation
Read More
"Truth" in courts of law is whatever the factfinder decides. This has often bothered me, of course, but has not stopped me from doing it for over 25 years.
Read More
Mediation is a process, starting before and extending beyond the traditional meeting or "session."
Read More
I have observed Indiana University's Board of Trustees since I was a student journalist in the 1980s. The trustees have always done as much of their business as possible in secret and outside public view.
Read More
Last month, Apple released its newest version of macOS, bringing the Continuity Camera feature into production.
Read More
Indianapolis criminal defense attorney gives us his views on "The U.S. and the Holocaust" and "Catherine Called Birdy."
Read More
In 2020 our seemingly normal world and daily routines were wrecked in what seemed like an overnight flip of the switch.
Read More
The IndyBar Board of Directors is pleased to bestow its highest honor and lifetime achievement award to a true luminary and leader of the profession, John Kautzman.
Read More
IndyBar's Professionalism Committee is pleased to announce the recipients of the 2022 IndyBar Professionalism Award (attorney) and IndyBar Silver Gavel Award (judge) winners as well as the Unsung Hero Award.
Read More
It's that time of year again! If the words e-discovery, information governance and cybersecurity induce panic, confusion or just plain frustration, this spotlight is for you.
Read More