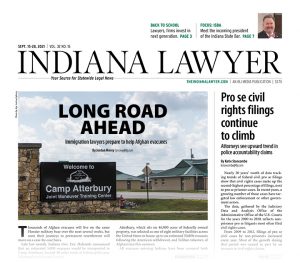 SEPT. 15-28, 2021
With the influx of Afghan evacuees into the Hoosier State via Camp Atterbury, immigration lawyers are preparing to help — IL managing editor Jordan Morey has more. On a lighter note, a group of Hoosier attorneys recently had the chance to sip wine at a CLE all about alcohol law — reporter Katie Stancombe has the story. And in this issue's Focus, read editor Olivia Covington's Q&A with Clayton Miller, incoming president of the Indiana State Bar Association. All that and more inside the Sept. 15, 2021, issue of Indiana Lawyer.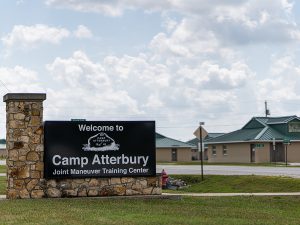 Thousands of Afghan evacuees will live on the same Hoosier military base over the next several weeks, but soon their journeys to permanent resettlement will move on a case-by-case basis.
Read More
Nearly 20 years' worth of data tracking trends of federal civil pro se filings show that civil rights cases make up the second-highest percentage of filings, next to pro se prisoner cases. In recent years, a growing number of those cases have targeted law enforcement or other government actors.
Read More
Indiana law firms and legal nonprofits received nearly $200 million in Paycheck Protection Program loans, but managing partners said the money had a nuanced impact as the financial boost provided some peace of mind during a very uncertain time and helped keep their firms positioned to meet client demands.
Read More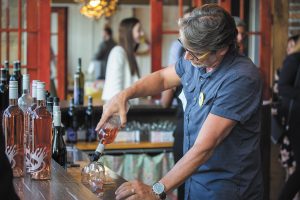 Attorneys on Sept. 2 gathered at the Mass Ave. tasting room of Peace Water Winery to learn more about the complexities of entering the alcohol business and the logistics of opening a winery in Indiana.
Read More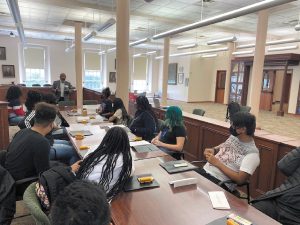 For eight weeks this fall semester, 32 sophomores, juniors and seniors from Arsenal Tech High School in Indianapolis will have ample opportunity to learn about the law from attorneys with Katz Korin Cunningham and the Defense Trial Counsel of Indiana through a program designed to extend the pipeline into the legal profession further back.
Read More
Barnes & Thornburg's new Prelaw Scholars Program covers the cost of applying to law school for select low-income students who have demonstrated academic excellence and personal achievements.
Read More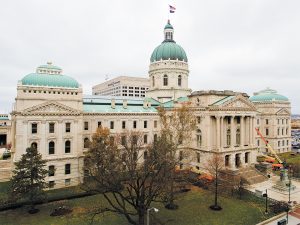 With the 2022 Indiana legislative session approaching, members of the Indiana General Assembly are taking a deeper dive into issues facing the justice system.
Read More
Read Indiana appellate court decisions from the most recent reporting period.
Read More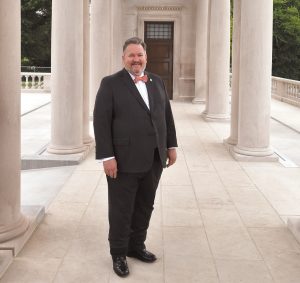 Indianapolis lawyer Clayton Miller will be tasked with helping to implement the Indiana State Bar Association's new strategic plan as president of the state bar, a position he'll assume Oct. 15. Miller will also lead the bar through the ongoing challenges of the COVID-19 pandemic, and he wants to address other big-picture issues impacting Hoosier legal professionals.
Read More
The Indiana State Bar Association recently released its strategic plan through 2023. In it, the organization breaks down its priorities into four categories: advocacy, connections, education, and equity and inclusion.
Read More
Retired Marion County Judge David Shaheed co-authored a groundbreaking national report on the effects of job stress on the judiciary. The report identifies both the sources of stress and strategies for managing it.
Read More
Federal practitioners regularly issue and respond to third-party subpoenas for documents. Expansive revisions to Rule 45 of the Federal Rules of Civil Procedure were made in 2013, but many subpoenas are still issued that do not comply. One of the most common issues is failing to serve parties with the third-party subpoena prior to (or even after) service on the third party.
Read More
The Small Business Administration has announced that it will audit all PPP loans of $2 million or more, and it may audit other loans as it deems appropriate. Audits began earlier this year and are expected to continue into next year.
Read More
Indianapolis criminal defense lawyer Bob Hammerle gives us his take on "Suicide Squad" and "Candyman."
Read More
Could I reflect on the intersection between the lyrics of "Jagged Little Pill," a two-plus-decade-old feminist empowerment anthem, and the practice of law and do any justice to either? Let's find out.
Read More
Nominations are being accepted for the following IndyBar awards: the Dr. John Morton Finney Jr. Award for Excellence in Legal Education; the Young Lawyer of the Year Award; the IndyBar Pro Bono Awards, which are presented in four categories: Practicing Attorney, Law Firm, Law Student and Paralegal; and the Professionalism Awards, which include the Professionalism Award, the Silver Gavel Award and the Unsung Hero Award.
Read More
While it's our goal year-round to make you, IndyBar members, more profitable and productive in your practice, we're taking extra care during the month of September to show you how much we appreciate you!
Read More
Reach for Youth Inc. has been named the 2021 recipient of the Indianapolis Bar Foundation's Community Empowerment Fund grant of $35,000. Reach for Youth will use the funds to pilot a Restorative Justice Circles model, which diverts young people from suspension, expulsion and the justice system by helping them understand the negative consequences of their actions, how they impact others and how to restore and repair relationships.
Read More
Most law firms are very poor at differentiating one from another. Law firm websites spout platitudes about customer service and competency and offer what amount to very weak reasons for a consumer to pick one law firm apart from another.
Read More
The IndyBar Women and the Law Division (WLD) is pleased to announce former U.S. Representative Susan Brooks as the 2021 Antoinette Dakin Leach (ADL) Award winner.
Read More
Indiana courts recognize that social media posts can form the basis of defamation claims.
Read More
Indiana courts approach landowner liability cases by taking a broad approach to the type of plaintiff injured and the type of harm suffered. This avoids making landowners act as insurers to their patrons when the acts of third parties are involved. Yet the caselaw has not always been so clear.
Read More
If you know of a deserving candidate, please make your nomination(s) by the end of the day on Sept. 17
Read More