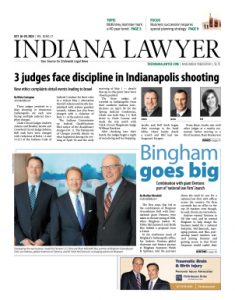 Clark Circuit Judges Andrew Adams and Bradley Jacobs and Crawford Circuit Judge Sabrina Bell each have been charged with ethics violations for their roles in a now-infamous Indianapolis altercation that left Adams and Jacobs hospitalized with serious gunshot wounds. The charges detail a night of bar-hopping by the southern Indiana jurists during the evening of April 30 into the early morning of May 1 that ended in a confrontation that escalated to violence.
Read More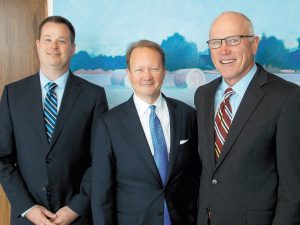 The first steps that led to the combination of Bingham Greenebaum Doll with international giant Dentons were taken in the late spring of 2018, when Bingham leaders W. Tobin McClamroch and Keith Bice fielded a proposal from a friend. In the conference room of Bingham's Indianapolis office, Joe Andrew, Dentons global chairman and former partner at Bingham Summers Welsh & Spilman, told the partners about the need he saw for a national law firm with offices across the country. No firm currently has an office in the top 20 markets even though, he said, clients are everywhere.
Read More
A group of women law student trailblazers who entered the profession in the late 1970s never let their bond of friendship fade. At a recent 40th annual reunion,one asked her former IU McKinney classmates, "Can anyone here imagine being where you are today without the others?" They responded in unison, "no."
Read More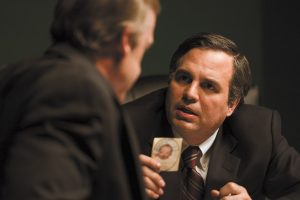 A Taft Stettinius & Hollister attorney who successfully took on one of the world's most powerful chemical manufacturers in a major toxic contamination case is being featured on the big screen as he continues to bring awareness to an issue he says is a global heath threat.
Read More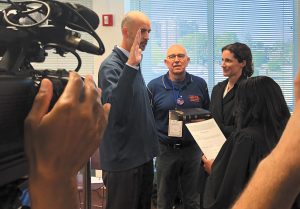 Reactions have been mixed to the recent announcement that the Marion County Prosecutor's Office will no longer prosecute cases of simple possession of less than 1 ounce of marijuana. Marion County Prosecutor Ryan Mears announced the new policy Sept. 30.
Read More
For their work in helping judicial families, former Chief Justice Brent Dickson and wife Jan Dickson were honored with the Couple for All Seasons award from their extended faith family, the Saint Thomas More Society of Central Indiana.
Read More
Read Indiana appellate decisions from the most recent reporting period.
Read More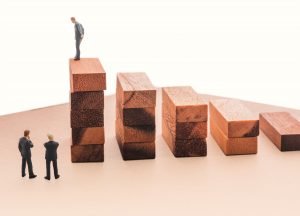 Indiana estate planning and business succession attorneys say often, business owners don't like to think about what might happen to their company if they were no longer able to run it. This is also true nationwide, with Forbes reporting that 30% of businesses don't have a formal estate plan in place.
Read More
When the Probate Code Study Commission convened for its first meeting Aug. 12, it marked the return of a process meant to help Indiana legislators understand the often complex and intertwined issues regarding wills, estates, trusts, guardianships and other probate matters.
Read More
Estate planning clients, typically those nearing or beyond retirement, often ask what kind of information they should share during life with the beneficiaries of their estate. If one child will be treated differently than others, how should they address it, if at all? Should they disclose the fact that an inheritance is likely?
Read More
Premortem validation may be a useful tool for any testator or settlor who suspects her will or trust will be challenged after her death. By implementing the premortem validation procedures, the testator or settlor can ensure a contest action will be brought while she is alive to defend her capacity and likely deter a meritless challenge.
Read More
You can mark your calendars now: in about a year, attorneys across Indiana will be getting frantic calls from untold numbers of people who are suddenly unable to fly on an airplane. The cause of this commotion will be the Real ID law, set to finally take full effect Oct. 1, 2020.
Read More
Being diagnosed in middle age with a "childhood" affliction can set off a range of challenges. Jane Smith (who requested I not use her real name) is an attorney with attention deficit disorder.
Read More
The task of teaching a new lawyer to cultivate clients should not fall solely on the shoulders of the young lawyer. Firms need to provide financial support, mentoring and a strategy for the lawyers they hire. However, it is a two-way street. Young lawyers need to step forward and be strategic themselves.
Read More
Billionaire investor Warren Buffett has said the main quality he looks for when considering an investment in a company is "an enduring competitive advantage." There are a lot of elements that make up a competitive advantage. Very simply put, it's your point of differentiation between your firm and your competitors.
Read More
Movie reviewer Robert Hammerle says Renee Zellweger gives an impressive performance in the depressing Judy Garland biopic "Judy," but a documentary on iconic pop singer Linda Rondstadt left him singing a happier tune. Meantime, "Hustlers" features a diva of more recent generation — Jennifer Lopez — in a takedown of Wall Street avarice.
Read More
Read which Indiana lawyers recently had disciplinary judgments in their favor, were reinstated and suspended.
Read More
My wife and I decided nearly 30 years ago that the most fun parents (the ones whose homes were always overflowing with kids and their friends), were disposed to say "yes" more than "no." We decided that unless we had a really good reason, we would try to be "yes" parents. This led to many unexpected adventures and many learning experiences.
Read More
The Indianapolis Bar Association's Nominating Committee has announced the selection of the Hon. Alicia Gooden as the 2022 President of the Indianapolis Bar Association. Judge Gooden will serve as the association's First Vice President on the 2020 Board of Directors and as President-Elect in 2021.
Read More
Check out photos from a recent IndyBar Ask A Lawyer program.
Read More
Each fall, the IndyBar remembers, honors, and celebrates the lives of members of the profession who passed away during the previous year (October 1, 2018 to September 1, 2019). Judge Steven Eichholtz and Commissioner Kelly Scanlan will moderate our service and will be joined by members of the judiciary and leaders of the Indianapolis Bar Association in conducting our celebration Nov. 14.
Read More
Given that some elderly Indiana residents are likely to be in possession illegally of cannabis or are legally self-administering CBD products, how should Indiana health facilities address the issue in their policies? As a legal product, CBD now presents the same issues encountered with the self-administration of any other over-the-counter medication. Cannabis is more complicated though.
Read More
Connecting with potential clients is a crucial first step in business development for lawyers, especially as consumers increasingly turn to the internet for their search. Now, an even better way to capture those leads is available from the Indianapolis Bar Association with the launch of a brand-new artificial intelligence-fueled national lawyer referral platform.
Read More
The IndyBar Government Practice Section is pleased to offer two tickets to Bingham Greenebaum Doll's 28th annual Legislative Conference (LegCon) to section members. LegCon will take place from 8:30 a.m. to 4:30 p.m. on Wednesday, Dec. 4 at the Indiana Convention Center.
Read More
Considering the clear prohibition against expert contingency fee agreements expressed by the Indiana Rules of Professional Conduct and the overwhelming authority from other jurisdictions, it is likely courts in our state will adopt a rule excluding contingent expert testimony, should the issue arise.
Read More
The annual meeting of membership and the Board of Directors will take place Nov. 21-22 at the Monroe Convention Center in Bloomington.
Read More