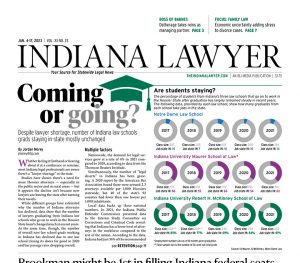 JAN. 4-17, 2023
Happy 2023! Our first issue of the year leads off with a look at an important question: Are Indiana law school grads taking jobs in the Hoosier State? IL managing editor Jordan Morey answers that question. Also, IL senior reporter Marilyn Odendahl gives us the scoop on Andrew Detherage, the new managing partner at Barnes & Thornburg. And in the Family Law Focus, Marilyn examines how the current economic uncertainty is impacting divorce cases. Read those stories and more in the Jan. 4-17, 2023, issue of Indiana Lawyer.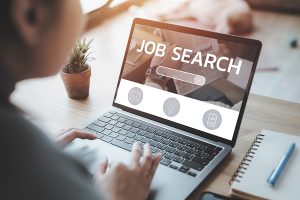 Studies have shown there's a need for more Hoosier attorneys — especially in the public sector and in rural areas — but it appears the decline isn't because new lawyers are leaving the state after turning their tassels.
Read More
With the nomination of Magistrate Judge Matthew Brookman to the U.S. District Court for the Southern District of Indiana, the Hoosier State might be seeing the first step in filling all its seats on the federal bench for the first time since January 2021.
Read More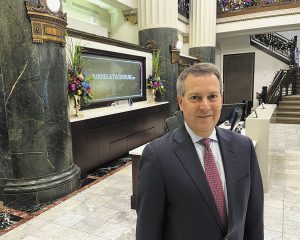 Andrew Detherage is applying history lessons and putting his own imprint on Barnes, having taken over as the firm's managing partner on Nov. 9.
Read More
An Indiana company that ordered more than 700,000 boxes of medical gloves won a multimillion-dollar verdict against the supplier that failed to deliver, but the supplier's general counsel claimed, "Everyone was a victim here."
Read More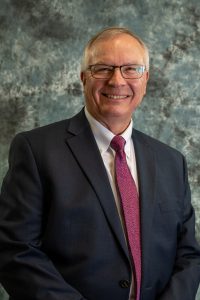 When Bill Welch first started practicing law, he had no intention of becoming a prosecutor — let alone an attorney working in the child support space.
Read More
Read Indiana appellate court decisions from the most recent reporting period.
Read More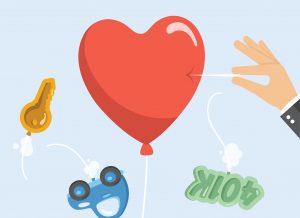 The challenges family law attorneys are facing have been induced by the 2022 economic upheaval.
Read More
The relationship between a parent and child may be at risk of significant damage in highly contested divorce cases.
Read More
When buying out a spouse's business interest, the temptation is to draw funds from the corporation to pay. However, the potential unintended tax consequences of this approach can be both significant and detrimental.
Read More
Here is a list of tools I've used and found that "stuck" with me this year to help me manage the various areas of my life.
Read More
I urge you to consider making 2023 the year to focus on your well-being and to remember that you are not alone.
Read More
Are civic-minded attorneys as aware of the fiduciary duty that they owe when they serve on nonprofit boards?
Read More
Indianapolis criminal defense attorney Robert Hammerle gives us his take on "All Quiet on the Western Front" and "Triangle of Sadness."
Read More
We accomplished a lot this year; here are a few highlights.
Read More
Join us at noon on Wednesday, Jan. 18, as IndyBar's Litigation Section hosts a virtual CLE (Zoom webinar) on "Hot Topics and Recent Developments in Trade Secrets Law."
Read More
While the Indiana expungement statute may seem intimidating, Indiana Code 35-38-9 will reveal itself to careful reading like the flower to the honeybee.
Read More
Indy Lawyer Finder (ILF) combines the latest in artificial intelligence to deliver quality referrals that mean more business for your practice.
Read More
Recently, IndyBar's Women and the Law (WLD) Philanthropy Committee had an outpouring of support benefiting Coburn Place Safe Haven, an organization that provides safe housing choices to survivors of domestic violence and their children in the greater Indianapolis area.
Read More