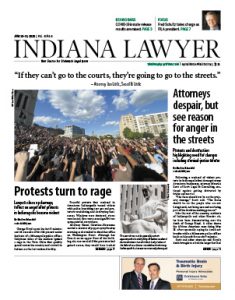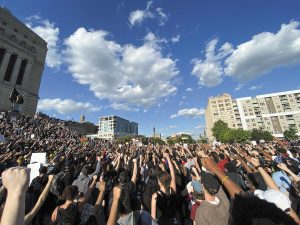 Peaceful protests in the wake of the police killing of George Floyd on the last weekend in May in downtown Indianapolis turned violent with police launching tear gas and protesters vandalizing and destroying businesses. Windows were shattered, stores were looted, fires were set and graffiti was spray-painted everywhere. Protests took place across the state including in Evansville, Jeffersonville Fort Wayne, Hammond, Michigan City, South Bend, and Lafayette.
Read More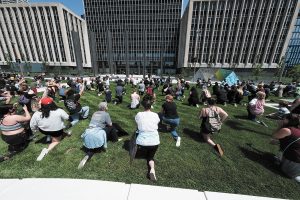 Following a weekend of violent protests in Indianapolis that damaged many downtown businesses, attorney Maurice Scott of Scott Legal & Consulting cautioned against getting distracted by bricks and mortar. "The focus should not be on the property damage," Scott said. "The focus should be on the people who are not being heard, not being seen and not being part of the decision-making process."
Read More
Almost immediately after the coronavirus reached the United States, criminal justice advocates sounded the alarm on behalf of the incarcerated. Inmates in county jails, state prisons and federal penitentiaries are at a higher risk of contracting the virus, advocates say, simply because of the nature of their living conditions. The result of release efforts has been a mixed bag.
Read More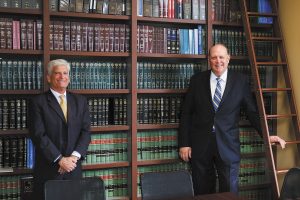 Even as Indianapolis Legal Aid Society has been successful at bringing in more money from grants and private donors in recent years, the nonprofit is still facing an identity crisis with people getting confused about its name as well as the services it provides. The new chair of the nonprofit's board of directors is launching an effort to clear the confusion and grow the contributions.
Read More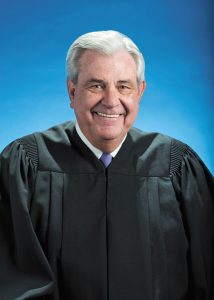 Friends and colleagues are celebrating the life and legacy of the late Judge Michael Barnes, who served nearly 20 years on the Indiana Court of Appeals after an earlier 20 years serving as the prosecutor of St. Joseph County. "He was a great friend. … He was a friend to all of us," one colleague said.
Read More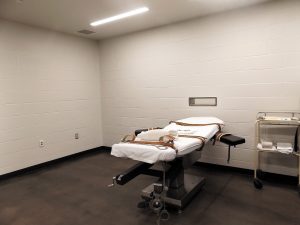 It's now year six of an ongoing battle between the Indiana Department of Correction and a Washington, D.C., lawyer who wants to know the drugs used in Indiana's lethal injection cocktail and who supplies them. In those six years, a public records request, a lawsuit and a legislative change have propelled the dispute to the Indiana Supreme Court, which now has a consequential ruling in its hands.
Read More
Read Indiana appellate court decisions from the most recent reporting period.
Read More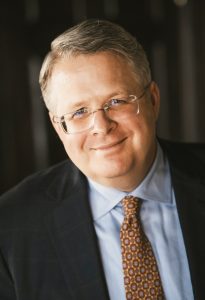 New Indiana Trial Lawyers Association President Fred Schultz is looking at a challenging year ahead but seeing opportunities. The group's most recent challenge was organizing a gathering for a key annual event last month in light of social distancing due to COVID-19.
Read More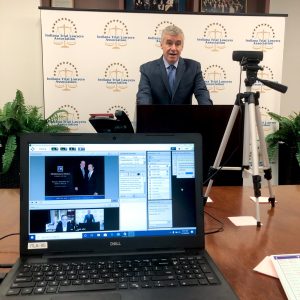 It wasn't the Lifetime Achievement Seminar that Frank Julian envisioned hosting, but the virtual Indiana Trial Lawyers Association conference last month gave the organization some ideas that likely will carry on even after the world stops social distancing.
Read More
The 158 women members of the Indiana Trial Lawyers Association are fanning out across the state to register as many Hoosiers to vote as possible. They'll tally the results of their efforts on Aug. 26, the 100th anniversary of Indiana women being guaranteed the right to vote after ratification of the 19th Amendment.
Read More
Mid-March was likely the last time you saw your loved one in a senior living facility face-to-face. The coronavirus pandemic has led most nursing homes to close their doors or, at the very least, require stringent temperature checks and other precautions for urgent visits. As a result, families are fearful and anxious about the care their relatives are receiving and whether they will be exposed to the virus. Here are some tips for families that may help ease their fears.
Read More
Here are five key tips that will help improve your work-from-home experience. Even if you are starting to return to the office, these tips will remain helpful when the need to work remotely arises, and some will even come in quite handy in the office.
Read More
Movies provide a reminder that helps explain the emotional national outrage after the brutal death of George Floyd.
Read More
As President-Elect of the Indianapolis Bar Association, I did not want to write this message about racial injustice. As an American citizen, I regret that I have to write this message about inequality. … But I decided to write this message because as a lawyer and leader of the IndyBar, I believe it is my duty to make you aware that racism and injustice does still exist.
Read More
We, the elected and appointed leaders of the Indianapolis Bar Association, pledge to do the work necessary to bring about change to achieve equality, diversity and inclusion in the Indianapolis legal community and beyond.
Read More
The world has changed around us, but the Indianapolis Bar Association is still committed to helping diverse students find employment and start their legal careers in the booming Indianapolis legal community. It is for that reason we've decided to move forward with hosting the 2020 IndyBar Diversity Job Fair in a modified virtual format, and we hope we can count on support from you, the legal community.
Read More
The death of George Floyd has sparked outrage across the country and brought the many issues surrounding systemic racism to the forefront. Our community is no exception.
Read More
E-Discovery, Cybersecurity and Information Governance Section leaders Jennifer Tudor Wright and Katrina Gossett Kelly recently presented a successful and informative CLE for the IndyBar: Practical Tips to Bolster your Legal Hold Notice.
Read More
To recognize the accomplishments of female attorneys in central Indiana, the IndyBar's Women and the Law Division presents the Antoinette Dakin Leach Award. The deadline for nominations is August 7.
Read More
A paralegal can be a fundamental component of an effective team. Take time to recognize the hard work of these dedicated professionals by nominating a paralegal for the 2020 IndyBar Paralegal of the Year!
Read More
Add one more skill to your arsenal with the IndyBar's online Parenting Coordination Training course! No need to trek hours away; we're bringing the training right to the comfort of your own home or office wherever you are!
Read More
Give back and help your community from home! We're looking for volunteers to answer legal questions from the public via our new online messaging system, Virtual Ask a Lawyer.
Read More