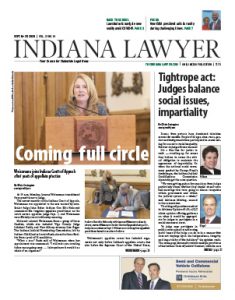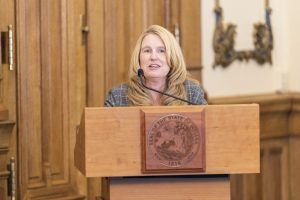 At 10 a.m. Monday, Leanna Weissmann transitioned from practitioner to judge. "What a star," Chief Justice Loretta Rush said of Weissmann when her appointment was announced. "I will miss you standing before me arguing cases. … I always knew it would be a whale of an argument."
Read More
Scenes from protests have dominated television screens for months. People of all ages, sizes, races, genders and backgrounds have participated in events calling for an end to racial inequality. But how do judges fit into the mix?
Read More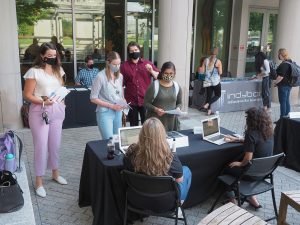 Bre Robinson's final year of law school has been different in every way possible. Just a few weeks into a pandemic-stricken semester, the Indiana University Robert H. McKinney School of Law Student Bar Association president said classmates are sparse. Robinson isn't alone in that sentiment. As students nationwide make their way into a new school year, social distancing guidelines and uncertainty are following them.
Read More
The overall passage rate for the Indiana August 2020 bar exam reached 74%, about 10 percentage points higher than the overall pass rate for the previous four July bar exams. Likewise, 84% of those taking the test for the first time passed while 53% of the repeat takers were successful, the highest rate for repeaters since 54% passed the February 2015 bar.
Read More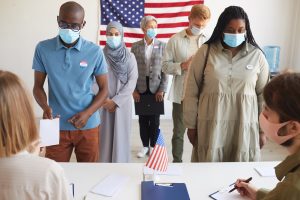 Anticipating a shortage of poll workers on Election Day, the Indiana Supreme Court has joined the recruitment effort. Lawyers who serve on Nov. 3 will be able to claim up to one hour of continuing legal education credit for going through the training and report the time worked as pro bono hours.
Read More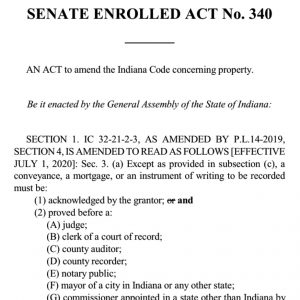 While politicians often decry bureaucracy and red tape, a bill passed by Indiana legislators in 2020 changed a single word in a state statute and, as a result, raised an extra hurdle for Hoosiers trying to get a document recorded at their local county recorder's office.
Read More
Read Indiana appellate decisions from the most recent reporting period.
Read More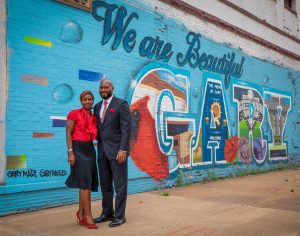 Michael Tolbert's turn to lead the Indiana State Bar Association could not have come at a more challenging time. Having led multiple local bar groups, the Gary native takes the helm at the ISBA during a time of pandemic and persistent racial inequities that at times have put the law and lawyers on the defensive. Tolbert, though, is relentlessly optimistic.
Read More
The Indiana State Bar Assocation annual meeting will be a hybrid model allowing bar members to meet either virtually or in-person. Speakers will still offer CLE, sponsors will still share products and the House of Delegates will still meet. Perhaps most importantly, Hoosier lawyers will get the chance to reconnect after months of social distancing.
Read More
Crises present tests of leadership, and Holcomb's milquetoast excuses for not backing no-excuse mail-in voting during this time will haunt him and define him. This is easily his worst hour in a long political career.
Read More
Before the pandemic, large law firms and legal departments in Indiana were among 187 signatories around the country who pledged to encourage attorneys to focus on wellness and wellbeing as part of an American Bar Association initiative. Since March, some of the programs have added or adapted programming to virtual programs, including yoga and meditation.
Read More
Each year any federal rule amendments that work their way through the Committee on Rules of Practice and Procedure, the Supreme Court, and then Congress, take effect Dec. 1. This year several rule amendments are scheduled to take effect on that date, as outlined below.
Read More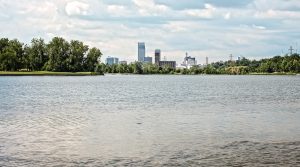 Few small cities or towns can claim to be the center or the impetus for a U.S. Supreme Court decision. However, Carter Lake, Iowa, with a population that has never eclipsed 4,000 people, can count no less than three.
Read More
Although many of us prefer to believe that we are protected and that our IT department, antivirus and malware tools are keeping us safe from all account hacking threats, it is vital that we understand our role in keeping our own accounts safe.
Read More
Movie reviewer Bob Hammerle submits his first movie reviews of the pandemic era that might be called the good, the bad and the puzzling.
Read More
As 2020 IndyBar President Andy Campbell is off in "trial prep nightmare-land," he invited me to give an update on Marion Superior Court operations and the new Community Justice Center campus.
Read More
As lawyers, many of our relationships are governed by our rules of professional conduct. For the most part, these rules place burdens, limits and duties on us. The judge-lawyer relationship, however, is governed by interlocking rules from both sides.
Read More
The focus of the Virtual Ask-a-Lawyer was to provide a place for people to get real help, direction and referrals, especially as the full impact of COVID-19 was shuttering businesses and causing waves of unemployment. To date, since May 2020, more than 100 attorneys have volunteered through the virtual desk and over the telephone to provide answers to more than 1,352 questions.
Read More
It's no secret that 2020 has been tough. While it's our goal year round to make you, IndyBar members, more profitable and productive in your practice, we're taking extra care during the month of September to show you how much we appreciate you!
Read More
The IndyBar Professionalism Committee is currently soliciting nominations for the 2020 IndyBar Professionalism Award (attorney) and IndyBar Silver Gavel Award (judge). We'll also present the Unsung Hero Award, given to a lawyer who goes above and beyond the call of duty and exhibits the highest level of commitment to others without the expectation of praise or recognition.
Read More
Get on board with the local legal community: nominations are being accepted now for positions on the board of directors for both the Indianapolis Bar Association and the Indianapolis Bar Foundation! Nominations of colleagues as well as self-nominations are welcomed.
Read More
Before the 2004 presidential election, very few people were discussing tort reform. However, George W. Bush made it a central aspect of his successful campaign for governor of Texas in 1995, and it remains part of the Republican Party platform. Tort reform in the manner of healthcare provider liability immunity has gained a new foothold due to the ongoing COVID-19 pandemic.
Read More
The DTCI Board of Directors voted to host the Annual Conference virtually this year at no charge to our members. Virtual section breakouts will be offered on different dates during the three weeks leading up to the main conference, which remains scheduled for November 19-20.
Read More