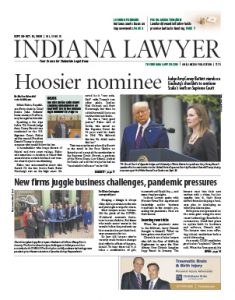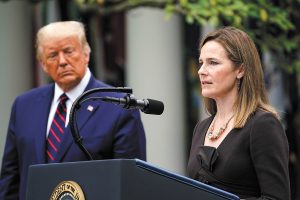 Amy Coney Barrett, a devout Catholic and mother of seven, has been a favorite of social conservatives. However, her confirmation is already inciting partisan fighting, coming just weeks before the Nov. 3 presidential election. Republican senators are preparing for a swift process with her hearing before the U.S. Senate Judiciary Committee scheduled for Oct. 12 and possibly her nomination being sent to the Senate floor by late October.
Read More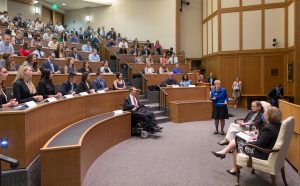 The late Justice Ruth Bader Ginsburg made many visits to Indiana during her tenure on the Supreme Court. She had friendships with the law professors and deans at the law schools in the Hoosier State, and she influenced law students, lawyers and judges across the state. "Imagine a young law student faced with the challenge by a Supreme Court Justice," recalled a former IU Maruer law student who is now a federal judge.
Read More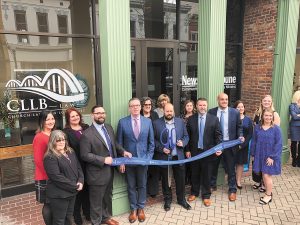 Hanging a shingle is always risky. Add a pandemic to the mix and you've got a recipe for stress. Most lawyers across Indiana felt the pinch of the COVID-19-induced economic downturn in some fashion. But those who made career moves in the months before the pandemic say the recession has put their business acumen to the test.
Read More
If you thought the COVID-induced recession would cause a spike in bankruptcy filings, you'd be wrong. In fact, according to one Indianapolis practitioner, "bankruptcies are in the toilet." But that doesn't mean bankruptcy practitioners are sitting idle, as existing clients still need their service. More than that, a wave of new clients is likely coming.
Read More
Looking up from her desk, Southern Indiana District Court Chief Judge Jane Magnus-Stinson can have a moment of joy in a year where, as she noted, joyful moments have been too few. The object of her respite is "Her Honor," a newly finished painting that depicts her and her female colleagues against a background of colorful bursts and expression to commemorate the achievement of women in the 100 years since the passage of the 19th Amendment.
Read More
The Judicial Conference of Indiana's strategic plan for the next decade, titled 2020 Forward, rededicates areas of achievement previously attained with past white papers while also setting new goals striving for greater accountability and access to justice.
Read More
Read Indiana appellate court decisions from the most recent reporting period.
Read More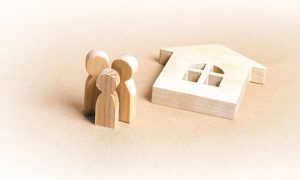 As the uncertainty continues over how many struggling Hoosiers could be evicted in the coming months, the Indiana Supreme Court is trying through the new Landlord and Tenant Settlement Conference Program to prevent housing loss and all the bad ramifications that can ensue by inviting landlords and tenants to first have a conversation.
Read More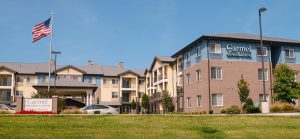 After hearing oral argument on petition to transfer Sept. 24, the court must now decide if it will rule in a dispute filed by an elderly woman and her representative against the Carmel assisted living facility where the woman once lived and an independent contractor hired by the facility who is accused of raping her.
Read More
Because our parents (who have trouble with remote controls) are now officially on Facebook, we can safely assume that close to all attorneys are using social media. Using social media is simply an inexpensive and convenient way to get the word out about your law firm. However, there is an element of risk that comes along with an attorney's use of social media. These risks were highlighted in July, when the Indiana Supreme Court Disciplinary Commission listed social media's many "minefields."
Read More
On Sept. 21, 2020, a whole new cohort of lawyers took the oath to practice law in Indiana. You have joined our profession in the strangest and least predictable year that any of us has seen. We welcome you into the bar with enthusiasm, high expectations and hope that our profession will soon return to a semblance of normal. This year more than ever you will need our support, guidance and patience as you get started.
Read More
One alternative dispute resolution option to consider during the pandemic is expedited arbitration. Both the American Arbitration Association (AAA) and the International Institute for Conflict Prevention & Resolution (CPR) offer an "expedited" or "fast track" option for dispute resolution that truly accelerates the proceedings.
Read More
The death of Supreme Court Justice Ruth Bader Ginsburg has been devasting to many, including me. She became only the second woman to serve on the court, and her reputation was legendary. In her memory, movie reviewer Bob Hammerle reprises his reviews of "RBG" and "On the Basis of Sex," both released in 2018 and both of which should be required viewing for all law students.
Read More
Despite her personal achievements as a Supreme Court litigator and justice, Ruth Bader Ginsburg was quick to recognize that "the work of perfection is scarcely done. Many stains remain . . . [W]e still struggle to achieve greater understanding and appreciation of each other across racial, religious and socioeconomic lines." But, again, these impediments were an opportunity for Justice Ginsburg to "strive to realize the ideal — to become a more perfect union."
Read More
Let's dispense with the pleasantries and get real. We are not OK. We are in the midst of a global pandemic, suffering through a highly contested presidential election, gearing up for another Supreme Court battle, the Pacific Northwest is on fire, the Eastern seaboard and Gulf Coast have been hit with so many hurricanes that they are using the Greek alphabet, we have all been forced to conserve toilet paper at some point in the last six months, and the cherry on top — many of us are educating our kids from home while working full-time jobs. What in the literal 2020 is happening? I honestly have no idea, but I have devised a three-part survival guide to get us through this.
Read More
Check out some of the fun, frightful and festive fall fun in store to support the Indianapolis Bar Association and the Indianapolis Bar Foundation!
Read More
Now is your opportunity to volunteer to help the less fortunate in our community and to nominate deserving legal professionals for two prestigious upcoming IndyBar honors.
Read More
See photos from recent Indianapolis Bar Association activities.
Read More
In the age of COVID-19, having a system that incentivizes employees to work while sick is not tenable. Most of the symptoms of COVID-19 overlap with the symptoms of illnesses such as strep throat, bronchitis, sinus infection and other viruses that are so common when the weather turns cold. As we well know, if an employee's illness turns out to be COVID-19, working while sick could be a medical calamity or worse for a vulnerable coworker.
Read More