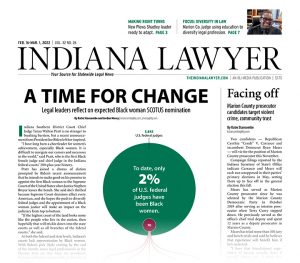 FEB. 16-MARCH 1, 2022
As the nation waits to hear who President Joe Biden will name as his first U.S. Supreme Court nominee, Indiana legal leaders are anticipating the fulfillment of his promise to nominate the first Black woman to the high court. IL managing editor Jordan Morey and reporter Katie Stancombe spoke with those leaders about their hope for the future of SCOTUS and the judiciary as a whole. Meanwhile, IL senior reporter Marilyn Odendhal has an interview with Greg Gotwald, the new leader of Plews Shadley Racher & Braun who describes his career as a series of right turns. Plus, we've got a new Focus section for you to check out: Diversity in Law. Read all that and more inside the Feb. 16, 2022, issue of Indiana Lawyer.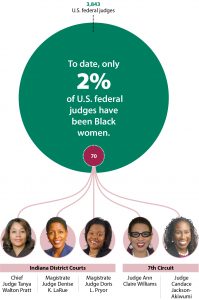 Indiana Southern District Chief Judge Tanya Walton Pratt has joined a chorus of elation prompted by President Joe Biden's recent announcement that he intends to make good on his promise to appoint the first Black woman to the Supreme Court of the United States when Justice Stephen Breyer leaves the bench.
Read More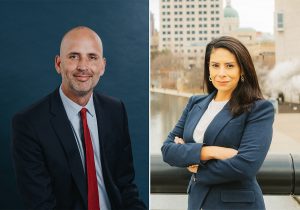 Two candidates — Republican Cynthia "Cyndi" V. Carrasco and incumbent Democrat Ryan Mears — will vie for the position of Marion County prosecutor this November.
Read More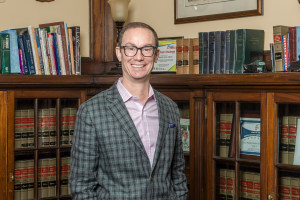 Gregory Gotwald has been named the managing partner at Plews Shadley Racher & Braun. He is taking over when the world is lurching toward normalcy but times are still uncertain. Yet Gotwald said he is sure his firm will weather the changes just fine.
Read More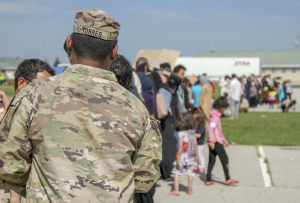 Three days after the final group of Afghan evacuees departed from Camp Atterbury, DeFur Voran associate Kelli Liggett met with some of the families who had resettled in Muncie. What she found on Jan. 28 was a mix of immigration cases — many of which, she estimates, won't be processed by the time their humanitarian parole status is up in two years.
Read More
By the time the "residential eviction actions" bill was called, the Indiana Senate Judiciary Committee hearing had stretched well beyond two hours and, after hearing testimony, the session was adjourned with no vote taken on the measure. The fatigue felt by legislators and those constituents who were still in attendance on Feb. 9 is much like the tiredness gripping many Hoosiers and community agencies that have been bracing for and facing an eviction crisis since the COVID-19 pandemic began.
Read More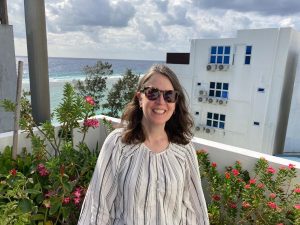 A 10-hour time difference couldn't stifle Monica Fennell's excitement about being in a foreign country for a unique opportunity to do what she loves: talk about pro bono work. Indianapolis-based Fennell, who serves as pro bono director at Taft Stettinius & Hollister LLP and as an adjunct professor at Butler University, was recently chosen to receive a Fulbright U.S. Scholar Program award by the U.S. Department of State and the Fulbright Foreign Scholarship Board, sending her to the Republic of Maldives.
Read More
Read Indiana appellate court decisions from the most recent reporting period.
Read More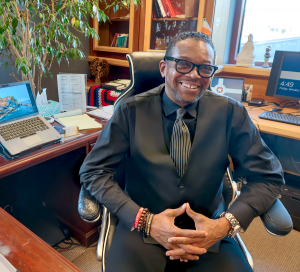 The Tindley Law and Public Policy Institute has the ambitious goal of launching in the fall of 2022. Marion County Juvenile Judge Geoffrey Gaither is clear that he wants the initiative to become the premier law program for charter schools.
Read More
The Indiana legal community has recently launched a variety of initiatives focused on improving and increasing diversity, equity and inclusion in the profession.
Read More
If our goal is to create a more diverse and inclusive workplace, the focus cannot just be on hiring diverse attorneys. Law firms must also make concerted efforts in retaining their diverse attorneys.
Read More
In this guest column, Indiana Lawyer invited us to discuss some of the initiatives occurring at the Indiana University Maurer School of Law that help recruit talented and diverse students.
Read More
There are over 200 holidays and events that celebrate diversity and inclusion. With the breadth of worthy celebrations, how does your organization select the right ones to recognize?
Read More
Many trainings and conversations around DEIAB (diversity, equity, inclusion, access and belonging) barely scratch the surface of the complexity of issues and the people involved. Ted Lasso can help make the work easier. I love the Apple TV+ show "Ted Lasso" and its one-liners, one of which is pertinent to DEIAB work: "be curious, not judgmental."
Read More
As some of my mentors have left to pursue new opportunities and others are nearing retirement, I have been reflecting on how fortunate I have been throughout my career to have truly exceptional mentors.
Read More
Creating a trust comes with a crucial decision: choosing the trustee. There are some key things that are important for your clients to consider when determining the right trustee.
Read More
Indianapolis criminal defense attorney Bob Hammerle gives us his take on "The King's Man," "The 355" and "Drive My Car."
Read More
Well before the current pandemic, BYOD policies were already in place for many law firms. BYOD stands for "bring your own device," which in general terms allows users to access corporate data on their own personal devices.
Read More
I am proud to serve as president of the Indianapolis Bar Foundation, and I cannot wait to share what we have in store in 2022.
Read More
Save your seat in a private focus room, a meeting room or even the IndyBarHQ Education Center!
Read More
The benefits of having a diverse legal team, whether in the public or private sector, has been acknowledged by the Indianapolis legal community well before 2022. The Indianapolis Bar Association takes pride in its diverse legal community and is committed to promoting continued diversity as evidenced in its annual Diversity Job Fair.
Read More
Plans and updates from the 2022 Indiana General Assembly were hot topics of discussion at the Lawyer-Legislator Luncheon on Feb. 8!
Read More