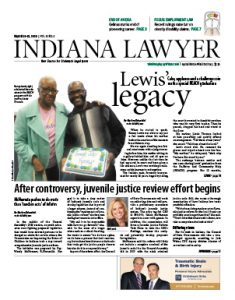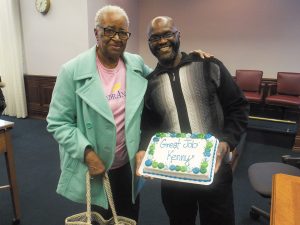 Calling REACH "a beautiful program," Kenny Lewis credited the federal court re-entry initiative with giving him the perseverance to stay at his job and teaching him to speak louder so others could hear what he had to say. Baker and the other members of the REACH team described Lewis as a model participant who not only exhibited tremendous character and did everything expected of him, but also encouraged and supported his fellow participants.
Read More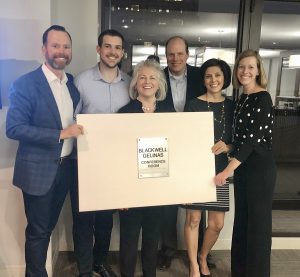 Julia Blackwell Gelinas' February retirement from Frost Brown Todd marks the end of an era for the firm. The first woman lawyer at the predecessor firm Locke Reynolds started in the 1970s and continued a career marked by professionalism and leadership.
Read More
In the middle of the General Assembly's 2020 session, as youth advocates were fighting proposed legislation that would have allowed preteens to be charged as adults for certain crimes, the Commission on Improving the Status of Children in Indiana took a step toward comprehensive juvenile justice reform.
Read More
Although the legislative session has ended, a Statehouse battle is continuing as opponents of a last-minute amendment that they assert will further disadvantage tenants and renters are lobbying the governor to issue a veto.
Read More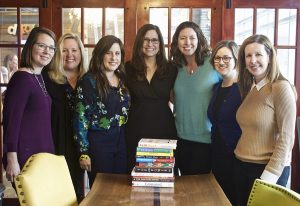 Seven women from different walks of life — and legal practices — gathered recently to reminisce on a literary journey they've come to cherish. Formed in the spring of 2017, the IndyBar Women Lawyers Division's Beyond the Book Club was birthed out of a desire to create an engaging space to talk about women's issues.
Read More

The four women who have accused Indiana Attorney General Curtis Hill of sexual misconduct are considering their next steps after the U.S. District Court for the Southern District of Indiana dismissed their sexual harassment, discrimination and retaliation claims against Hill and the state.
Read More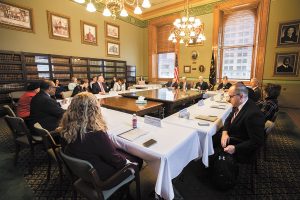 The 13 Indianapolis judges who were recommended for retention March 9 were asked to opine on a variety of judicial issues, from civility to diversity to the new Marion County Community Justice Center and more.
Read More
On Jan. 6, Paganelli Law opened the doors of its renovated fourth-floor office. The space is in the shape of a symmetrical V, with the distance between the two "tips" equaling that of a football field.
Read More
Read Indiana appellate decisions from the most recent reporting period.
Read More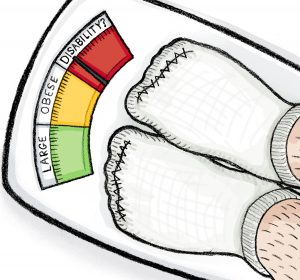 Despite increasing obesity among Americans, employers have not seen a corresponding rise in workplace discrimination complaints. But attorneys suspect workers are opting not to sue because such cases may be difficult to prove.
Read More
"Implicit bias" refers to the attitudes or stereotypes that affect our understanding, actions and decisions in an unconscious manner. Biases are often based on characteristics such as race, ethnicity, age, appearance, sex, gender, religion, national origin and socioeconomic status. Everyone has some form of implicit bias. We develop these biases because of our social, economic and familial groups. Our brains rely on ingrained prejudgments to help us quickly process information that bombards us every day — without conscious thought.
Read More
Notwithstanding the national trend of states repealing statutes that criminalized possession of marijuana, Indiana remains steadfast in its prohibition of marijuana. While opinions obviously vary a great deal as to the wisdom of that prohibition, this continuing prohibition does, for the time being, hold at bay some of the thornier issues that can arise for employers regarding employee use of marijuana.
Read More
Employers must know the type of payments that can legally be withheld or pulled back, recognize that payments may become so vested that they are beyond retrieval, and understand lawful techniques to withhold or recoup funds when warranted.
Read More
It's become known as the virus. With all of the precautions, shutdowns, quarantines, etc., it would be a wise move to have a contingency plan in place if your work or life becomes affected by the virus. Here are some ideas to consider if you will need to be away from the office for an extended period of time.
Read More
A divided Indiana Supreme Court recently passed judgment on a case in which only two of the five justices could find reason instead of a callous abstraction of the law. The callous abstraction prevailed, as increasingly seems to be the style of our times.
Read More
Movie reviewer Robert Hammerle finds much to like in two new period pieces, "Emma" and "Portrait of a Lady on Fire," while a violent remake of "The Invisible Man" is spellbinding.
Read More
Federal courts are limited jurisdiction tribunals. As such, the federal judiciary carefully guards subject-matter jurisdiction, ensuring at multiple stages of a case, and in the trial court and on appeal, that the case is properly in federal court. Examples of jurisdictional issues abound in federal district courts and are scrutinized in the 7th Circuit, as well.
Read More
IndyBar leadership is closely monitoring the rapidly changing situation involving COVID-19 (coronavirus). To ensure the health and well-being of IndyBar members and staff, IndyBar will postpone and reschedule all in-person events at least through April 10, 2020.
Read More
As family law practitioners, we are well aware of the challenges that surround scheduling vacations and travel during school breaks. It isn't uncommon to have disagreements about where and when children should travel, not to mention with whom. However, the rapid and unpredictable spread of the novel coronavirus (COVID-19), just in time for spring break, has lent new urgency to this issue.
Read More
Building the right foundations for diversity within your legal team is important. To help lay those foundations right here in Indianapolis, the Indianapolis Bar Association aims to connect a potential pool of candidates from diverse backgrounds with the Indianapolis legal community through its annual Diversity Job Fair.
Read More
As of January 1, 2020, a brand new Indiana Supreme Court rule went into effect granting the opportunity for certain qualifying attorneys to hold a Pro Bono Publico License and serve as pro bono counsel. The rule covers certain types of Indiana and out-of-state attorneys who are not actively admitted to practiced law under Indiana's general rules of admission, but who are otherwise in "good standing" with the bar of this or another state.
Read More
With more than 16 years of experience as a federal law enforcement officer within the Department of Justice, Janine Driver will be presenting the opening plenary session for the 2020 Bench Bar Conference in French Lick this summer from June 18-20.
Read More
Attorneys representing entities that engage in civil forfeitures should familiarize themselves with the U.S. Supreme Court's State v. Timbs ruling to ensure their clients comply with the ruling and the entity's constitutional obligations.
Read More