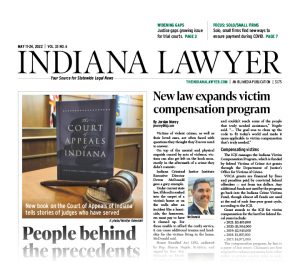 MAY 11-24, 2022
It's a big year for the Court of Appeals of Indiana, as the state's intermediate appellate court marks 50 years of being a constitutional court. Indiana Lawyer senior reporter Marilyn Odendahl gives us a brief history of the court, as well as a look inside a new book that sheds light on the lives and personalities of the judges who have presided over the COA. Meanwhile in Indiana's trial courts, access to justice issues continue to plague litigants and court resources. IL reporter Katie Stancombe spoke directly with Hoosier trial court judges about the struggles they're facing and their efforts to ensure justice is truly for all. Plus, IL managing editor Jordan Morey tells us about a new law designed to increase support for victims of violent crimes. Read those stories and more in the May 11-24, 2022, issue of Indiana Lawyer.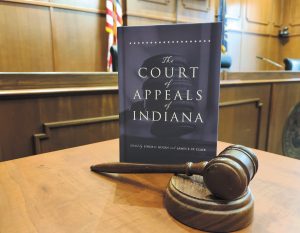 A new book documents the history of Indiana's Court of Appeals by telling the story through the men and women who have served as judges. Just published this spring, the book, "The Court of Appeals of Indiana," is a compilation of profiles of the roughly 120 judges who have sat on the appellate bench through its 131-year history.
Read More
House Enrolled Act 1292, authored by Rep. Sharon Negele, R-Attica, and signed by Gov. Eric Holcomb on March 11, aims to provide better relief to victims of violent crime. Starting July 1, HEA 1292 will modify the laws concerning compensation to victims of violent crimes in Indiana, expanding the list of eligible expenses for compensation and the definition of a claimant.
Read More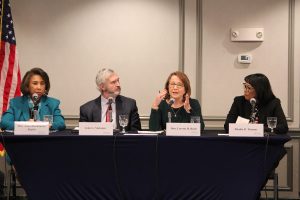 Getting legal resources to low-income litigants is a major struggle both nationally and on Hoosier soil. According to the Legal Services Corporation 2022 Justice Gap Report, low-income Americans do not get any or enough legal help for 92% of their substantial civil legal problems.
Read More
Trisha Dudlo wants to have frank discussions. The 37-year-old is the new managing partner of Denton Bingham Greenebaum's Evansville office and the first woman of color to hold that leadership position. Named the office chief in April, Dudlo is stepping into her role at the same time as she sees the legal profession rebuilding from the upheaval created by the pandemic and consequently having to do things "alarmingly different."
Read More
By the third paragraph of the April order granting summary judgment to the defendants, Carroll Circuit Judge Benjamin Diener showed his frustration by declaring, "The civil litigation process in Indiana is broken."
Read More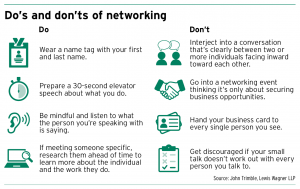 Stepping out of one's comfort zone can be challenging, especially when you are expected to converse with other attorneys you don't know. Regardless, lawyers are often expected to engage in mingling — dreaded or not.
Read More
Read Indiana appellate court decisions from the most recent reporting period.
Read More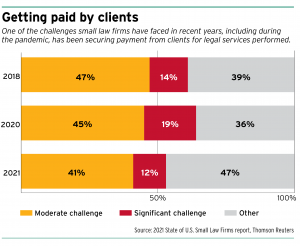 Roughly half of all small firms reported in Thomson Reuters' 2021 State of U.S. Small Law Firms study that they endured a moderate or significant struggle in getting paid by clients over the last two years. Many also expressed concerns about acquiring new business. But those firms that created a concentrated approach to addressing their payment challenges saw quick, positive results.
Read More
A friend of mine owns a McDonald's and has told me that McDonald's requires its franchise owners to complete a training program called "Hamburger University." He explained that Hamburger University teaches the franchise owner about the "system" of McDonald's. In some ways, launching my own firm has been like what I imagined about "Hamburger University."
Read More
One of the great aspects of practicing law is the wide variety of ways to make it happen. Whether you are in-house counsel, legal services, a big firm associate, prosecutor, public defender, government lawyer, judge or a solo practitioner, the ways we as lawyers ensure access to, and the delivery of, justice are myriad. Although there are many common elements to each form of practice, there are challenges and opportunities that are unique to each, and the solo or small firm lawyer holds a special place in this cohort of practice options.
Read More
How to choose the right clients as a solo practice or small firm? This is the million-dollar question. If every law firm owner could answer this question perfectly, every attorney would be a million-dollar partner at a law firm. Not choosing the right clients could be No. 1 at destroying your practice or firm. Surprisingly, the topic, "How to choose the right clients" is a discussion that is uncommon among lawyers.
Read More
Owning a business can be richly rewarding. Law firm owners can define the scope of their practice, pick a target market, set their own hours and enjoy the creativity involved in implementing a corporate vision. With technological advancements and a move to web-based work and communication in recent years, starting a law firm has become increasingly accessible for attorneys seeking the unique benefits of small business ownership.
Read More
When you are a small firm, you become fully familiar with each person in the office, including knowing and caring about each person's family. As such, the first and most important decisions during COVID were to protect the health of our staff and their families.
Read More
The daily grind of small firm management ranges from routine to immensely stressful. By returning to bigger picture ideas, I constantly find the practice of law both challenging and rewarding.
Read More
While I had mentally prepared myself with things to say to this year's Leadership in Law honorees to keep the conversations from lagging (because of me, not them) I was pleasantly surprised to find that the two days I spent chatting with this year's winners as they recorded videos and had photos taken passed with surprising ease. Turns out, when you hang out with highly-accomplished individuals, you can find a lot to talk about naturally.
Read More
Digital assets are an important part of estate planning. Planning includes ensuring that the appropriate people have access to the information at the right time. We have been made aware of these issues when dealing with cryptocurrencies, but what about all the subscription and social media services we all utilize now? It's more important than ever to have a clear plan for accessing digital assets. This is one of those areas where technology clearly intersects with a specific area of the law.
Read More
Often, caregivers can feel guilty about getting away while they have so much responsibility at home or find it impossible to imagine getting a break. Lots of questions can arise, such as who will take care of the loved ones, how they can continue receiving help, what happens if an emergency arises and more. But with so much day-to-day responsibility as a caregiver, it's important to have time to refresh and avoid burnout.
Read More
Being a good lawyer is not always synonymous with being the most professionally detached lawyer; empathy and motivation also matter.
Read More
Indianapolis criminal defense attorney Robert Hammerle gives us his take on "The Northman" and revisits two of his favorite classic films.
Read More
The mission of Indy Legal Alliance is to promote and support a thriving, diverse, equitable and inclusive Indianapolis legal community that works together to support law students and lawyers and advance justice in the broader community.
Read More
The Indianapolis Bar Association and Nomad AV Systems will host training sessions at IndyBarHQ (140 N. Illinois St.) on Thursday, May 19, and Friday, May 20, for attorney members of the Indianapolis Bar Association, the Marion County Bar Association, the Asian Pacific American Bar Association of Indiana and support staff.
Read More
The Indianapolis Bar Association has selected 21 emerging attorney leaders to participate in its Bar Leader Series.
Read More
The IndyBar Foundation expresses sincere gratitude to the 2022 Distinguished Fellows and Distinguished Life Fellows for their long and continuing support of our profession and community.
Read More
There is, in fact, no shortage of life events that should invoke the idea of contacting an estate planning attorney to see if any changes are required to an individual's estate plan.
Read More