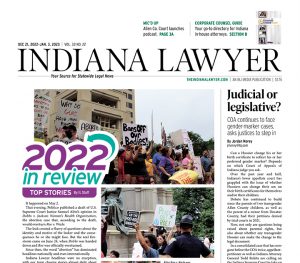 DEC. 21, 2022-JAN. 3, 2023
Happy Year in Review issue, Indiana Lawyer readers! We say this every year, but 2022 was one for the books. From abortion issues to Indiana Supreme Court changes to law firm combinations and more, our reporters have been busy all year long chasing the news you need to know. Check out our rundown of the Top 10 stories of the year, "honorable mention" stories that didn't make the Top 10 list, and the stories you, our readers, engaged with the most this year. You can also take a look at some of our human interest and attorney discipline coverage in this issue's Web Exclusive. Plus, Jordan Morey and Marilyn Odendahl bring you end-of-the year news that gives you a look at the issues state and federal courts are tackling as we head into 2023. Read those stories and more in the Dec. 21, 2022-Jan. 3, 2023, issue of Indiana Lawyer.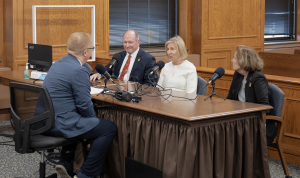 The Allen Superior Court is trying to teach its neighbors about the judiciary by opening the courthouse doors virtually through a podcast.
Read More
Can a Hoosier change his or her birth certificate to reflect his or her preferred gender marker? Depends on which Court of Appeals of Indiana judge you ask.
Read More
The attorney-client privilege that gives business owners and individuals the confidence to speak freely with their lawyers is going to be reviewed by the U.S. Supreme Court on Jan. 9.
Read More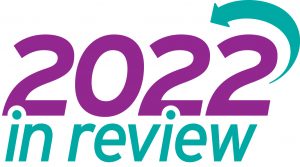 In addition to the "big news" of the year, Indiana Lawyer in 2022 also provided readers with stories exploring attorneys' off-the-clock interests, obituaries of lawyers and judges who died, and summaries of disciplinary actions.
Read More
Read Indiana appellate court decisions from the latest reporting period.
Read More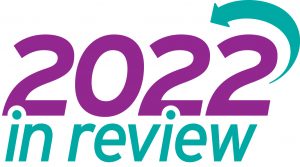 To wrap up 2022, here's a look back at the biggest stories of the year, as voted on by IL staff.
Read More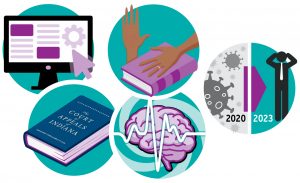 While the "top stories" of each year are usually easy to define, there are always other stories that, while perhaps not as high-profile, are equally as important to our readers.
Read More
Here's a look at the 50 stories that you, our readers, engaged with the most on our website in 2022, as of Dec. 13, and their original dates of publication.
Read More
Going through this past year's newspapers, I was reminded of the tremendous work done by our small but mighty staff.
Read More
The possible causes of the decline in civil jury trials is a discussion for another day. Let's look at the statistics and the effects.
Read More
Rules matter in federal civil practice, as recent decisions from the 7th Circuit Court of Appeals and district courts in Indiana confirm.
Read More
This column explores my perspective as Faegre Drinker Biddle & Reath's Indianapolis office leader, a practice area leader and a strong believer in the importance of pro bono service.
Read More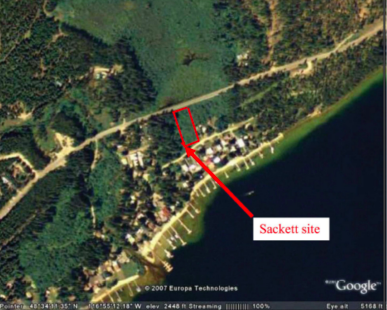 The U.S. Supreme Court is reconsidering the proper scope of the Clean Water Act in a case that is likely to have sweeping impacts on federal environmental regulation and land development across the country.
Read More
Indianapolis criminal defense attorney Robert Hammerle gives us his take on "Ticket to Paradise" and "Black Panther: Wakanda Forever."
Read More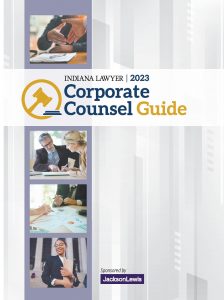 After a two-year hiatus, Indiana Lawyer's Corporate Counsel Guide is back this year in a new form.
Read More
Writing this article has been weighing on my mind since President Gooden asked me to pinch-hit for her.
Read More
Save the date for the 2023 Indianapolis Bar Association and Foundation Installation Luncheon, which will take place from 8-9 a.m. on Thursday, Jan. 26, at Broadmoor Country Club.
Read More
Nobody wants to read anything anymore. I mean, you're probably struggling to get through this article already.
Read More
As a special thank you for joining or renewing your IndyBar membership for 2023 during the month of December, members will receive a free subscription to Indy Attorneys Network.
Read More
With more than 200 recorded programs and low member prices, the IndyBar Online CLE catalog is your one-stop-shop for convenient, cost-effective education.
Read More