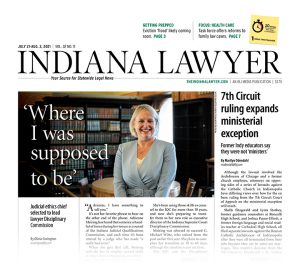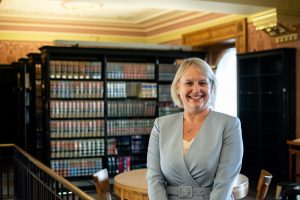 Adrienne Meiring has been selected as the new executive director of the Indiana Supreme Court Disciplinary Commission. She recently sat down with The Indiana Lawyer to discuss her career history and her new role.
Read More
Shelly Fitzgerald and Lynn Starkey, former guidance counselors at Roncalli High School, and Joshua Payne-Elliott, a former foreign language and social studies teacher at Cathedral High School, all filed separate lawsuits against the Roman Catholic Archdiocese of Indianapolis after they were all terminated from their jobs because they are in same-sex marriages. This month's decision from the 7th Circuit in Demkovich v. St. Andrew the Apostle Parish, 19-2142, could change the trajectory of each of those cases.
Read More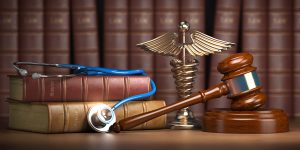 Does the definition of "patient" in Indiana's Medical Malpractice Act encompass third parties? The Indiana Supreme Court, in considering a certified question from the 7th Circuit Court of Appeals, has decided the answer is "yes." But not every justice was convinced.
Read More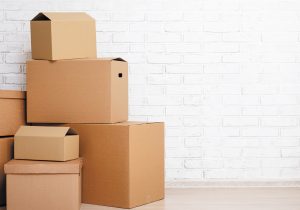 In less than two weeks, the moratorium on evictions put in place by the Centers for Disease Control and Prevention is scheduled to end, and while some fear a wave of evictions will follow, others say the long-awaited day of reckoning needs to come.
Read More
In June, Florida became the most recent to join a growing list of states moving to cast aside long-held resistance and beginning to open the door to — if not completely welcome —nonlawyers co-owning legal practices. But Indiana is not yet following suit.
Read More
Signing into your preferred social media platform is usually simple. But what if you've been blocked temporarily — or permanently — after posting content that caused a stir? That's the heart of a current political battle over Section 230 of the Communications Decency Act.
Read More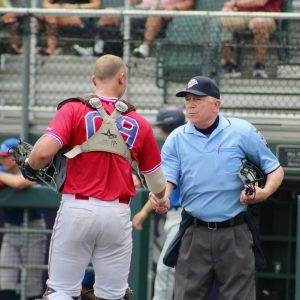 Legal professionals are known for working hard and clocking long hours, but sometimes they need a break, too. Three Indiana legal professionals have found their niche outlets, each unique in its own way. But they all have one thing in common — their hobbies keep them outside.
Read More
Read Indiana appellate court decisions from the most recent reporting period.
Read More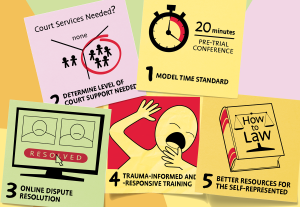 With an ultimate goal of improving access to justice in family law cases, the Family Law Taskforce of the Indiana Supreme Court's Innovation Initiative nailed down more than a dozen recommendations, with five being considered "essential for reform." Now, that final report is headed to the Indiana justices.
Read More
On July 15, the federal government began giving parents advancements on their 2021 Child Tax Credit. For some divorced parents, the advance is causing confusion and fueling conflicts about who is entitled to the money.
Read More
Until Indiana rehabilitative maintenance law is refined, the underuse, misapplication and perplexing nature of that statute is almost certain to continue with no end in sight.
Read More
Greater access to the ballot, fair voting systems and inclusion in the process does not mean allegiance to a particular party — it should be a universal concept that brings about reasoned, well-informed participation in a system that affords citizens the opportunity to express policy and political preferences.
Read More
Case or controversy limitations on judicial power have permeated U.S. judicial history and include standing, ripeness and mootness. Although these core concepts have been fundamental to and well developed in federal court jurisprudence, they continue to arise and evolve, with the Supreme Court taking up and issuing opinions on these case or controversy topics in recent years, and the district and appellate courts addressing these topics repeatedly.
Read More
In a guest column, retired lawyer Kent Hull reflects on his experience as a lawyer with a disability.
Read More
Because trial attorneys will spend more time in mediations than jury trials, attorneys' advocacy skills at mediation are a very important element to achieving successful results for their clients. Another important component, however, relates to the comprehensive evaluation of the case's economic damages leading up to mediation.
Read More
Defense lawyer Bob Hammerle shares his thoughts on "Luca," "F9: The Fast Saga" and "Black Widow."
Read More
An IndyBarHQ utilization task force has been organized, featuring a diverse group of members, to direct our new HQ's evolution with intention and creativity. The ideas already are simmering vigorously, but we need your help to bring them to a full boil.
Read More
Adding new software to a law firm is often a challenge, but the reward is great. The issue is that most law firms stumble out of the starting blocks and then squander any gains that they may have had. One way law firms screw this up is to spend too little time vetting software.
Read More
Each year, the IndyBar Women and the Law Division presents its Mentorship Award, which seeks to honor a female legal professional who has exhibited exceptional efforts to be a mentor to other women in the profession. This year, the division has selected Joan Blackwell of Latitude Legal as the honorable recipient.
Read More
By including a bequest to the Indianapolis Bar Foundation and joining the IBF's Legacy Society, you can help the IBF serve future generations and build your own legacy.
Read More
Meet DTCI young lawyers Eddie Abel, Lauren Binger and MacKenzie Johnson.
Read More
The 18th volume of DTCI's flagship publication, the Indiana Civil Litigation Review, will begin production soon. Tell us what you want to see included!
Read More
Here's why young lawyers should join the Defense Trial Counsel of Indiana.
Read More