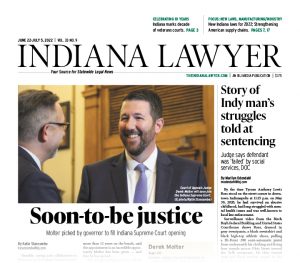 JUNE 22-JULY 5, 2022
We lead off this issue with Indiana's biggest legal news of the moment: the announcement that current Court of Appeals of Indiana Judge Derek Molter will become the state's next Supreme Court justice. Indiana Lawyer reporter Katie Stancombe dives into Molter's background and what his appointment means for the future of the high court. Meanwhile, IL managing editor Jordan Morey takes a look back at the evolution of veterans courts in Indiana as the state's first vets courts marks its 10-year anniversary. Plus, we have a double-header in this issue's Focus, covering both Indiana's new laws and updates in the world of manufacturing and industry. Read those stories and more in the June 22-July 5, 2022, issue of Indiana Lawyer.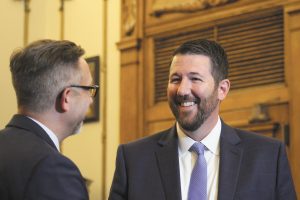 Humble, caring and collaborative is how soon-to-be Indiana Supreme Court Justice Derek Molter was described by colleagues and friends. On June 10, at the Indiana Statehouse, Gov. Eric Holcomb announced that Molter, currently the most junior judge on the Court of Appeals of Indiana, will join the state's highest bench as the 111th justice.
Read More
By the time Tyrone Anthony Lewis Ross stood on the street corner in downtown Indianapolis at 11:15 p.m. on May 30, 2020, he had survived an abusive childhood, had long struggled with mental health issues and was well-known to local law enforcement.
Read More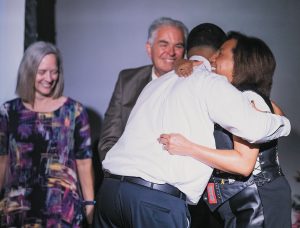 A decade after the first veterans court opened in Floyd County, there are now 28 veterans courts statewide, according to the Indiana Supreme Court. On May 10, at the Ogle Hall auditorium on Ivy Tech Community College's Sellersburg campus, the first veterans court celebrated its 10th anniversary along with a ceremony honoring its newest cohort of graduates.
Read More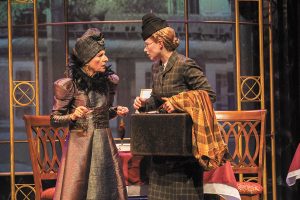 Attorneys representing businesses fighting their insurance carriers over interruption insurance claims are continuing to argue over the meaning of "physical loss and damage," but some are also contending that the losses linked to COVID-19 are covered when the policy does not contain a virus exclusion provision.
Read More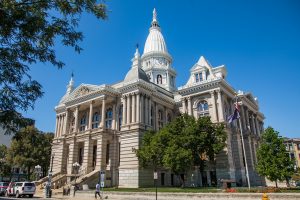 Crown Point native Joey Lax-Salinas has been capturing photos of more than 400 cities and towns across the Hoosier State in his spare time. Folded into his mission of showcasing Indiana's positive features was the task of capturing the historic and local landmarks of each town, which includes each of the state's county courthouses.
Read More
Read Indiana appellate court decisions from the most recent reporting period.
Read More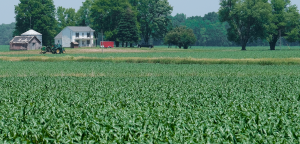 Within Senate Enrolled Act 388, the words "food" and "national security" do not appear. Yet the new law that prohibits foreign businesses from buying and owning Hoosier farmland places Indiana among the states that have enacted such statutes to ensure Americans have enough to eat.
Read More
Following is the complete list of legislation enacted during the 2022 legislative session. Bills take effect July 1 unless otherwise noted.
Read More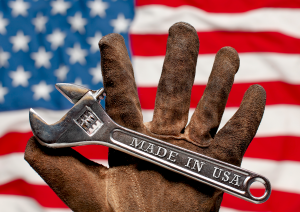 Changes are coming to an almost 90-year-old federal measure intended to give preference to U.S.-made products and domestic manufacturers in the country's purchases.
Read More
As we have helped our clients navigate the challenges brought by the new dynamic created by the pandemic, we see three important lessons manufacturers learned during COVID that will continue to impact them in 2022 and beyond.
Read More
The immense amount of work to achieve carbon "net zero" or "net negative" milestones is a global Rubik's Cube and means that we cannot afford the luxury of perfection. Perfectionism in sustainability is unsustainable. Yet implementing the "good" instead of waiting for the "perfect" — especially in the fast-paced and sometimes ambiguous world of environmental, social and governance (ESG) — is not easy.
Read More
If you voted in the May 3 Indiana primary elections, you participated in a taxpayer-funded process that underwrites the parties' cost of nominating their candidates. And the two major parties have created a system in which only the most active partisans are urged to vote on primary day.
Read More
As I write this column, there are multiple signs of trouble brewing in our judicial system.
Read More
There was a time, not so long ago, when judges were "potted plants." The judicial role was widely reserved, somewhat withdrawn, apart from public statement or positions, and any work to change the legal system was considered improper. Changing standards and challenging times seem to have changed all that.
Read More
Here are three things to know about the requirement to directly supervise nonlawyers.
Read More
Indiana criminal defense attorney Bob Hammerle gives us his take on "Top Gun: Maverick" and "Dr. Strange in the Multiverse of Madness."
Read More
Our subject today is the ubiquitous, but seemingly ingrained and unchallenged, use of phrases such as "throw out," "threw out," "tossed" and "tossed out" to describe certain decisions of courts of all kinds and at all levels. In years past, the blame lay chiefly with reporters and news outlets. Today, of course, such short shrift is the medium of not only journalists (sadly) but also bloggers, social media influencers and, worst of all, regular folks, into whose everyday vocabulary these lazy and frankly damaging shortcuts have crept. Colleagues, it is up to us to do our part to end this scourge!
Read More
Yes, clients want your expertise and to talk about the legal process and state of the case, but they may not want you to schedule appointments with them, take a check from them or sit down for a signing meeting. And in reality, much of that is a waste of time for the attorney — who should be billing high value cases or marketing for them.
Read More
News about happenings at the Indianapolis Bar Association.
Read More
Yes, it's true. Judges love alternative dispute resolution.
Read More
Earlier this month, Apple announced the latest update to the operations system that's installed on your iPhone. Apple calls it iOS 16 (iPhone Operating System 16). After you read this post, Apple and iOS 16 may be off your holiday card list. If iOS 16 was a friend, some might consider canceling dinner plans with them. You might even unfriend them on Facebook.
Read More