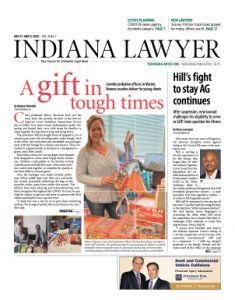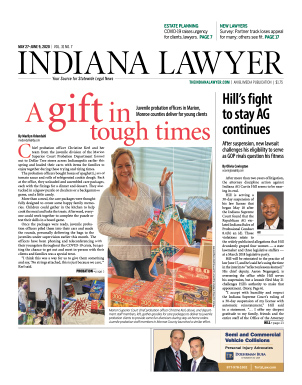 MAY 27-JUNE 9, 2020
Suspended Indiana Attorney General Curtis Hill is fighting to stay in power, facing political rivals as well as a lawsuit that seeks to disqualify him from office. Juvenile probation officers in Marion and Monroe counties delivered for their young clients and their families, providing a gift in tough times. And as law school graduates faced unprecedented challenges from the coronavirus pandemic leading up the July bar exam, quick action by the Indiana Supreme Court delivered some certainty in uncertain times.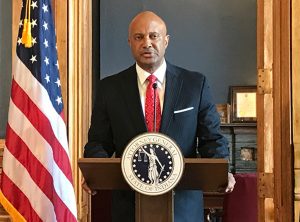 Suspended Indiana Attorney General Curtis Hill will be reinstated to the practice of law June 17, and he's said he's using the time in the interim to "reflect on lessons learned." His chief deputy, Aaron Negangard, is overseeing the office while Hill serves his suspension, but a lawsuit filed May 21 challenges Hill's authority to make that appointment.
Read More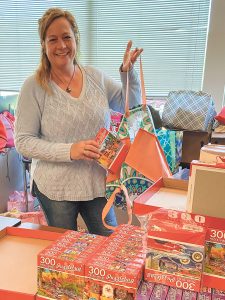 Chief probation officer Christine Kerl and her team from the juvenile division of the Marion Superior Court Probation Department fanned out to Dollar Tree stores across Indianapolis earlier this spring and loaded their carts with items for families to enjoy together during these trying and tiring times.
Read More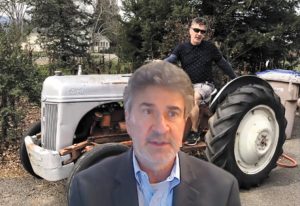 The July bar exam is one example of the Supreme Court's nimbleness as it moves in a new direction to help recent law school graduates and new lawyers overcome the stress and hardship created by the pandemic. Within the span of roughly two months, the justices moved the May admission ceremony online so those who passed the February bar could begin their legal careers as soon as possible and established the graduate legal intern program to give 2020 graduates the option of getting a limited license.
Read More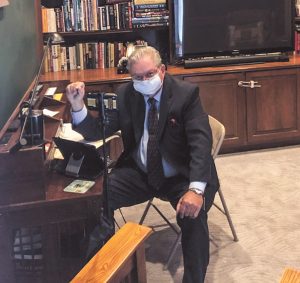 Though there have been some technical hiccups, lawyers report generally positive experiences with remote appellate oral arguments. Even so, some advocates say the most impactful arguments are made in person.
Read More
A new study from the Pew Charitable Trusts highlights a dramatic rise in debt collection lawsuits, but even as one in four cases on civil court dockets are seeking payment for past-due bills, consumers increasingly are absent from the proceedings.
Read More
Read Indiana appellate court decisions from the most recent reporting period.
Read More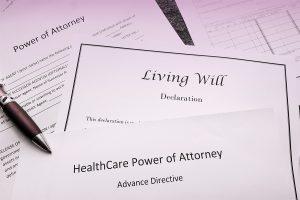 The coronavirus pandemic seems to be the push many people needed. Most clients, estate planning lawyers say, tend to put off preparing their documents, usually believing that they still have time. But with the continuance of the COVID-19 pandemic and the daily coverage of case counts and death tolls, attitudes have changed.
Read More
We return to the scenario presented in a previous article, "Premortem validation could help avert will, estate contests" (Indiana Lawyer, Oct. 16, 2019). Recall that the mother ("mom") changed her will six months before her death, giving the entire estate to her caregiver-daughter ("daughter") and leaving nothing for her out-of-town son ("son"). Since Indiana has not yet enacted pre-mortem validation statutes for wills or trusts, daughter and son must argue the validity of the final will in court after mom has passed. This article discusses how the scenario (and a similar one dealing with a revocable trust) might play out under current Indiana law.
Read More
The Setting Every Community Up for Retirement Enhancement Act ("SECURE Act") was enacted on December 20, 2019. The SECURE Act dramatically changes how an individual should structure his or her estate plan if there are qualified retirement accounts involved.
Read More
We are almost halfway through 2020 and have seen the stock market fall, rally and fall again. We have been trapped in our houses unable to help our unstable economy, attempting to find new hobbies to pass the time and, of course, practicing social distancing. The silver lining to this pandemic is that it has provided an opportunity for us to better ourselves, and with falling interest rates, transfer our clients' wealth to the next generation.
Read More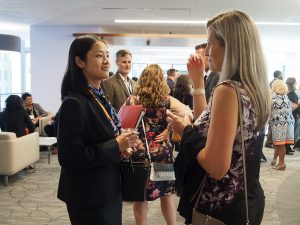 New lawyers preparing to launch their fledgling legal careers in 2020 look similar to the generations that came before them, but some things set millennial lawyers apart. Their ever-evolving professional aspirations and career trajectories appear less traditional than the routes taken by their predecessors in decades past.
Read More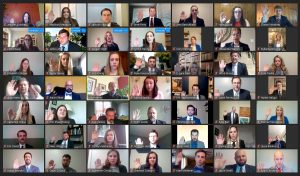 Indiana Lawyer congratulates the following 113 applicants who passed the February 2020 Indiana Bar Exam, many of whom took their oath as new attorneys during a virtual admission ceremony May 5.
Read More
When we all set our new year's resolutions for 2020, none of us likely envisioned trying to achieve those goals in the midst of a pandemic. Phrases like "unprecedented" and "difficult times" are heard every five minutes. Staying at home by yourself and binge-watching Netflix while eating ice cream from the gallon bucket constitutes saving the world.
Read More
I cannot pretend to completely understand all the challenges new Indiana lawyers will face given the uncertainty of COVID-19. Despite this unprecedented set of circumstances, however, there are many lessons that are applicable not only in times of videoconferencing and home offices, but in future years of practice.
Read More
Often, attorneys want to hit the ground running right out of law school and acquire as many clients as fast as they can. This sometimes includes getting involved in as many groups as you can fit into your schedule. While these are all good things to start developing immediately, the first and most important thing you want to accomplish is becoming a great lawyer.
Read More
Say what you will about Indiana Attorney General Curtis Hill, he is a man of convictions. But for purposes of this earned polemic, let's set aside the wrongful convictions that are still being overturned from Hill's years as Elkhart County prosecutor. Instead, let's focus on his time as AG and explore Hill's personal and political convictions.
Read More
Indiana Chief Justice Loretta Rush staunchly supports and promotes well-being in the legal profession. When she talks to Indiana judges, lawyers and law students, Rush frequently mentions the Judges and Lawyers Assistance Program. During her State of the Judiciary speech in January, the first topic Rush mentioned was Indiana's problem-solving courts, which focus on issues including drugs and mental health.
Read More
Under normal circumstances, we would try to fill this column with something useful. We would try to give you tips that may help your practice, and we would hope that our column would give you a teensy-weensy bit of knowledge that might help you avoid an ethical problem down the road. However, these are not normal circumstances, so we feel like offering something a little different.
Read More
For my column this edition I have the pleasure of introducing a friend, Cordell Parvin, who is one of America's premier lawyer career coaches. In late February, just before the pandemic, I sat down with Cordell to get his take on a number of questions that had been simmering in my mind. I share that exchange with you now.
Read More
With all the challenges facing bench, bar, and litigants in this difficult time, reflecting on something or someone good seems particularly appropriate for today's column, rather than the usual nuance of jurisdiction and procedure. Laura Briggs is, by all means, someone good, indeed extraordinary. Most federal practitioners in the Southern District know this well, having benefited from Laura's dedicated service as clerk since 1998.
Read More
There was a great article in the New York Times on May 15 entitled "Movie Theaters Are on the Brink. Can Wine and Cheese Save Them?" The writer, James B. Stewart, pointed out several things that should scare all movie fans.
Read More
Governor Holcomb and Mayor Hogsett (and countless other government and business leaders) are executing their plans to reopen the "new normal" economy. The IndyBar is no different. We are working hard on a COVID-19 Preparedness Plan that will allow some staff to return to IndyBarHQ in the coming weeks.
Read More
Skeleton crews at the office and the general distraction of the developing COVID-19 situation create windows of opportunity for social engineering tactics such as phishing. Now is a good time to remind your team that they are the first, and in some cases, the only line of defense against social engineering.
Read More
Distance education limits have recently been relaxed, so now might be the perfect time to get ahead on CLE credits! With more than 200 recorded programs and low member prices, the IndyBar online CLE catalog is your one-stop shop for convenient, cost-effective education.
Read More
For the first time in history, the Indiana Supreme Court and Indiana Court of Appeals are holding oral arguments using videoconferencing platforms. During this unprecedented time, it's important now more than ever to make sure you're prepared for your argument. The Indiana Appellate Institute can help.
Read More
This article looks at the practice of disclosing treating physicians as experts and the law underlying the reasons that treating physicians and their opinions should be disclosed in the course of discovery.
Read More
This article is part two of a two-part series exploring marital privilege at the Indiana state and federal levels.
Read More