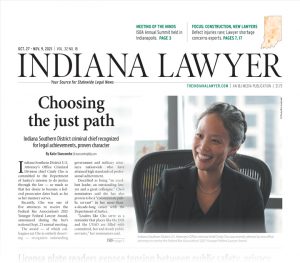 OCT. 27-NOV. 9, 2021
While her colleagues already knew she was among the best in her field, Indiana Southern District U.S. Attorney's Office Criminal Division chief Cindy Cho is now nationally known for her work. Cho is one of five attorneys to receive the Federal Bar Association's 2021 Younger Federal Lawyer Award, which recognizes outstanding government and military attorneys across the United States. IL reporter Katie Stancombe spoke with Cho and her colleagues about the recent honor. This week's Focus section features two topics: real estate/construction law and new lawyers. IL senior reporter Marilyn Odendahl has a story on Indiana's lawyer shortage and Katie explored construction defects and how they rarely rise to personal harm for end users. In other news, IL managing editor Jordan Morey gives his report from the Indiana State Bar Association Annual Summit and writes about how Indiana Legal Services has created a wellness program to address the mental health of its employees. All that in more in the Oct. 27, 2021, issue of Indiana Lawyer.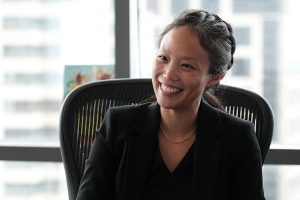 Indiana Southern District U.S. Attorney's Office Criminal Division chief Cindy Cho is committed to the Department of Justice's mission to do justice through the law — so much so that her desire to become a federal prosecutor dates back as far as her memory serves.
Read More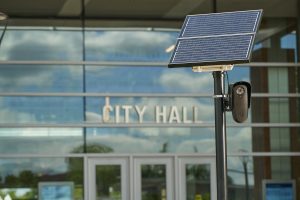 Monroe County is installing six cameras at select intersections to take photos of the license plates of every vehicle that travels through. Several Indiana communities have announced they will be installing automatic license plate reading cameras, which has raised debates over public safety and privacy issues.
Read More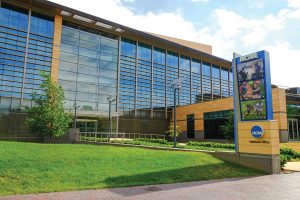 A former national champion nose tackle for the University of Notre Dame football team has taken aim at his alma matter and the National Collegiate Athletic Association.
Read More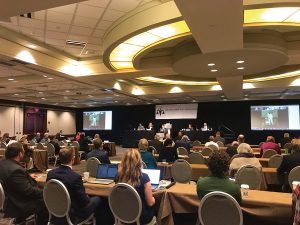 The theme of the 2021 Indiana State Bar Association House of Delegates Meeting, and the bar's annual summit, could be summed up with one word: streamlined.
Read More
Designed and constructed by CSO Architects and Keystone Construction Group, Taft Stettinius & Hollister LLP in September 2019 opened the Indianapolis Taft Center — 5,000 square feet of state-of-the-art conference and event space in the heart of the city.
Read More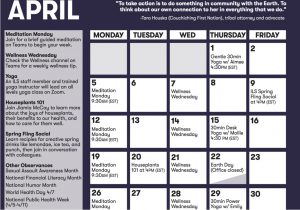 What started as a short-term solution for improving employee mental health during the COVID-19 pandemic has now turned into a full-fledged initiative at Indiana Legal Services.
Read More
Indiana Supreme Court Oct. 7 Civil Tort-Mental Health/Motion to Amend Betty Miller, Individually and as Personal Representative of the Estate of John Allen Miller v. Laxeshkumar Patel, M.D., John Schiltz, M.D., Benjamin Coplan, M.D., Joseph Hill, M.D., Erik Fossum, M.D., Bradford Hale, M.D., Christine Tran, M.D., James Blickendorf, M.D., Robert McAllister, M.D., Sara Koerwitz, M.D., […]
Read More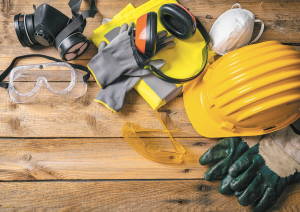 Although it's a common occurrence for construction workers to be injured on the job, how often do contractors fail to follow safety regulations that result in potential personal harm to the end user?
Read More
A significant decision came out of the 7th Circuit this September in the world of environmental practitioners and professionals, but many real estate tenants, developers, owners, investors and attorneys who do not specialize in environmental law may not appreciate the impact of this decision on due diligence, timing and costs for preserving a property owner's defense against Comprehensive Environmental Response, Compensation, and Liability Act (CERCLA) liability
Read More
By Justin Leverton Indianapolis is uniquely positioned as one of the top industrial markets in America. With its easy access to air, train and truck transport, it is one of the few industrial markets that was not seriously impacted by the Great Recession. Nowadays, the Indianapolis industrial market is booming, with few vacancies. A burgeoning […]
Read More
While the COVID-19 pandemic has altered our day-to-day lives and experiences, the construction and real estate development industries have had to address how to effectively handle a particularly difficult issue that has arisen: unprecedented price fluctuations with a wide variety of building materials, perhaps most notably with lumber, where prices rose by as much as 400% this spring.
Read More
The following new lawyers were admitted to practice law in Indiana after passing the July 2021 bar exam. A total of 247 new lawyers participated in an in-person admission ceremony on Oct. 21.
Read More
About a decade out from the Great Recession — when law schools were criticized for oversaturating the job market— the situation, at least for the public sector in Indiana, appears to have gone in reverse.
Read More
It wasn't that long ago that I found myself asking around for tips and pointers to develop skills and maximize my opportunities as a young associate. As a new class of lawyers begins settling into their legal careers this autumn, I wanted to share some of the tips I've received and helpful things I've learned over the past 13 years (some the hard way!):
Read More
This article is for newly minted attorneys and associates in their first few years of practice. If you're in either of these categories, I strongly encourage you to read on for several fundamental keys to success that, in my opinion, every new attorney should embrace.
Read More
Have you ever met someone who inspires, challenges you, motivates you and maybe makes you feel just a little bit lazy? Have you ever met 37 such someones all at once?
Read More
Recently, the Indiana Supreme Court created the Indiana Commission on Equity and Access seeking to build trust and increase the average citizen's ability to navigate the complicated legal system. These efforts not only are commendable, but they are also forcing an examination of uncomfortable issues while creating opportunities for rich discourse in settings that have in large part avoided these critical issues.
Read More
"My name is Rick and I am a pack rat." Those are the words I will use at my first Pack Rats Anonymous meeting, which I will be attending after having recently prepared for our law firm office move.
Read More
I found this film to be an emotionally touching way to say farewell to Daniel Craig. Though some felt the story moved too slowly at times, I thought it gave you a chance to honor Craig's performance as he walked into the sunset. It reminded me of Burt Lancaster as he walked into the cornfield in the classic "Field of Dreams" (1989).
Read More
The world is changing faster than ever post COVID-19. A changing world has always brought opportunity for lawyers. With change, comes a flurry of new legal issues to be argued, negotiated and decided.
Read More
There is likely a mentor in your past who told you to make sure that you don't give away the farm when talking to potential clients. The idea is to leave them wanting more. That's bad advice. If you leave legal consumers wanting more in 2021, they will go find another attorney.
Read More
Previous advocates for planned gifts to the Indianapolis Bar Foundation have made a compelling personal case for such gifts. These gifts support the good works of the Indianapolis Bar Foundation, which are very worthy of that support.
Read More
Each year, the IndyBar offers hundreds of educational programs, social events and opportunities for community involvement, all while introducing new resources and services to serve members of the legal profession.
Read More
The Indianapolis legal community is fortunate to be home to thousands of individuals who work their hardest each day for the benefit of their profession, their community and their families. Join us on Nov. 3 at Meridian Hills Country Club as we honor just a handful of the many lawyers, judges, students and more who've made their mark in 2021.
Read More